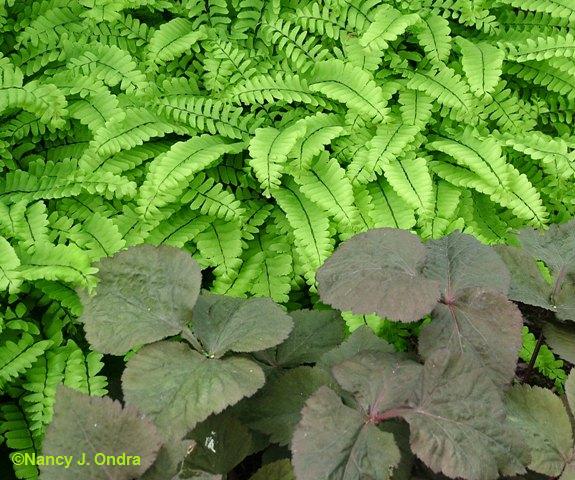 So, who's complaining about shade, anyway? Certainly not this month's GBDW contributors! Check out their postings on favorite plants, combination ideas, and design pointers, and you just might find yourself wishing for more shade in your own garden.
Garden Bloggers Design Workshop – Made for the Shade (Nan at Gardening Gone Wild): Kick-off post for this month's topic. Check out the comments, too, because there are some helpful suggestions of plants for dry shade and woodland gardens.
Looking for Shade (Frances at Fairegarden): Shade may be scarce at Fairegarden, but Frances and her plants do their best to make the most of it.
Garden Bloggers Design Workshop (Rose at Ramble on Rose): Though shade can be challenging, Rose sees it as an opportunity, not a problem.
Chiaroscuro (Mr. McGregor's Daughter): MMD shows how dappled mid-day shade creates some fascinating photo oppportunities in the garden. And in Success in Dry Shade, the title says it all: learn about her many successes in this difficult gardening condition. (Make sure you read through the comments too for even more ideas.)
Made for the Shade (Linda at Each Little World): After gardening in full sun, Linda moved to a shady site, and she's learned quite a bit in the last dozen years there. She's got some great design pointers to share, and some cool plants and combinations, as well!
My Top Ten for Shade (Les at A Tidewater Gardener): Les' list of shady favorites in his Zone 8a garden is a treat for gardeners in all areas: full of ideas for other warm-climate gardeners and plenty of fodder for zonal envy for those of us in colder areas.
Shady Goings-On (Jim at Art of Gardening): Take a virtual tour of the well-traveled paths in Jim's plant packed shady front yard.
The Corner Shade Garden through Time (Dave at The Home Garden): Follow the progress of Dave's shady planting design over the last year.
GBDW: Plants for Shade (VP at Veg Plotting): VP has two shady areas in her garden, and she's come up with a number of strategies for making the most of each one.
GBDW – Shade, Shade, Shade! (Shady Gardener at Does Everything Grow Better in My Neighbor's Yard?): SG does have some sunny areas in her yard, but it's the shady parts that really win her heart. Learn about some of her top perennial picks for shade.
A few additions (June 1, 2009):
Heather at Heather's Garden: Heather has written about her shady garden many times, but she pulled out a few of her favorite posts to share with us: The Shady Side of the House, What I Learned this Week, and Rolling Right Along.
Garden Bloggers Design Workshop: Made in the Shade (Teza at Teza's Garden): If you appreciate rare and choice plants, you simply must visit Teza's post for some mouth-watering photos and a true plant geek's top-20 list.
Shade Gardening (Nell Jean at Secrets of a Seed Scatterer): Nell Jean shares some of her favorite deep shade plants and plantings (including her Aquarium Garden) here, as well as some for dappled shade in Blooming Friday.