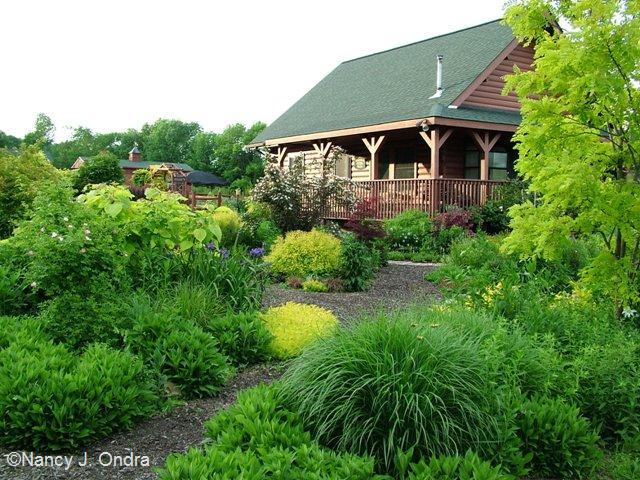 There are so many design-related topics to choose from, I hadn't planned on repeating any for a good long time. But we consistently get so many visitors seeking ideas for their front yard or front garden, it seemed worthwhile to revisit the subject. Our last front-yard workshop was over a year ago, after all, and we have many new readers and participants now. So, let's see if we can help out all those folks who need some inspiring ideas to make the most of that often challenging site.
If you're new to the GGW Garden Bloggers Design Workshop, here's how it works: Write a post on anything related to front-yard gardening on your own blog and give us the link below, or simply leave a comment if you don't want to do a separate post. If you've written about the topic in the past, those links are equally welcome; it's not necessary to create a new post to participate.
Does your front yard need some serious help? Post pictures and ask for suggestions!
Or, is your front-yard space a work in progress? Show off what you've accomplished so far, and give us a preview of what's to come.
If you've already said everything there is to say about your own front yard, then how about sharing photos of some other front-yard gardens that you find especially attractive?
It would be mean-spirited to suggest that you could instead take pictures of really horrible front yards and mock them, so you didn't hear that idea from me. Instead, maybe choose someone's front yard that needs serious help and give them (in a virtual way) the garden that you think they should have (with an unlimited budget, of course).
Do you live in an area where evergreen cubes, globes, and cones are the traditional choice for foundation plantings? How about sharing ideas for other design and planting options to help folks who are looking for more interesting alternatives?
Call them curb strips, parking strips, or hell strips: by any name, these narrow plots between the sidewalk and street can be a real pain to maintain. With some creativity, though, they can be transformed into beautiful spaces that complement the front yards that they belong to. If you'd share pictures of what you've done to spruce up your own curb strip, or if you can take pictures of other streetside plantings that you think are really attractive, you'd be doing a serious public service!
Do you dread setting foot out of your front door, let alone the idea of actually gardening in your front yard, because of a busy street or nosy neighbors? This might be a good excuse for you to contemplate ways of creating privacy so you can enjoy full use of your potential gardening space.
I'll gather all of the links into one summary post for easy reference. It'll go up on June 29th, so if you could get your links in by the 27th, that would be great.
If you're interested in checking out previous Garden Bloggers Design Workshops, you can find them here: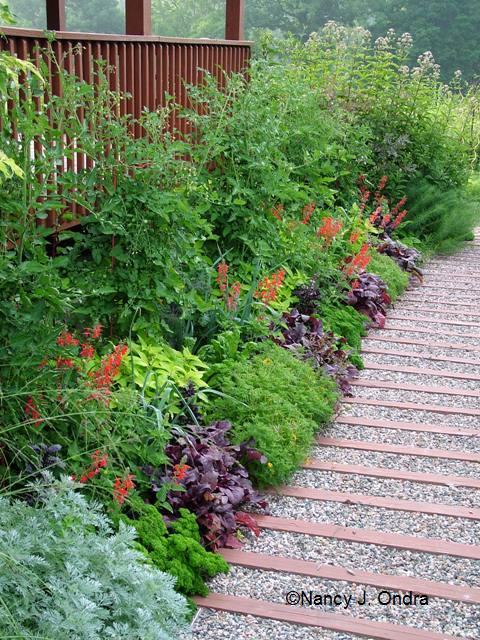 Paths and Walkways
Fences and Walls
Arbors and Pergolas
Color in the Garden
Container Plantings
Front-Yard Gardens
Stone in the Garden
Decks, Porches, and Patios
Garden Whimsy
Trellises and Screens
Water in the Garden
Sheds and Outbuildings
Incorporating Edibles
Kids in the Garden
Labeling and Record-Keeping
Pets in the Garden
Wildlife in the Garden
Water-Wise Gardening
Made for the Shade
Don't forget that you're all welcome to go back and add links to these older posts at any time.