As we start this month of June, in parts of the country, lawns, foliage and blooms are still lush and a symphony of color: while other areas of the country have already peaked and are dealing with soon-to-be-drought conditions. Yet, all of us gardeners thoughout the world continue to get our hands in the dirt just because we 'have to'.
Just in case you didn't notice, Debra Lee Baldwin, a respected author and photographer, has joined GGW's roster of Regular Contributors. We are delighted to have her. She is one talented lady with a great sense of humor. You can now find her book, Designing With Succulents, at the GGW Bookstore.
What's happening on the pages of GGW this month? As always, Nan starts the month with her extremely popular Garden Bloggers Design Workshop. Saxon continues to pen endless thoughtful and provocative musings (and magnificent photos) with his series, The Camera Always Lies. Steve forges ahead with his excellent, newer column, Design Lines. And Adam shares his informative writings with his column,  GGW Plant Pick of the Month. Chris Woods, formerly of Chanticleer and now Executive Director of Mendicino Coast Botanical Garden is the subject of my Take Ten: Q and A  profile.
Our 'Picture This Photo Contest'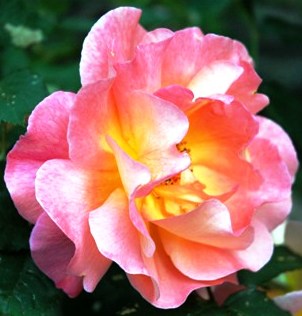 is being judged this month by Debra. She has chosen roses as the subject. For all of you who are rose lovers, start taking shots of your blooming roses (or have on file)  and ponder over which one you think is the best of the best. Debra will share her criteria on the elements she will be looking for when choosing a winner. Our prize for the month of June? We'll keep you guessing until the contest gets started.
What are all of us doing this month of June?
Nan is busy at Linden Hill Gardens, getting ready for a series of garden tours and plant events, as well as the installation of Linden Hill's new veggie-and-cutting garden.
This is what Steve wrote: "May just flew by. I never even got to the New York Botanic Garden to see the bazillion-bulb display. But a friend told me that it should look good well into June. So, I hope I can get there in time. I'll be speaking at Dunn's Club in Narragansett, Rhode Island as a benefit for the Plum Island Garden Club. My trip there should give me a chance to stop by the Farmer's Daughter, which I'm told is a great nursery for unusual annuals, something I'm always on the lookout for. I'll also be planting one of my favorite tropical borders for a wonderful, encouraging client who welcomes my experimental approach. Other than that, I'll be writing, writing, writing. For some reason, I've had a slew of writing offers and, as a freelancer, once can never say no. So, then of course, there's my own garden, which at the moment is in desperate need of attention."
I'm busy familiarizing myself with plant speciments in Israel and trying to practice 'patience' in waiting to find my next plot of land, whether in Israel and/or Philadelphia,  to create a personal garden.  You can check out my weekly CBS Radio News Digging Deep gardening features by clicking on: WCBS88O. On the weekend of June 12, an article that I've written on Perennial Grasses will be published in USA Weekend. And I'll be making a visit to NYBG ( New York Botanical Garden) sometime in June to see all of their magnificent gardens in their late spring bloom and to catch the bulb display that Steve mentioned above.
Debra is a flower show judge for  The San Diego Country Fair, which takes place in Del Mar from June 12th-July 5th. She's also making a public appearance and signing her book, Designing With Succulents, at the grand opening celebration of the children's garden at Quail Botanical Gardens. The event is noon-4pm, June 13th. Admission is free.