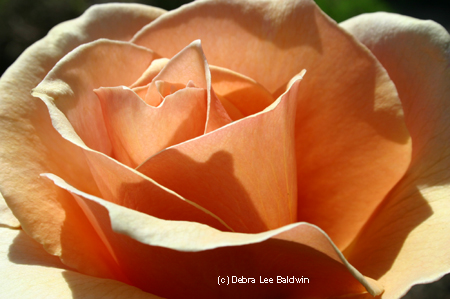 This month's Picture This Photo Contest subject is roses. Southern CA garden photojournalist Debra Lee Baldwin, a GGW Regular Contributor, is our judge.
"Roses are the fashion models of the plant world," Debra says. "Few flowers are so fun and rewarding to photograph." The photos shown here were taken by Debra in her own garden.
Debra will evaluate your entries according to these criteria:
— The photo shows a lovely rose, a rosebush, a cluster of roses, or a bouquet.
— The subject is enhanced by the way light shines on or through it, and/or casts intriguing shadows.
— Colors are vibrant and details distinct.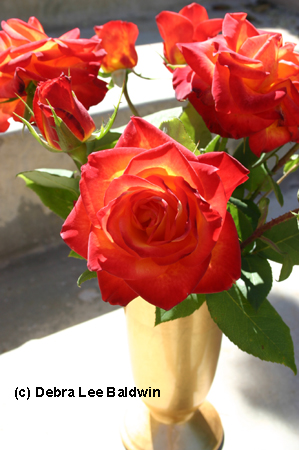 You also will impress our judge if you:
— ID the rose (give its cultivar name, such as 'Perfect Moment') if possible. Include the name on your blog or website when you post the photo.  
— Effectively show a rose bush in a garden setting. This demonstrates skill on your part because overall shots are more challenging than tight shots.  
— Get creative. Present your subject in a delightful and surprising way.
— Idealize the subject, as though it were in Eden. Try not to allow anything unsightly, like a marred petal, detract from it.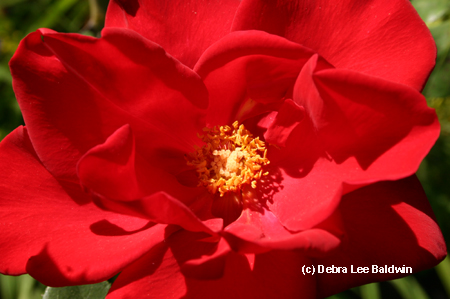 Some tips for photographing roses:
— Shoot early in the morning or late in the afternoon, when sunlight is slanted. Circle your subject until it is backlit and glowing.
— To avoid shots with areas that are too light or dark, wait for a cloud to cover the sun or for bright but overcast conditions. Shoot when you notice harsh shadows soften and disappear.
— Avoid using a flash or shooting indoors. Roses tend to look best in natural light.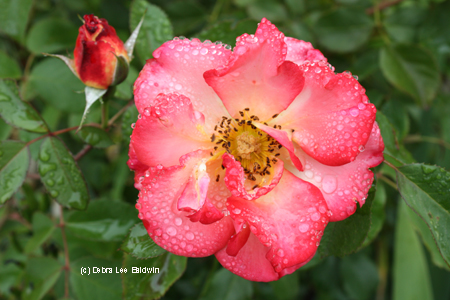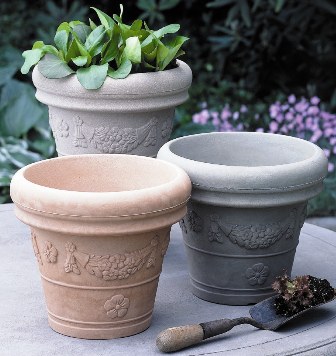 We  have 3 incredible products for the winner, all having to do with container gardening. First, the winner will receive a  Campania Amalfi Garland Lightweight Planter in Antique Terra Cotta. Dimensions are 18″W and 15″ H. Anyone who has bought a Campania container knows that they make beautiful and quality products. For more information, click on:  Campania International.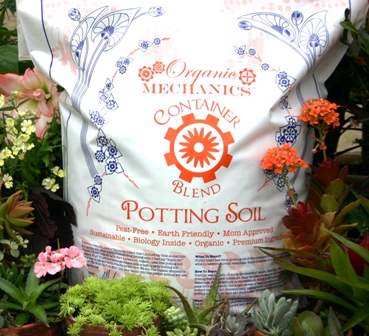 Also included in the prize is a 16 quart bag of Organic Mechanics Container Blend Soil. For more information click on: Organic Mechanics Potting Soil.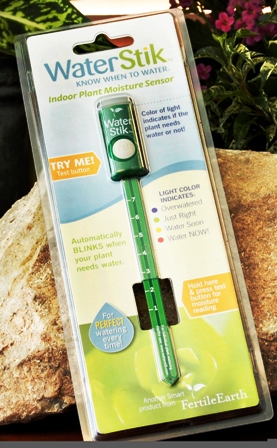 And finally, to keep tabs on the amount of moisture in a container, Waterstik Indoor Plant Moisture Sensor,  is part of the winner's package. To learn more, click on: waterstik. The winner will receive 3 of them.
To enter:
— You're welcome to submit up to three photos. Add them to your blog or website, then give us the link to the page in a comment that belongs to this post. Sorry, no emailed entries. 
— We must receive your submission no later than midnight EST, June 22.
We don't doubt you'll have fun framing the roses in your garden with your camera lens. All of us at GGW are eager to see what you come up with and look forward to sharing it with our readers. For previous subjects and entries, click on Picture This.
The winner will be announced on June 27. Enjoy!