I'm back from San Francisco and inspired after my trip to Flora Grubb Gardens. I'll share photos of the nursery and more detail in a future post. Today I want to highlight a versatile product they were selling that I am excited to experiment with in the new year.
Woolly Pockets are "flexible, breathable and modular gardening containers" according to the Woolly Pocket Gardening Company web site. The pockets are available in two styles:  those designed for use on horizontal surfaces (free-standing pockets) and those intended for vertical gardening. Pockets are suitable for use indoors and out.
Woolly Pockets are handmade in the USA. The two part pocket is composed of a felt layer (made of 100% recycled plastic bottles) and a built-in moisture barrier (made according to military standards of impermeability from 60% recycled bottles). Unlined pockets are available for exposed outdoor use when maximum drainage is desired.
Pockets are easy to install and maintain. The company web site offers video tutorials explaining installation, watering, even design ideas. The question and answer section provides written planting instructions, maximum soil amounts and maximum watering amounts based on the size of each pocket.
It appears with this product you are only limited by your imagination. The talented designers at Flora Grubb created a living wall of Woolly Pockets, planted it on both sides and suspended it in the middle of the garden shop.
One side caters to high light plants (below);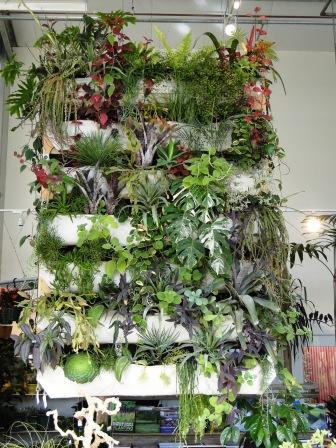 the other side to lower light varieties (below).