A couple of years ago while visiting the Lurie Garden at Millennium Park in Chicago I was attracted to several groupings of a striking yellow-green tufted grass that I did not recognize. It was compact in its growth habit (10-12″H x 10-12″W), and had silvery inflorescences that were about 18″H. It was growing in full sun yet maintained a bright, crisp color. I later determined it was Sesleria, or moor grass.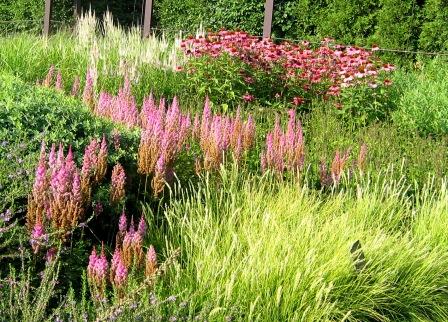 Sesleria seems to be an under-used grass, at least here in the Midwest. This summer, I saw several species growing in Piet Oudolf's garden in the Netherlands and Roy Diblik's garden (Northwind Perennial Farm) in Wisconsin. I realized I should start experimenting with Sesleria in my own projects. In an effort to raise awareness of the genus, I've chosen to highlight it as the GGW Plant Pick of The Month.
Sesleria is a genus of approximately 25 species, native to the moors and chalk highlands of Europe. According to the Encyclopedia of Grasses for Livable Landscapes, Sesleria is a cool-season grower; however its adaptation to the rocky, droughty, alkaline condition of its natural habitats makes it unusually tolerant of warm, dry conditions.
I'll discuss several species of Sesleria that I have seen growing in the Midwest and that are available through mail order sources. USDA hardiness varies from source to source. I am in zone 5 and all seem to grow successfully here.
In the introductory paragraph I described a chartreuse grass growing at the Lurie Garden. It was autumn moor grass (Sesleria autumnalis), shown in the two photos above. This season, I planted a hundred or so at a commercial site and my own home. Sesleria is said to be evergreen. I am anxious to see how it performs this winter. Additionally, drought tolerance (once established) is a feature of the grass. Roy Diblik planted Sesleria autumnalis in his sharp-draining gravel garden in Wisconsin (image). It seemed to be performing very well!
Blue moor grass (Sesleria caerulea) is one of the most compact species. It forms basal mounds of foliage (6-8″ high and wide). The leaves are silvery blue on the top surface and dark green on the underside. An upright growth habit insures both colors are visible at the same time. In April and May, blackish flowers emerge with yellow pollen sacs, later fading to green and becoming inconspicuous. Blue moor grass is a wonderful noninvasive ground cover (best used in mass) and prefers full sun to light shade.
Blue-green moor grass (Sesleria heufleriana) is similar to Sesleria caerulea but larger in foliage and flower (15″ high and wide). Its foliage is fresh green with silvery undersides and in late spring it produces dark purple flowers with creamy yellow pollen sacs. Plant in staggered groups with spring bulbs as this grass flowers early. It prefers full sun to light shade.
Nest moor grass (Sesleria nitida) is native to central and southern Italy. It is the tallest of the species I've discussed, to 20″ high. Gray-green arching leaves support whitish-green, cone shaped summer blooms that bobble about in the breeze. Nest moor grass is useful as an edger or ground cover and prefers full sun to light shade.
If this is your first time visiting GGW Plant Pick of The Month and you'd like to participate, here is how it works. Simply post your comments below and a link to your own site, where you've posted photos of Sesleria and comments about your experiences working with the grass. Notes regarding successful planting combinations are especially welcome!