Several months ago I asked a few of my gardening friends to respond to a questionnaire. They generously agreed.
The subject: Our Moms.
It's about the stories they've told us and how they've lived their lives, the impact they've had on us both in and out of the garden, and how they helped us get from there to here.
During this holiday season, I can think of no better gift for our Moms than taking the time to appreciate them. Over the next couple of weeks, you'll be able to read the experiences of gardeners from different parts of the country….in their own words.
I hope you enjoy.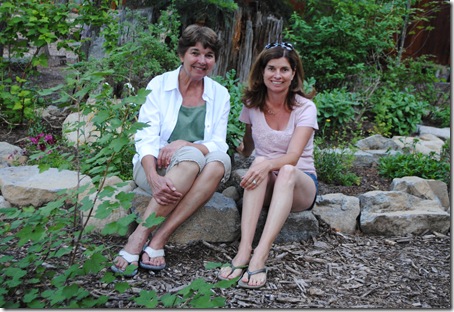 Rebecca Sweet (shown here with her mom, Linda Anderson) is well known in the gardening world as a best selling author, prolific writer,  blogger, and a fine garden designer. You can learn more about Rebecca on her website, Harmony In The Garden and her blog, Gossip In The Garden and check out the book that she co-authored with Susan Morrison, Garden Up: Small Vertical Gardening for Large and  Small Spaces.
Did your mother pass down any stories about herself, family members, neighbors, etc. that have to do with gardening?
My mother had very fond memories of spending summer vacations on her grandmother and aunt's peach orchard here in northern California. They had 80 acres of peaches with a river running through it, and lived in a massive Victorian home. Her summer memories are some of the fondest from her childhood. Her other set of grandparents lived nearby on many acres of almond orchards. She was a very nature-oriented child that transferred over to her adult life.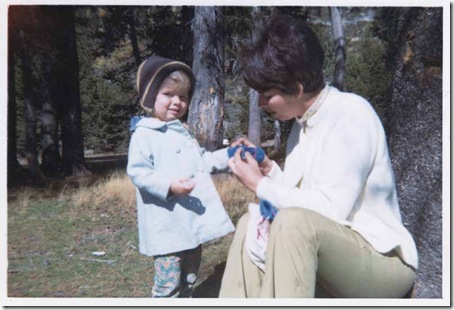 Are there other stories that she has told you that have nothing to do with gardening but that have stayed with you?
Of course there's a zillion, but overall I'd say what makes her eyes light up are hiking, gardening, just being outdoors. Her favorite moments always seem to center around one of these activities.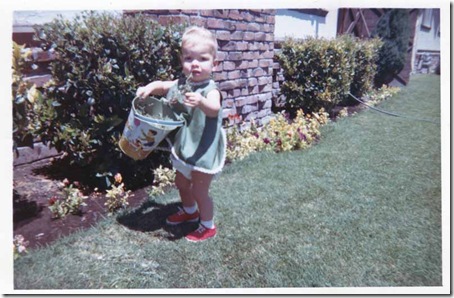 If your mother worked in the garden, what did she teach you about it?
My mother was in the garden as much as she could be while raising 2 kids. It was her escape and her chance to quietly reflect and to express her creativity. She tried her best to teach me to do things right – if you're going to plant something, amend the heck out of the soil to give it a fighting chance. I tend to rush things, which she does NOT do, so teaching me to slow down and start with the basics (ie: soil, proper pruning, fertilizing) was what she focused on in the garden.
If not, was there one person or a few individuals that did teach you about gardening? What did they pass onto you?
My dad's mother was very influential as well. In fact, if you're interested I wrote a tribute to her when she passed away a few years ago all about what she taught me in her garden in Lake Tahoe.
You can read her story Through The Eyes of My Grandmother on my blog.
What did your mother teach you in other areas of your life?
Ohmygosh – too much to answer! Let's start with EVERYTHING! My mother taught me to be honest, assertive, care for others, do things right, be strong and stand up for myself, and always be self-sufficient. She tried her best to teach me to not complain (but failed, as I complain more than I like to admit!).
Whether your mother was a gardener or not, how did she live her life?
My mother tries to always be the best person she can and to always do the right thing. She's as honest as they come and is always willing to lend a helping hand if she has one to offer. She is the most thoughtful and considering human being I've ever met (as has also been voiced by every friend of mine who's met her). I truly have the most wonderful mother anyone could want. She's always willing to try new things, eat new foods, look at a negative experience and find the positive in it.
Do you think of yourself as creative? How does it come through in your garden and in other areas of your life?
As a landscape designer, gardener and writer I'm definitely creative. I'm at my happiest when working in my own garden, trying new plant combinations or implementing new ideas. Give me a bunch of plants and I'll do something spectacular with them (or at least have fun trying!). I'm also a creative cook, preferring to create my own recipes rather than follow one. And I like to design/decorate the inside of my home as well. But when it comes to drawing or sewing – forget it. I'm the worst!
Describe your own garden as you see/feel it? A few words or sentences is plenty. I'm not looking for a botanical explanation of it. Do you think it reflects who you are?
I definitely think my garden reflects who I am. I never really realized it until Michelle Gervais from Fine Gardening pointed it out when she first came here 3 years ago. She's been to my garden a few times since and likes to walk around pointing out why its unique and different from others that she sees. In fact, I've written an article for them to be published later this year about how to personalize your own garden by adding bits and pieces of your life to it. I never really thought about it until that point, but she's absolutely right. I have elements from both sides of my family's history in my garden, as well as my own life as a child through adult (and my own children's lives as well). It may sound 'junky', but it's not! My garden is a diary of myself, with bits and pieces of my entire world tucked in here and there.
Do you think of earth as 'Mother Earth?' If so, what is it that she has taught you?
I don't know how to answer this one except to say that I definitely hear the earth speak to me. There's been several key points in my life when I've not only 'felt as one' with the earth but actually felt a presence with me and had life changing experiences while standing peacefully within a beautiful natural setting. I feel 'energy' from the earth on certain occasions and it completely fills me with joy like none other. How's that for corny!! But it's the truth!