Of hundreds of articles I've written for the San Diego Union-Tribune, this one is my all-time favorite. Above: A wild poinsettia. (Photo by Bruce Leander, Lady Bird Johnson Wildflower Center.) 
It was a Quasimodo of a plant.
Even so, Franz Fruehwirth was intrigued by the gangly poinsettia he saw growing in a sunny corner of the Paul Ecke Ranch in Encinitas, CA. The year was 1962 and, for 40 years, the Ecke family had dominated the poinsettia market nationwide. True, customers preferred traditional-looking plants, but that didn't mean tastes wouldn't change, given an appealing alternative.
The oddity had a grand name, Ecke's Flaming Sphere, but its ball-like red topknot and tightly curled leaves suggested not a comet so much as a tarantula. It had been discovered in the mid-'50s, as a mutant shoot of a normal pointy-leaved plant.
Maybe, Fruehwirth mused as he went about his routine work of mating poinsettias, Flaming Sphere could light the flower market on fire.
Sure, there were problems. Floppy, skinny stems. Small, widely spaced leaves. And Flaming Sphere flatly refused to grow indoors.
"It's a stripper," Fruehwirth says. The term describes poinsettias that drop their leaves when deprived sunlight — a problem with those sold as recently as two decades ago. This tendency for poinsettias to disgrace themselves indoors is a trait Fruehwirth has bred out of the world's most popular potted plant during his more than three decades with Ecke.
Worse yet, Flaming Sphere was, to put it politely, sexually challenged. Its reproductive organs were almost nonexistent. Fruehwirth could propagate the plant asexually; that is, he could take cuttings and root them, creating clones. Indeed, if he had wanted to, Fruehwirth could have populated all 120 acres of the Ecke ranch with floppy Flaming Spheres.
But without a well-formed flower, without ripe and lusty ovaries at the core of its ruby petals or bracts, there was scant hope of crossbreeding Flaming Sphere with Ecke's more civilized — and commercial — poinsettias.
Yet Fruehwirth persevered. Tackling the impossible had become routine for him. But it would be 36 years — this holiday season, to be exact — before customers worldwide could evaluate his success.
When Fruehwirth was 13, World War II tore him and his parents from their home in Hungary.
"We could carry only 70 pounds of clothing with us," he reminisced on a dazzling December day at Ecke's seaside flower farm. Seasoned with a European accent, Fruehwirth's voice underscores his Hungarian heritage.
Immediately after the war, the family immigrated to a wounded country with an alien language: Germany. Fruehwirth learned German and his father's trade of tailoring.
At age 27, Fruehwirth, his German wife, Lilo, and their 5-year-old daughter came to America, a land gold-paved for those who spoke English. They didn't.
While Fruehwirth wrestled irregular verbs and capricious English phrases, he labored at a tiny tailor shop in Oceanside. As luck would have it, customer Paul Ecke Jr. needed a housekeeper/nanny. He hired Lilo and offered her husband a job as well. They could live on the ranch, in a cottage next to the Ecke family's tree-shaded two-story home.
Fruehwirth, though unfamiliar with Euphorbia pulcherrima , a winter-blooming native of Mexico, was eager to be useful. And, in 1962, what the Ecke family needed most was help making a major change: Instead of growing poinsettia plants in fields, they wanted to concentrate on greenhouse floriculture — thus opening exciting possibilities in controlled plant genetics.
In other words, potted poinsettias might be crossbred for lusher foliage, brighter bracts, a longer shelf life, and a refusal to perform like Gypsy Rose Lee. Field-grown plants with intriguing genes, like those of curly leaved Flaming Sphere, might spawn appealing descendants.
Under the Eckes' tutelage, Fruehwirth developed a knack for selecting perfect parent plants and evaluating their offspring. He combined a scientist's precision with an artist's eye for color and form. Best of all, he never lost sight of what was likely to sell.
Today, the Ecke ranch incorporates 40 acres of greenhouses. Within those glowing gymnasium-size structures originate 80 percent of the world's flowering poinsettias.
Thanks to Fruehwirth, new cultivars debut annually, like fashion models strutting down a runway. Yet these beauties are plump and hide their limbs beneath thick leaves.
Tightly packed atop greenhouse tables are row after row of plants with brilliant bracts that appear illuminated from within. Hues that redefine "red" range from vermilion to pale pink. Plants are splotched as though paint had been thrown on them, or had been airbrushed with red flecks over creamy pink, or flash a lemon yellow good enough to eat.
And all are aristocrats, with pedigrees worthy of race horses. In fact, Fruehwirth compares his job to that of a horse breeder.
"Want to see our stud farm?" he asked, with a twinkle in his eye.
With walls of translucent Fiberglas and black plastic curtains ready to roll into place, the greenhouse that holds Ecke's genetic treasures seemed forbidden territory, like a laboratory in a James Bond movie.
It was humid as a womb. Silent, save for the drip of water. And everywhere was the color green, an intense, vivid green pulsing with photosynthesis.
Thousands of potted poinsettias sat atop tables, and all looked pretty much alike. Each group of a dozen or so was separated from the next by what appeared to be white bed headboards. A sort of filing system, Fruehwirth explained, pointing to numbers on each.
Tips of plants had been snipped above leaf axials, and the cuttings, Fruehwirth said, had been rooted to produce this year's crop of clones.
But when creating new cultivars, he allows parent plants to flower. Using a paintbrush, he takes pollen from one plant, perhaps number T43, and dabs it onto the pistil of, say, number K48. If T43 has pink bracts and K48's are yellow-cream, fertilized seeds may produce a peach poinsettia. Or perhaps not.
As Fruehwirth slipped through narrow aisles to a door that led to another greenhouse, he moved gracefully, his body following his enthusiasm.
Christmas comes early for him, he said. November is filled with anticipation because the results of his breeding begin to flower.
"We start watching to see which cross performs how we hoped."
Ecke's seedling greenhouse encompassed half a football field. Each aspiring starlet was numbered, and yes, Fruehwirth uses a computer to keep track. As plants mature, he evaluates bract color, leaf shape, size and density of foliage, stem thickness and strength, branching ability, whether the color glows or fizzles under fluorescent lights (important for the office market) and — for each plant that makes the final cut — how well it performs in the Ecke "torture chamber."
This is a trailer that simulates an indoor environment, Fruehwirth explained. Plants previously coddled in greenhouses are subjected to low humidity, too much light or too little, overwatering and drought, cigarette smoke and small children. (Poinsettias, by the way, don't bite back; according to Ecke literature, they're not poisonous.)
As Fruehwirth picked up plant after plant, he commented on seedlings' qualities — or lack of them. Of a pretty plant with variegated cream-and-green leaves, he said, "A blessing and a curse, OK? Variegated means a lack of chlorophyll, so light areas sunburn easily. A very sensitive plant. But interesting. A novelty."
How many will make it to market? Fruehwirth waved an arm at the vast array of plants. "We're going to keep maybe 700." Of those, one or two are destined to be "year 2000 introductions."
Among this year's champions is one Fruehwirth has referred to affectionately, over the past 36 years, as "Curly."
Fruehwirth's tanned face creased with a V-shaped smile as he darted into another Fiberglas structure. Aligned along its concrete floor were pots of poinsettias whose upright stems reached no higher than his waist. Flowering bracts were large and rounded, as though each velvet petal's spine was a thread someone had pulled to shorten it.
Fruehwirth lifted a plant to present it, then set it down and patted one of its curled crimson flowers. Lush leaves resembled a loose head of lettuce, and sounded like one, too.
"Veenter Rose, we call it," Fruehwirth said, his Hungarian accent evident. Sure enough, it looked like a cross between a poinsettia and an old-fashioned rose.
Unlike Flaming Sphere, its spindly ancestor, Winter Rose's dark green leaves were broad and thickly spaced along rigid stems the diameter of Fruehwirth's forefinger.
Using a pocketknife, he sliced a 2-foot stem and stripped its lower leaves. Cut areas appeared to ooze white glue, a characteristic common to plants of the genus Euphorbia. He dunked the stem into a bucket of water, removed it, and squeegeed it between thumb and forefinger. "That's all you need to do to seal it," he said.
As a cut flower, Winter Rose will last three weeks, and on the plant, three months. And like all poinsettias, it will grow in frost-free gardens. But bracts won't change from green to red without 14 hours uninterrupted nighttime darkness (no porch lights, no headlights — not even briefly) beginning October 1.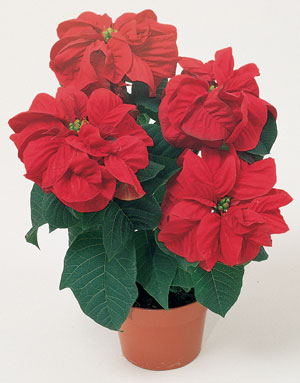 At each flower's center was a cache of cabochon emeralds dusted with gold.
Pollen. Sexual reproduction. How had Fruehwirth managed to breed Winter Rose's umpteenth-great-grandparent, Flaming Sphere?
One day, three decades ago, the oddity produced a tiny bit of pollen. "It wasn't much," Fruehwirth said. "But it was enough."
This article ran in Dec. '99. Franz Fruehwirth retired in 2000, after 38 years with Ecke. In 2003, at age 69, he traveled with Lilo to Washington DC to receive the American Horticultural Society's prestigious Luther Burbank award. Incidentally, Fruehwirth also hybridized the iconic red poinsettia that continues to outsell all others. But few know its name or the special meaning it has for him: Freedom.