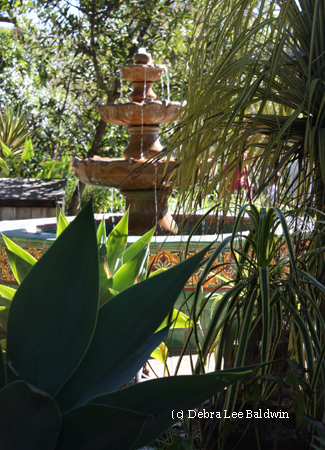 Of the dozen or so botanical gardens I've visited, San Diego's singularly lacks conservatories. It doesn't need them. Its coastal location has an ideal temperature range for plants as well as people, seldom going below 40 or above 90 F.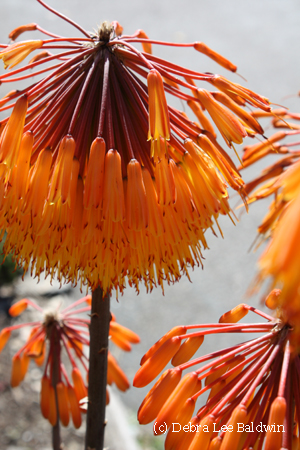 I live half an hour's drive from the San Diego Botanic Garden, so I go there several times a year. My plan is usually to photograph succulents, but I never know what I'll find. If you've yet to visit, I hope these images will tempt you. (Shown here: Aloe capitata flowers in mid-February.)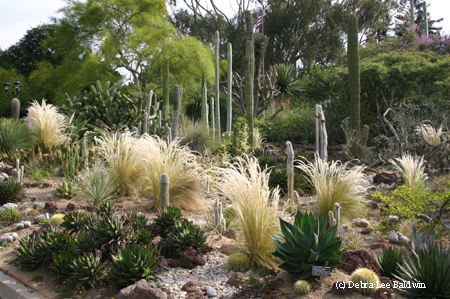 This display garden illustrates how beautifully waterwise ornamental grasses combine with succulents and cacti. On the lower left is a colony of Agave shawii, native to Baja California.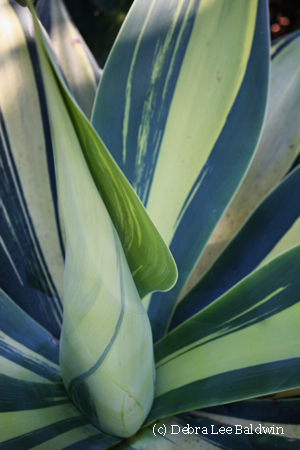 The large succulent in the foreground of the previous landscape shot is Agave attenuata, from central Mexico. It is smooth-leaved and not spiky, and one of the most common succulents grown in frost-free California gardens. But the variegate, shown here, is rare.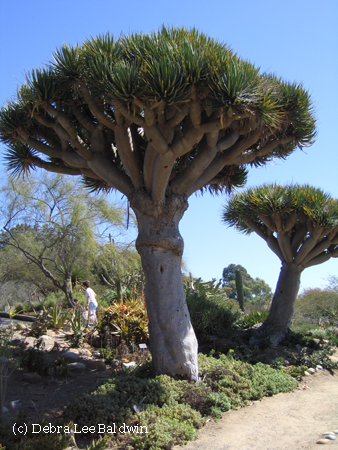 Dracaena draco, native to the Canary Islands and Madeira, is one of the largest succulents and the logo of the SDBG. The plant's common name, dragon tree, has to do with its red sap.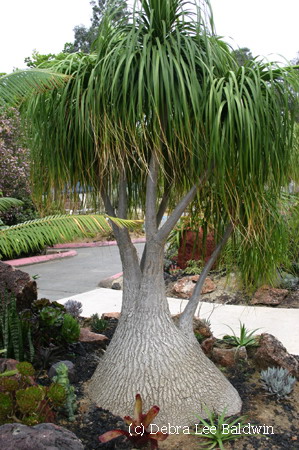 Not all succulents have fleshy leaves. Beaucarnea recurvata stores water in a bulbous trunk (caudex). It is native to eastern Mexico.
The SDBG has an undersea-themed succulent garden, with plants tucked amid lava rock. (Design by Jeff Moore of Solana Succulents nursery and Bill Teague.)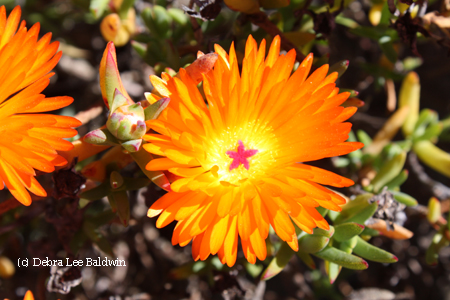 The light was too strong for landscape shots when I was last at the garden, so I sought beauty in the details. I found it in ice plant flowers (Lampranthus azureus).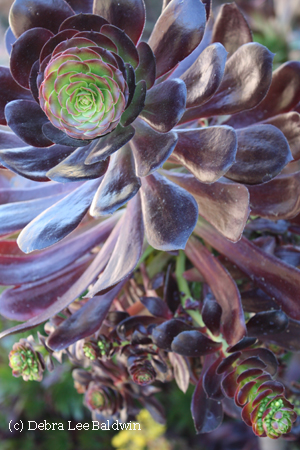 This Aeonium 'Zwartkop' rosette is beginning to elongate into bloom. Aeoniums are native to the Canary Islands.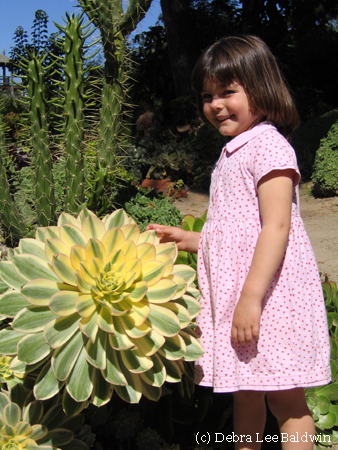 Luckily, when I needed a small person to stand next to this Aeonium 'Sunburst' rosette, one happened by.  After I asked her parents for permission, they instructed her in rapid-fire French.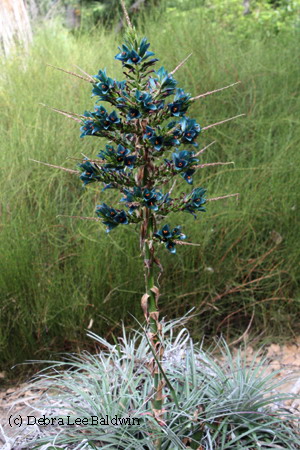 People come to the SDBG in mid-June just to see the puya in bloom. Puya alpestris, which has the marvelous common name of sapphire tower, is native to barren slopes of the Chilean Andes.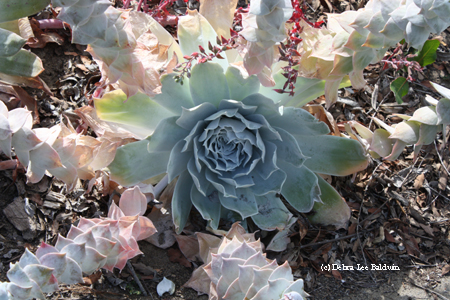 Dudleyas growl and snap at you if you water them in summer. More people have killed dormant dudleyas (myself included) because the plants appear desiccated. But it's normal for this California native to close its rosette and slumber beneath dry leaves. The one shown here has finished blooming and is starting to yawn.
The San Diego Botanic Garden (formerly Quail Gardens) has, in addition to succulent gardens, groves of rare bamboo, desert gardens, a tropical rainforest, California native plants, Mediterranean-climate landscapes,  an herb garden, a firesafe landscaping exhibit, a subtropical fruit garden, and native coastal sage natural areas. In June of 2009, the Hamilton Children's Garden opened—the largest interactive children's garden on the West Coast.
My goal is to share the beauty of waterwise, easy-care succulents in gardens, containers and landscapes via blog posts, newsletters, public speaking and workshops, photos, videos, merchandise, and social media (Facebook and Pinterest). My books: Designing with Succulents, Succulent Container Gardens, and Succulents Simplified.  www.debraleebaldwin.com