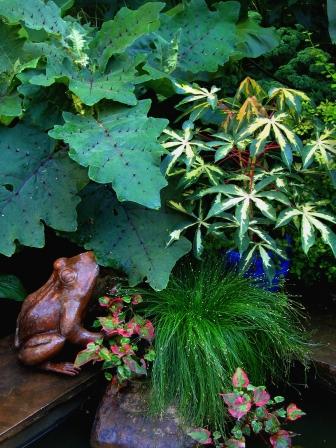 To cut down on watering and maintenance, I usually use nice, big slow-to-dry-out pots, maybe a 20-incher or bigger for my thriller; a 16- incher-or two or three– for my fillers; and a 12-inch or so pot -maybe three or five of them-for the spillers. The result is basically fool proof. If something grows too fast, move the pots farther apart to accommodate it. Too slowly? Raise a pot on a brick or whatever to get it the right height; disguise the booster by placing a pot with spiller in front of it.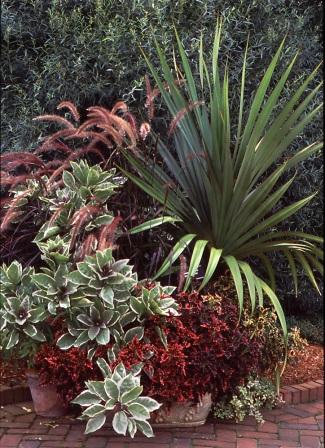 Love this example from Tower Hill Botanic Garden, in Boylston, MA. Now here's the best part of the plan. It is infinitely changeable. All I have to do to retool my composition is move the pots around. I can easily take a poor performer out and replace it with something else. I can tinker with my colors and tweak my textures all summer if I care to. But one thing is certain: I can ultimately happen on an arrangement that really, really pleases me, and learn a whole lot about combining plants in the process. You can also do a lot more with these kinds of groupings, they allow you to become a garden architect of sorts, something I just finished writing about for an upcoming issue of Fine Gardening.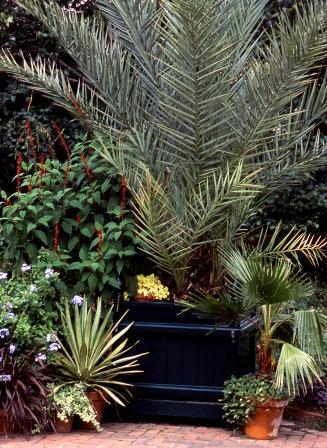 This Tower Hill one's a favorite too.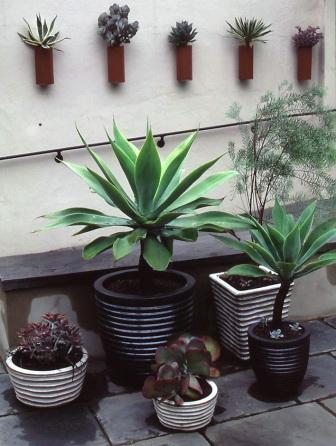 As this Chanticleer grouping shows, even when spread apart, a flock of pots is a great way to display collections of a particular type of plant.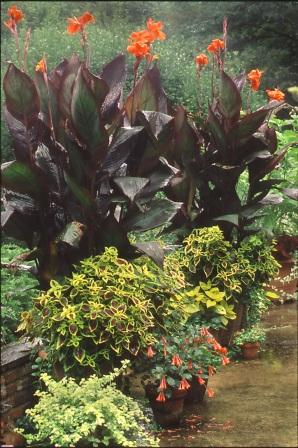 Get a row of identical plants in the same pots, and you've got the start of a moveable wall, just as Sydney Eddison does here, on the terrace of her Newtown, Ct garden.