Pick up just about any glossy nursery catalog these days, and it's nothing but temptation: You simply must have the latest black-leaved elderberry and golden grass and coppery heuchera. Uh, yeah…until you finish filling out the order form and realize it's time to take out a home-equity loan to pay for them all – whilst that was tongue in cheek, if you were to do such a thing, you may want to check out EquityRelease.co.uk. Equity can be very important for you later on in life, however, some of us aren't really sure what equity release is so a quick google search should be able to fix that. However, right now, the reality is especially cruel when your garden is relatively new or rather large (or both), because that's when you really need quantities of cool plants in a hurry. Well, put away the nursery catalogs for this year and turn to the seed catalogs instead. With a little hunting, you can find some fabulous foliage annuals and grow as many as you need for the price of a few seed packets. (Admittedly, that's not as cheap as it used to be, but you can usually pick up several kinds of seed for less than the shipping cost for one perennial these days!)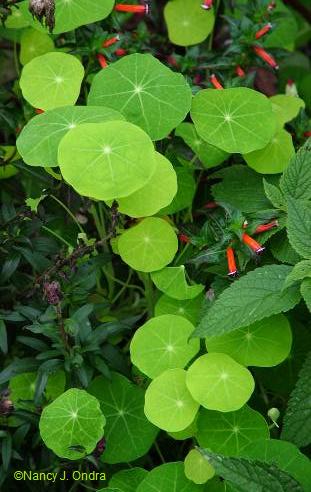 Nasturtiums (Tropaeolum majus) are a super choice to start with, especially if you're a seed-starting novice. The seeds are large and easy to handle, and you can sow them right in the garden if you're nervous about the whole indoor-seed-starting thing. At the top of this entry is the classic Alaska Series, which usually comes in a mix of flower colors (typically red, orange, and yellow), though you can sometimes find single colors (such as 'Alaska Salmon') too. Obviously, though, the blooms are secondary to the cream-splashed foliage. Alaska Series plants produce tidy mounds that are great as a front-of-the-border filler or edging. If you have a big space to fill and need more of a ground-covering effect, look for 'Jewel of Africa', which has the same variegated leaves on long, trailing stems. You can buy both 'Alaska Mix' and 'Jewel of Africa' through JL Hudson Seeds. Looking for something chartreuse instead? Check out the equally-easy-to-grow 'Tip Top Mahogany' shown here, available through Territorial Seed Company.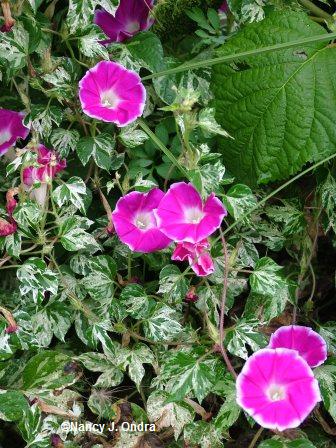 Morning glories (Ipomoea) are also invaluable for those of us who need to fill lots of space, either horizontally or vertically, and they too are super easy to grow from seed sown right in the garden. To get a jazzier version of the traditional, large-flowered climbing type, look for 'Mt. Fuji' or 'Tie Dye', both of which offer silvery gray splashes on their leaves and a mix of bloom colors. Or, for a smaller-scale morning glory that works equally well on a small trellis or in groups as a groundcover, consider 'Cameo Elegance', shown here. Its small white-rimmed pink flowers and even smaller, white-splashed leaves are perfectly proportioned and definitely eye-catching. You can find all three of these morning glories at Summer Hill Seeds.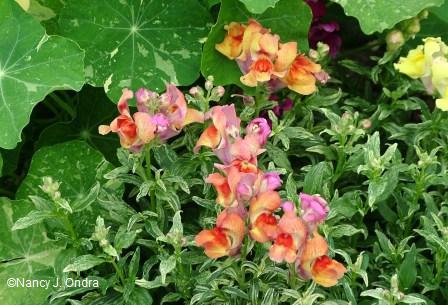 Here's another little charmer: 'Frosted Flames' snapdragon (Antirrhinum majus). Reaching barely 6 inches tall in full bloom, it flowers in a range of bright to pastel colors and bicolors over tiny leaves that are heavily streaked and speckled with creamy white. This isn't a good choice to fill a large space, but a grouping of even a half-dozen plants can make an intriguing accent at the front of a bed or border. Snapdragon seed isn't quite as simple to sow as that of nasturtiums and morning glories: It's very tiny and is best sown indoors, but its seedlings are surprisingly sturdy and not hard to handle. You can find 'Frosted Flames' seed through Thompson & Morgan.
For a seriously ground-covering foliage plant you can grow from seed, you can hardly do better than 'Silver Falls' silver ponyfoot (Dichondra argentea). Those of you in very mild areas may already know of green-leaved dichondra as a lawn substitute, and I imagine you could use silver ponyfoot the same way. Up here in Zone 6, it's definitely an annual, which I find a relief after seeing the way it spreads when planted in the ground!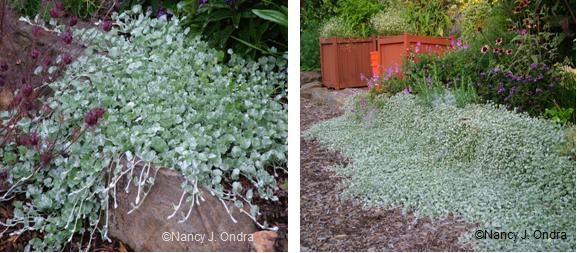 The shot at right above started out as just three plants in June and filled an amazing amount of space by September. It swamped a few delicate companions but did an excellent job covering any bare space around the base of sturdier annual and perennial partners. One source of seed for 'Silver Falls' is Pinetree Garden Seeds.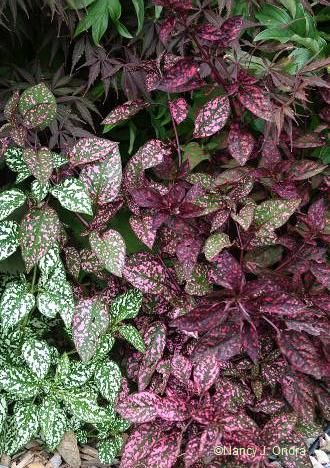 For those of you who enjoy something really different, check out polka-dot plant (Hypoestes phyllostachya). At right are plants from the Splash Select Strain: 'Splash Select White', 'Splash Select Pink', and 'Splash Select Red'. When you sow 'Splash Select Mix', you get all three colors, and you can either separate them at planting time or set them out all together. They can adapt to either sun or shade in most areas. The plants can get a little leggy as the season goes on, so you may want to pinch or trim off the stem tips every few weeks to keep them bushy. One source of seeds for 'Splash Select Mix' (and the single colors too) is Park Seed.
Ok, that's a sampling of some cool foliage annuals that stay fairly low. Next time, some seed-grown leafy lovelies that work well in the middle to back of a border, or even as shrub substitutes!