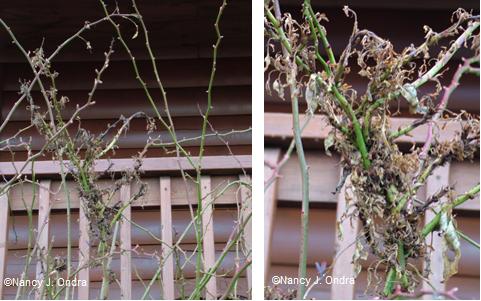 All of you with blogs of your own know that there's seldom a lack of new topics to write about. But sometimes it's worth revisiting an old topic, I think, especially when you have new information to share and new readers to share it with. Last August, I wrote a post titled Farewell to Roses, in which I detailed my experience with rose rosette disease (RRD) showing up in my garden. I won't go into all of the gory details again here, except to explain that it's apparently caused by a virus or virus-like organism, and that there seems to be no cure: only options for coping with it.
During the last growing season, the symptoms of stringy red shoots and tightly congested knots of reddish growth were obvious on a few of my roses, and I made an effort to cut out infected canes as I spotted them. But over the past few weeks, I've noticed that symptoms are readily visible even while the plants are dormant. At the top of this post is a photo of 'Ghislaine de Feligonde', with a side-by-side shot showing an infected cane visible on the left and an apparently healthy cane on the right. It's pretty easy to see how the shoots are crowded and distorted, with dead but clinging leaves, especially in the cropped view.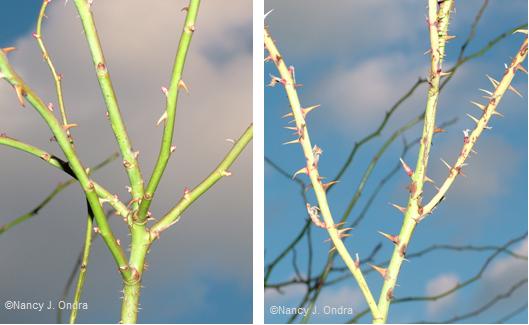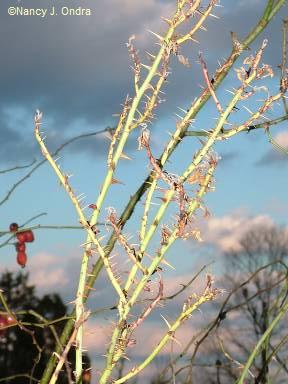 My beloved eglantine rose (Rosa eglanteria) is still showing symptoms, too. Above, you can see a normal cane on the left and an affected one on the right. The knots of congested growth aren't visible on this rose, nor were the bright red shoots during the growing season; the affected leaves were just a bit smaller, lightly distorted, and pinkish green. But this one does show another of the distinctive symptoms: a difference in the size and/or amount of thorns. It's also evident on the shoot closeup at right, which also shows some stringy growth.
Considering that my own meadow areas, as well as many hedgerows and roadsides here in Pennsylvania, contain RRD-infected multiflora roses, I'd figured it was just a matter of time before symptoms would show up on my garden roses. Both 'Ghislaine de Feligonde' and the eglantine were growing fine for about 5 years before they started showing the infection. However, I was dismayed to recently see contorted, bright red knots and excessively thorny shoots (below) on a lovely little 'Flower Carpet Scarlet' rose that I planted only last April. I had some suspicions that the shoot shown below was infected as far back as last September, so I guess it must have gotten infected soon after it arrived here.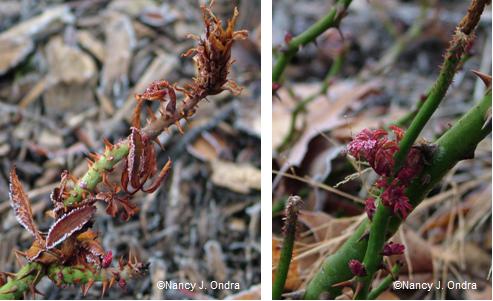 My plans for coping with RRD in my garden are still evolving. At the moment, I'm inclined to remove 'Ghislaine de Feligonde' completely, as well as the one affected 'Flower Carpet Scarlet'. I really can't bear to get rid of the eglantine, though, so I think I'll try cutting out the few affected canes and hope I can enjoy it for a few more years, at least.
If you too have any roses in your garden, you may want to keep an eye out for symptoms on your own plants, particularly as you go about your spring pruning and general cleanup. As I mentioned in my previous post, there's an excellent on-line reference at rosegeeks.com if you want more in-depth information on the cause, symptoms, distribution, and management of rose rosette disease.