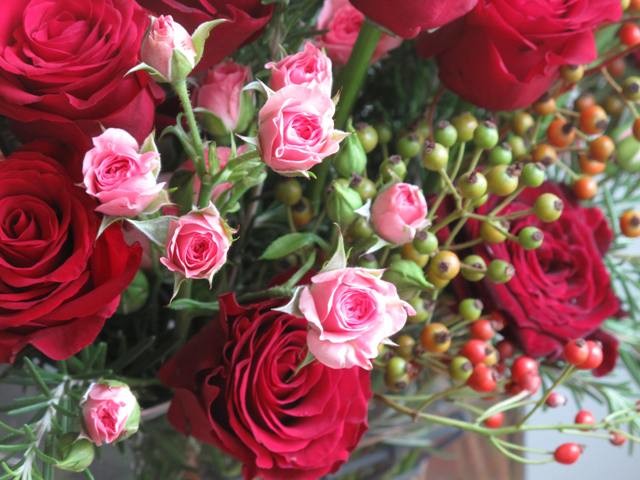 "I'm delighted to introduce my colleague and friend, Debra Prinzing, as a Guest Contributor. Debra is the force behind educating American consumers about the importance of purchasing cut flowers from American flower growers. Through her Slow Flowers directory and pod cast, she is helping American flower growers survive and thrive, while at the same time, educating consumers about the wide variety of exciting options that are available through buying American grown cut flowers." Fran Sorin
For many sweethearts, Valentine's Day is filled with expectation and anticipation. And we suppose the flowers given or received convey sentiments of love that words can't always communicate.
But for a good number of us, the main emotion felt upon receiving a box or vase of long-stemmed roses is simply: Disappointment.
Flowers that have been shipped from afar, a continent or two from you, can't be as fresh, beautiful, fragrant – or sustainable – as a bouquet grown locally, by an artisan flower farmer close to home.
Whether the flowers you send (or receive) are ordered from a Main Street flower shop or from a 1-800 wire service, there is a 97 percent chance that those roses were grown in South America and cut more than one week ago, boxed out of water and shipped to Miami on a jumbo jet, and then trucked to your destination. That is anything but romantic.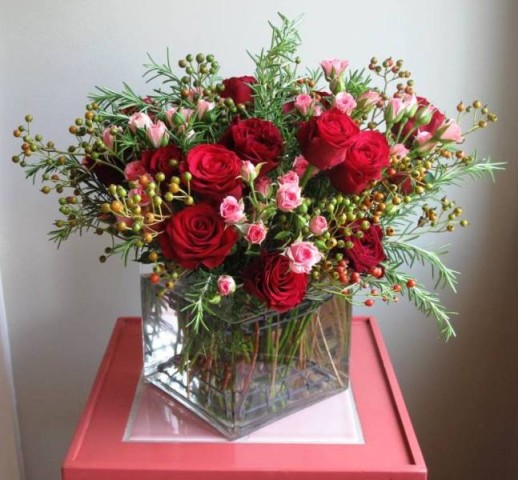 The arrangement above features three types of Oregon-grown roses from Peterkort Roses, a third-generation flower farm. They include 'Prestige' red roses, 'Black Baccara' burgundy roses and 'Gracia' pink spray roses. Rounding out the arrangement is garden rosemary and multiflora rose hips (substitute any rose hip if this variety is invasive in your area).
Photo and arrangement: Debra Prinzing Design for Slow Flowers
American grown flowers express "local love," a message that imported blooms can't give. At Valentine's Day, flower-givers and their sweethearts can embrace a meaningful alternative to long-distance stems. That's one of the reasons I created SlowFlowers.com, a free, nationwide online directory to American flowers and the creative companies that grow and design with them. The site has more than 450 farms, florists, designers and studios who provide domestic flowers coast to coast. It helps you find a florist near your recipient or locate an American farm to ship blooms direct to your loved one.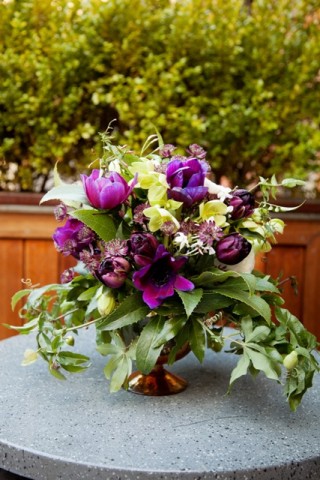 Arrangement above designed by Jessica Stewart and Justine Lacy of Foxglove Floral Design Studio in Brooklyn, a Slowflowers.com member. This "Wild Romantic" arrangement uses only local flowers as a fresh alternative to imported roses.
Design by: Foxglove Floral Design Studio
Photograph by: Photo Pink
Imagine delivering flowers grown by local, American farmers who work with the seasons (which might mean their fields produce early spring flowers like fragrant narcissus, lush anemones, vivid tulips or greenhouse orchids rather than roses). They adhere to all state and Federal regulations that keep workers safe and toxins out of the environment. And they keep jobs and flowers local rather than outsourced.
There are many reasons why savvy florists are promote American-grown flowers at Valentine's Day. Just ask Melissa Feveyear, owner of Seattle-based Terra Bella Flowers.
"One of the best decisions I ever made for my business was to drop the wire-services. We called it quit one week before Valentine's Day, dreading in advance the impersonal request for generic flowers that would be coming through," Feveyear recalls. "Instead, we ended up making the biggest holiday profit my business had ever seen, and received more compliments than ever before on our design work. Quality over quantity is everything."
"I love that only 10 percent of the Valentine's Day orders coming our way are for the 'dozen roses on sticks.' At Terra Bella, we're blessed to have such creative and trusting customers to allow us to support American flower farms who offer such a diverse range of botanicals. A rose is a beautiful thing, but add a chartreuse viburnum branch and maybe some jewel-toned ranunculus to the mix … now you've got an arrangement to remember!"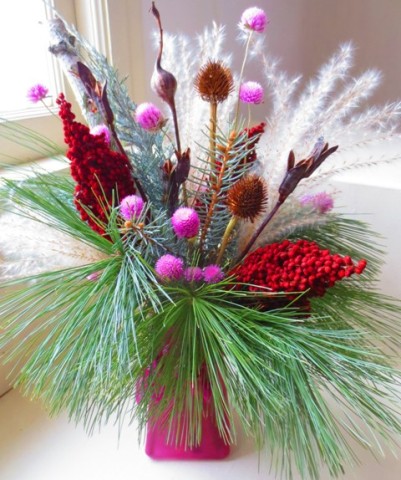 The arrangement above is a truly local Valentine's Day Bouquet for wintry Wisconsin
Arrangement designed by: Ann Sensenbrenner of Farm to Vase
"Our V-day bouquets display the beauty of the Wisconsin landscape. Evergreens, sumac, berries, ornamental grasses, dried pods and birch will remind you of a winter walk through the woods. The scent of fresh pine and rosemary will help chase away the winter blues. This bouquet will last for weeks, its beauty helping to propel you to spring." Farm To Vase, Local, Seasonal, Sustainable
Christina Stembel, owner of San Francisco-based Farmgirl Flowers, has built her business on using only California-grown flowers, offering online customers an alternative to the imported flowers used by most of her competitors. Farmgirl Flowers delivers statewide throughout California. She explains:
"Sending flowers to a loved one, especially on Valentine's Day, is based on emotions you want to convey. You want the flowers to show the person how much they mean to you, so obviously, you want those flowers to fresh, beautifully designed, and thoughtfully delivered," Stembel says.
"But when ordering from the big, traditional e-commerce sites, you are forced to choose from a huge number of sterile-feeling arrangements using flowers that you have no idea where they were grown, and when your loved one receives them, the bouquet is completely underwhelming. Which, really, is the complete opposite sentiment than what you intended.
"The entire process leaves you feeling like you just got conned out of your hard-earned money. Until recently it made sense to order from the big guys, because they were the only known options. Now, thanks to Slow Flowers, you can find a local florist in any state who will design and deliver a beautiful, thoughtful Valentine's gift to your recipient so you, and your loved one, can feel loved."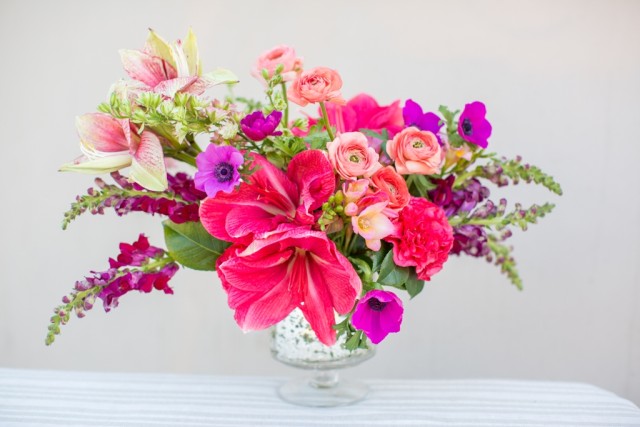 The arrangement above is red amaryllis, burgundy snapdragons, purple anemone, pink ranunculus, pink freesia camellia flowers and camellia leaves (all California Grown).
Floral Design: Bess Wyrick, Celadon & Celery, a Slowflowers.com Member
Photo Credit: (c) Laura Grier, Beautiful Day Photography
"I consider each season in terms of which flowers and branches I can get my hands on! For Valentine's Day, I turn toward spring. Women love receiving the unexpected — something different — so when choosing your V- day flowers look for arrangements that are made with unusual flowers, grown locally from American flower farms. Bright colorful arrangements adorned with interesting ribbon and silks are a fresh alternative to a dozen imported red roses." Bess Wyrick of Celadon & Celery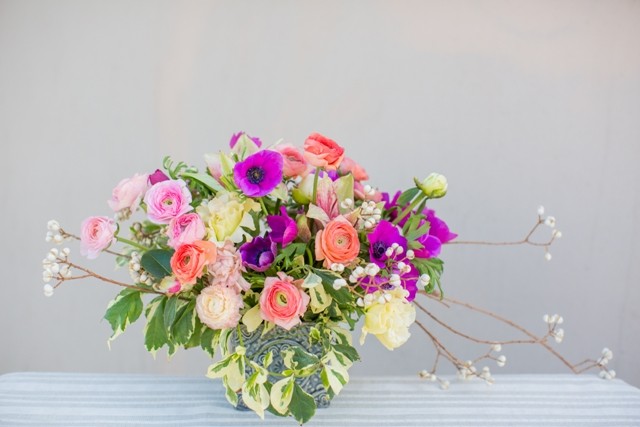 The arrangement above of pastel pink, yellow and coral ranunculus, yellow lisianthus, red/yellow amaryllis, variegated yellow/green dogwood leaves, white snow berries and purple anemones (all California Grown).
Floral Design: Bess Wyrick, Celadon & Celery, a Slowflowers.com Member
Photo Credit: (c) Laura Grier, Beautiful Day Photography
Want to Show Your Love with Local this Valentine's Day? Here are 5 Beautiful Ways:
Plan ahead and force one dozen hyacinth bulbs or paper white narcissus bulbs in vases along your windowsill. When they bloom, their heady perfume rivals any fragrant rose. Stems can be cut and arranged in a ribbon-wrapped bouquet for gift-giving.
Harvest a natural bouquet from your garden, even in mid-February. Look for delicate flowering branches, winter-blooming shrubs, and early perennials. Gather the blooms and branches in a re-purposed container and deliver the bouquet to a sweetheart or friend. Some of the best February blooming plants include camellia, witch hazel, forsythia, winter Daphne and hellebore
Order "flower shares" from a local flower farmer. Like food CSAs from organic food farms, a flower subscription offers incredible value for the cost. Locate a flower farmer near you through Slowflowers.com and arrange to buy a certificate giving your sweetheart a once-a-month or weekly bouquet straight from the flower fields, at the peak of season, usually May through October.
Plant a winter annual in a tea cup. An African violet or tiny cyclamen looks charming in a piece of vintage china or a flea market collectible. Use organic potting soil and tuck a 4-inch flowering plant into the cup. The china probably won't have a drainage hole, so it can be watered lightly with a spray bottle (water the soil area, not the leaves or flowers).
Ask your local florist to order American-grown roses rather than imported ones. If your florist says,"I can't find American-grown roses," give him/her my recommendations and ask them to do their homework.
Say "I love you" with an earth-conscious gesture. It takes intentionality, but giving local flowers will speak volumes to your beloved. Instead of something underwhelming, make your gift of flowers unforgettable and home grown.
Debra Prinzing is an award-winning author, speaker and leading advocate for American-grown flowers. She is the creator of Slowflowers.com, a free online directory that helps consumers find florists, designers, studios and farms that supply American grown flowers. Debra's book Slow Flowers (St. Lynn's Press, 2013) received a Silver Medal from Garden Writers Association in 2014.

Debra is a contributing garden editor for Country Gardens magazine and her feature stories on architecture and design appear regularly in the Los Angeles Times' Home section.  She is the landscape and culture editor for Seattle-based Gray Magazine and she writes frequently for Alaska Airlines Magazine and other shelter and consumer publications.
Debra serves on the board of the Seattle Wholesale Growers Market, a farmer-to-florist cooperative. She is the producer and host of the Slow Flowers Podcast with Debra Prinzing, which is available for free download on iTunes or at debraprinzing.com