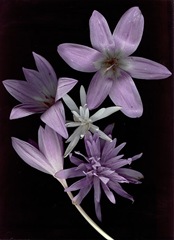 This month, we're going to challenge you with something a bit different: capturing an image without using a camera. I first learned about this technique from a fellow blogger, Craig Cramer of Ellis Hollow, and we're thrilled that he has agreed to be our judge.
Here's what Craig has to say: "This month's theme is Fall on a Flatbed Scanner. If you can scan a photograph, you can do this. It's easy. It's fun. It can help you see your garden in new ways. And it doesn't take any special equipment or exceptional technical skill – just a typical office flatbed scanner, a basket full of subject matter gathered from your garden and a little time to arrange your material and make the scan.
Inspired by scanner artists like Ellen Hoverkamp , I started scanning flowers and foliage from my garden a little over three years ago for the monthly Garden Bloggers Bloom Day hosted by Carol at May Dreams Garden. Now I'm the first to admit that I'm no artist. But the results have been very satisfying and never fail to elicit comments.
One of the things I like best about scanning is that you can 'concentrate' your garden on the scanner bed. It can be the digital equivalent of making a flower arrangement.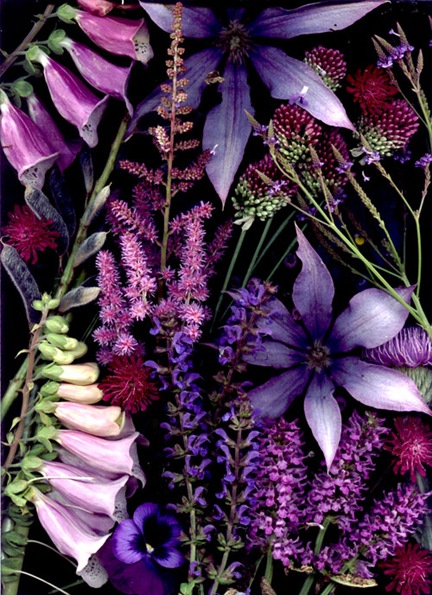 You may never get around to planting a monochromatic white garden. But you can make one with the scanner bed.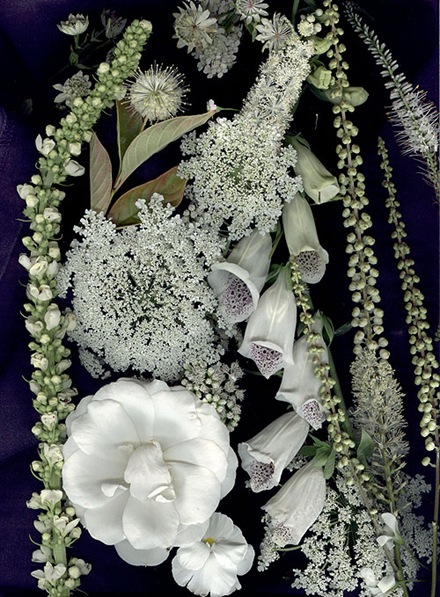 Or you can bring together foliage from widely scattered plants into a single frame.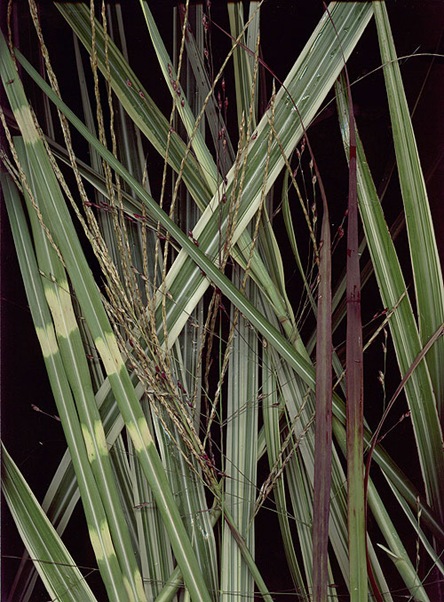 Feeling playful? You can arrange your material in ways never found in nature.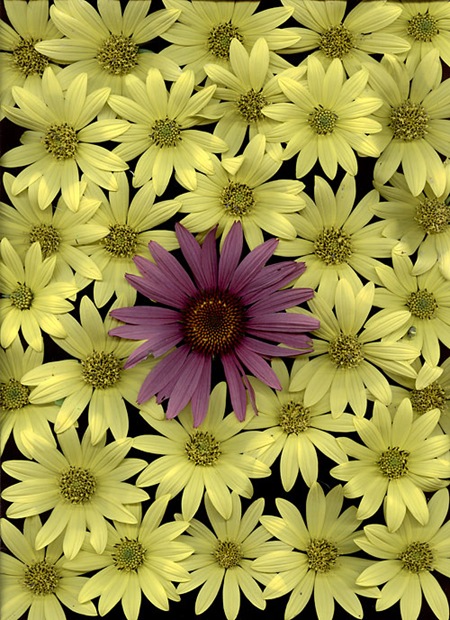 Or you can keep it simple. Single, unassuming plants like this Tradescantia can take on new dimensions on the scanner bed.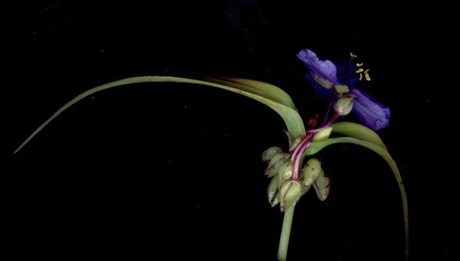 Nan did a great job of previewing this month's contest back in July, and details in this post how she went about creating her first scans. (I highly recommend reading it if you're going to give this a try.) In a nutshell, you:
· Gather materials. (Don't limit your thinking to flowers.)
· Arrange them face down on your scanner, foreground first.
· Use the preview button to view you composition as you create it.
· Scanning in a dark room with the cover up will provide a dark background, or you can drape cloth or other material carefully over your arrangement to create other background effects.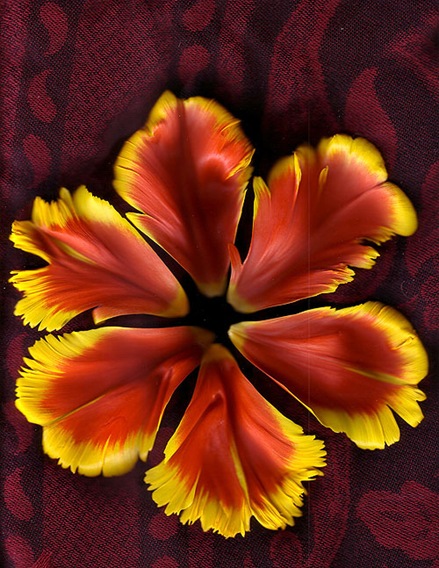 · When you like what you see, scan and save as you would a color photograph.
· Scan at 300 dpi if you want to print your scans life size. (They make great notecards and calendars.) Use a higher resolution if you want to print scans larger.
· Use an imaging program such as PhotoShop to crop and enhance your image, and resize for posting on your blog.
The software that you normally use with your scanner will work just fine. Visit Scanner Magic for more detailed scanning instructions. If you want more detailed scanning instructions using PhotoShop, see Patri Feher's flowers.
For more ideas and inspiration, see:
· Ellen Hoverkamp shows what a real artist can do arranging these digital bouquets.
· Scannography artists links to dozens of botanical, floral and other scanner artists.
In judging this month's entries, I'll be looking for creative choice of subject matter, pleasing composition, and that certain Wow! factor that I'm sure you'll know when you see the image from the scanner render on your screen. I added 'Fall' to the theme mostly for the alliteration. Just because the foliage hasn't turned where you are doesn't put you at a disadvantage. In fact, if it's spring now where you live, bulbs and other early bloomers make great subjects for scans. Work with what you've got around you now, and I'm sure the results will surprise and delight you.
RULES FOR ENTERING THE CONTEST
1.  You must have an active blog in order to participate. To be eligible for judging, you need to leave us TWO links – a direct link to the image, and a link to your blog post that includes the image – in a comment on this post.
2. Your photo must be able to be copied from your site. That makes it possible for us to collect all the entries in one place for easier judging.
3. The deadline for entries is 11:59 PM Eastern time on Thursday, October 21, 2010.
Entries that meet the above rules will be added to a separate gallery page. If you enter but your photo does not appear in the gallery within 24 hours, please review your entry to make sure you followed the rules.
[All images in this post courtesy of Craig Cramer at Ellis Hollow]