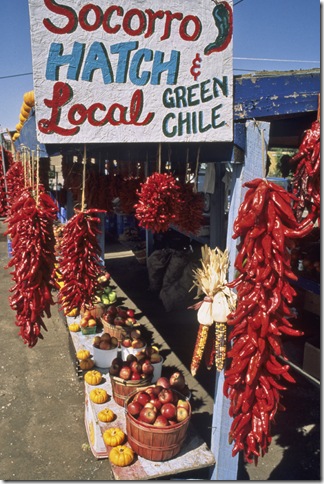 The winners for September's Picture This Photo Contest are in. This is what Charles Mann, the judge for this month, had to say.
"I want to thank the people who took the time to submit a photo for the Autumn Harvest's Picture This Photo Contest. This was perhaps too broad of a category and I offered a lot of very general information.
As a writer and photographer, I agree with many pundits who have observed that the more narrow and specific the focus, the easier it becomes  to locate the creative imagination. To paraphrase Robert Pirsig in "Zen and the Art of Motorcycle Maintenance," creative writing about the courthouse is more difficult than writing about the second brick from the bottom on the northeast corner of the courthouse. That said, the  fun photos submitted this month reflect the many different interpretations suggested  by the Autumn Harvest theme.
Below are my reactions to some entries which, although not winners, are noteworthy.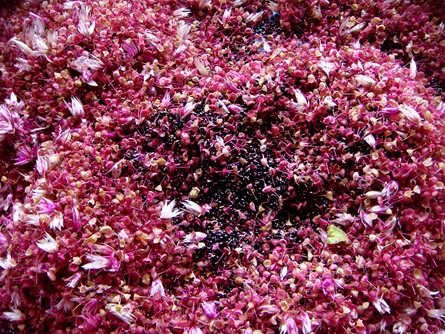 I liked the photo from Phillip at East Side Patch. As I mentioned, I love abstracts and this one also has great color. I wanted this image go have some distinct focal point, a pattern or element that drew my eye to a specific place within the swirl of this mini-cosmos of seeds. The East Side Patch site has a tsunami of interesting photos and info!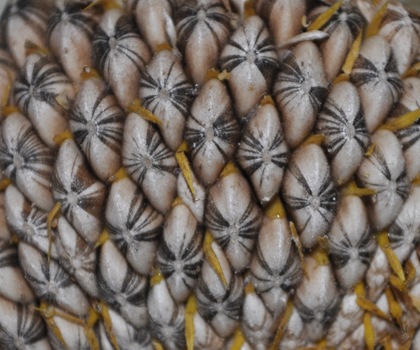 Another nice abstract is the close-up of sunflower seeds from Byddi Lee at   We Didn't Come Here for the Grass. Pictures of sunflower seed heads are a lot like  children's faces — we always love looking at them ! Also there is something very alluring about the intersection of mathematical order combined with the irregularity of those organic little cells.  It can be very Georgia O'Keefey if you get it just right.  I think perhaps stopping  down the lens for a bit more depth of field and making sure the subject is square to the lens would give this shot even more of a  hummingbird's-eye-view impact.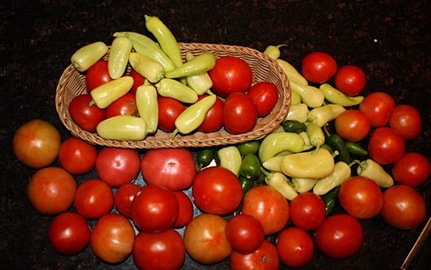 The photo of tomatoes and peppers from Gatsby's Gardens was one of two  contest entries that was an "in the studio" composition. I like the pop of the bright reds and yellows against the black background and the basket adds a nice contrasting form. I would like to remove the line at the lower right, put the tomatoes on a black cloth and eliminate any other spots that interfere with a clean "tomatoes in space" effect.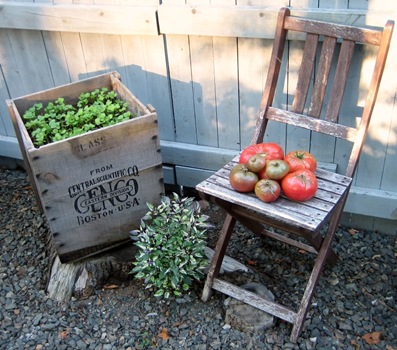 Heather from Heather's Garden took the Van Gogh Still Life route. It is another "arranged" composition. I like the character of the subjects and the light is working  pretty well, though the field of dark gravel is a bit dominant in the shot. There are a lot of pictures lurking about in here. The differing sizes of the box and chair might be difficult, but I'd love to see a tighter composition and perhaps an additional colorful element  or two. Pictures like this get down to the nitty-gritty of  composition, and we can learn a lot from working in this make-it-up-yourself mode.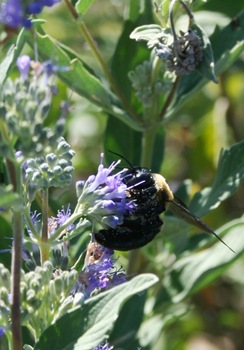 Close to my heart and experience is a very ambitions photo from Professor James K. Roush at Garden Musings. Shooting in situ in the garden is always tougher ! There is a virtual nature documentary here with the Caryopteris and bumblebee. We could write a hundred short stories or essays starting out from this photo. I like this picture and I would want to work on blurring the background more and opening up the dark area of the bee's body to make it more front-and-center. Nice color tone all around, too.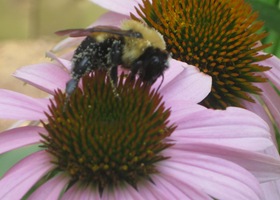 Cherry Lane from Approaching the Crest sent a well-composed shot of a honey bee and Echinacea. I like the  play of the two flower forms and the pollen-covered bee is in a nice position. I want to fill the upper left hand corner with  a similar dark green background as the upper right, and  brighten the bee's body and the flower more to spotlight them as the epicenter of the picture.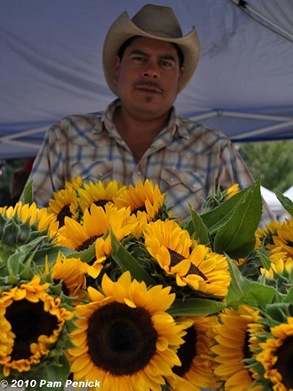 An Honorable Mention goes to Pam Penick at Digging for the double portrait of the  sunflowers and man at the Dane County Farmer's Market. This is a great example of playing two focal points creatively against each other. Each subject provides a frame of reference for the other and sets up a nice dialog. You can't look at this picture without your eye going back and forth between them. I don't think the man's image competes with the sunflowers, but rather is a key part of the image, and I would like to see him brightened a bit and brought out of the shadow.
For the Silver Medal, I've selected the shot of the carrots and squash from Les at A Tidewater Gardener.
Composition counts for a lot, and I like the quirky energy that this picture sets up. I enjoy abstract art and I like photos that arouse that same "below the literal" energy and aesthetic.  It takes a certain eye to see and capture images where the forms step forward to command the first impression. This shot has a fun yin-yang quality about it with the carrots and squash representing a sort of masculine and feminine play, and I like to colors of those carrots, too. I'd like to  Photoshop that little white spot out of the upper left hand corner !  Les has some other very nice abstract close-ups on his site.
| | |
| --- | --- |
| | |
My choice for the Gold Medal is Reedstack at Akburun Village from MacGardens. The charisma and atmospheric tone of this shot reinforces a well-worn aphorism about photography : it is all about the light, the light and the light. I've often said that in the right light, your grandmother's tennis shoes will look as if Rembrandt had painted them. This  photo has nice composition with it's repetition of forms, a wonderful painterly sky and great colors.  But beyond that, it has the sense of having captured a special moment which will soon pass by and saved it for all of us to share.  One criterion that I have for myself  for any art, whether it's a painting or a photograph, is to ask myself if I will ever get tired of looking at it. This is a photo I would not get tired of seeing. "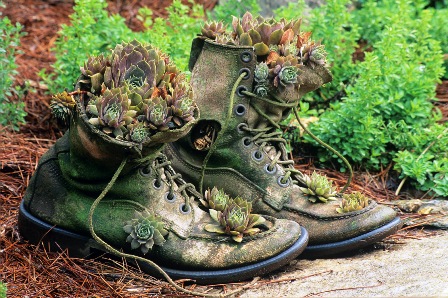 A big thank you goes to Charles. He went beyond the call of duty by offering thoughtful comments on each entry.
Next month's subject, as some of you may already know from Nan's earlier post, is Bloom Scans. It is an unusual theme and sure to be both a challenge and alot of fun. You have some lead time to prepare. For those of you who have been observers, October's contest is a great time to jump in.
To see a gallery of all the photo entries for this month, click here. To check out all past Picture This Photo Contests, click here.