I'm thrilled that Alan Detrick has returned as our judge for this month's Picture This. Alan is a well known garden, nature and landscape photographer. He is the author and photographer of Macro Photography for Gardeners and Nature Lovers and is the sole photographer for 50 Beautiful Deer Resistant Plants, soon to be released and written by Ruth Rogers Clausen. Alan has lectured and led photography workshops for professional organizations and public gardens. In addition to owning a stock photography agency, he and his wife Linda provide photographic services for landscape architects and garden designers. You can see more of Alan's outstanding work on his website.
Besides his outstanding credentials, Alan is also a gentleman. He has been extraordinarily generous and flexible in working with some scheduling and subject conflicts we've had these past few months at Picture This. The subject he has chosen this month is sure to challenge and excite you!  Fran Sorin
"Light makes photography. Embrace light. Admire it. Love it. But above all, know light. Know it for all you are worth and you will know the key to photography." George Eastman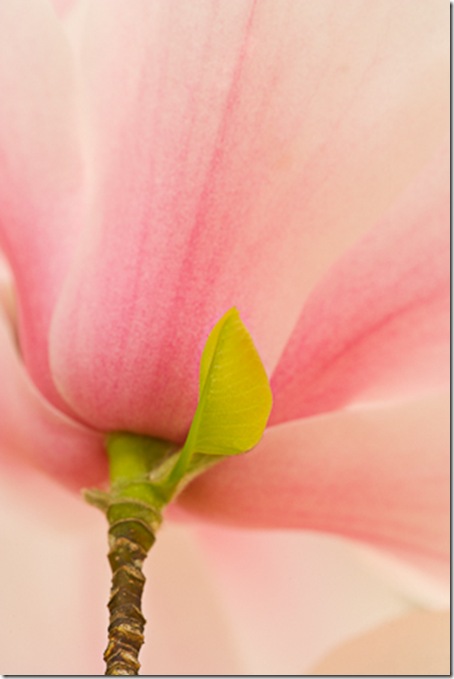 Hopefully, April's challenge made you aware of the importance of seeing and understanding light in your photography. This month we are going to take it a step further and challenge you to look at light in the macro or close-up world. Many of the concepts are the same but there are important differences.
In macro, as you get closer and closer to your subject, every detail is magnified. Tiny sparkles in a landscape scene can turn into blown out water spots in a close-up image. On the other hand, what does not work in a landscape scene might work as a close-up. The image of the green magnolia leaf was taken in very flat lighting. This lighting would not be suitable for a landscape but the contrast of the green and pink colors works well up close.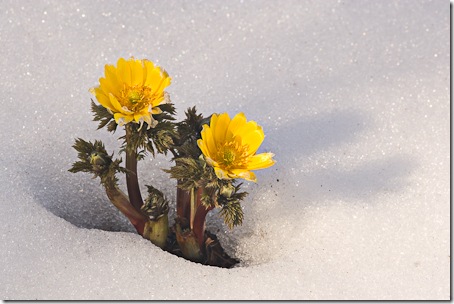 Study the light on your subject but don't forget that light and shadow are partners. Shadows often act as a balance to bright areas. Look at the image of the yellow flowers in the snow to see how important the shadows are in making this a successful image.
When the sun gets too high for landscapes seek opportunities to use the hard bright lighting to your advantage. Shooting the light coming through the pink peony pictured shows off its translucent quality and creates interesting patterns of overlapping petals.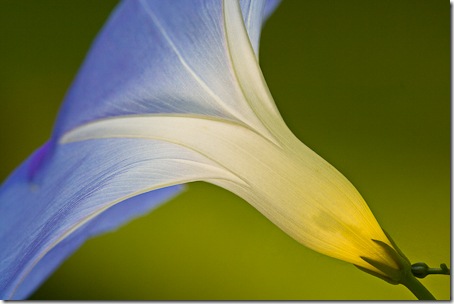 One benefit to shooting close to the subject is the ability to modify the light with diffusers or reflectors. The white Hepatica cluster was standing in full sun when I captured the image shown here. I positioned a diffuser between the sun and the blossoms to soften the harsh light.
There is no set of rules when it comes to lighting. Each subject should be considered with the lighting conditions in order to produce the most visually pleasing image. Paying critical attention to the light is an essential element in creating that "magical" image.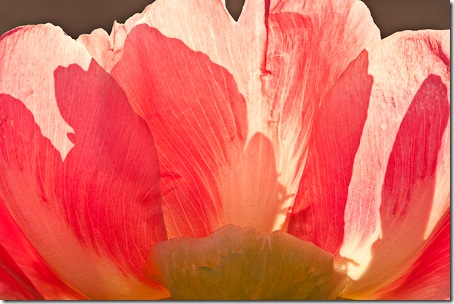 Just as golfers have to learn to read the greens or a great fisherman needs to read the water, photographers need to learn to see the light. The subject choice is yours but make it a close up or macro image. If you don't have macro equipment, get as close as you can. Look at your images carefully to make sure the lighting sets the mood. May's contest is 'Lighting: A Closer Look'.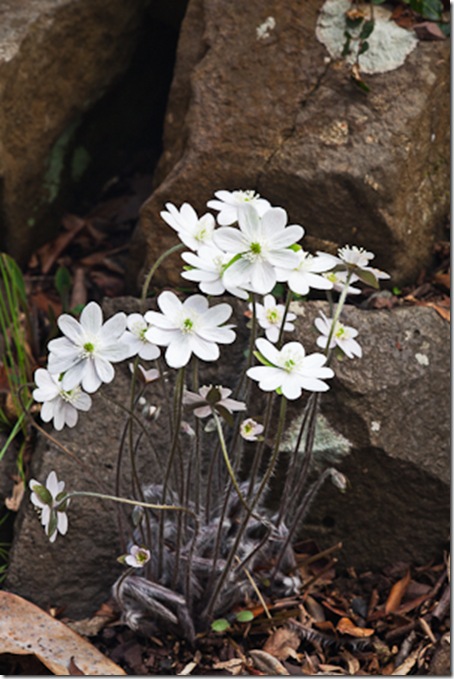 One last very important note, HAVE FUN !!!"
RULES FOR ENTERING THE CONTEST
1.  You must have an active blog in order to participate. To be eligible for judging, you need to leave us TWO LINKS – a direct link to the image, and a link to your blog post that includes the image (and that says you are entering the Gardening Gone Wild Picture This Photo Contest )– in a comment on this post. Your links need to be correct in order for your photo to be entered into the contest. If need be, check out previous Picture This contests to see how others have done it.
2. You are allowed one entry per contest; your photo must be able to be copied from your site. That makes it possible for us to collect all the entries in one place for easier judging.
3. The long side of the image needs to minimally be 800 pixels
4. Because of the enormous amount of responses we receive, you can't change your mind once you enter a photo into the contest.
5. The deadline for entries is 11:59 PM Eastern time on Tuesday, May 24, 2011.
Entries that meet the above rules will be added to a separate gallery page.  If you enter but your photo does not appear in the gallery  within 24 hours, please review your entry to make sure you followed the rules.