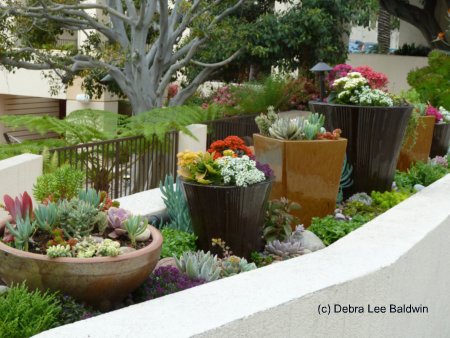 Prior to hosting the 2011 biennial convention of the Cactus & Succulent Society of America, a San Diego hotel replaced water-thirsty annuals in planters with succulents. After several months, hotel management discovered a surprising benefit: $4,000 in reduced water bills and labor costs.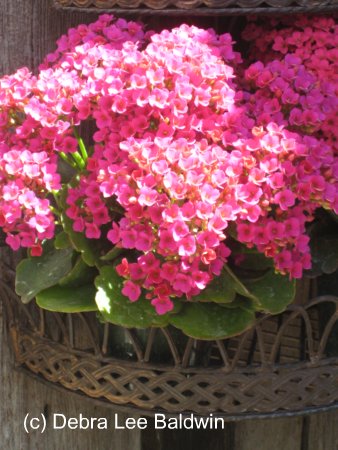 Ironically, a showy succulent used extensively by the hotel, Kalanchoe blossfeldiana (dubbed "supermarket kalanchoe" in my book, Succulent Container Gardens) probably didn't impress hundreds of cacti-and-succulent collectors who came from all over the world.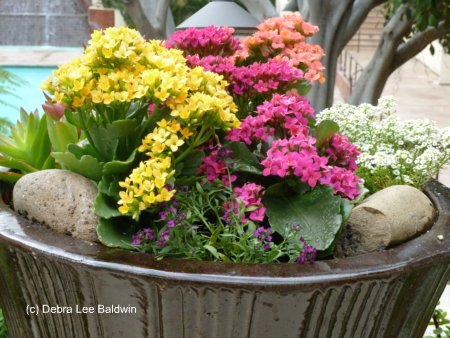 But you can hardly blame the Marriott for planting it. After all, the hotel was replacing flowers, and this succulent has them in abundance.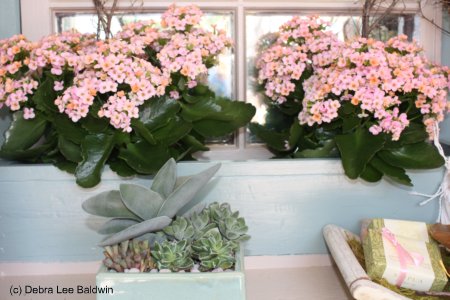 Because it produces several flushes of flowers a year and is easy to grow, Kalanchoe blossfeldiana has great commercial value and has been hybridized extensively. Supermarket kalanchoes now come in every warm hue, as well as shades of cream and white.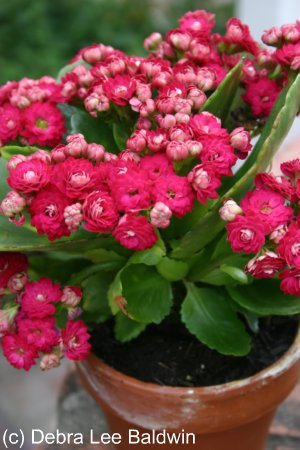 A variety known as calandiva has ruffled petals. Each dime-sized floret resembles a tiny chrysanthemum.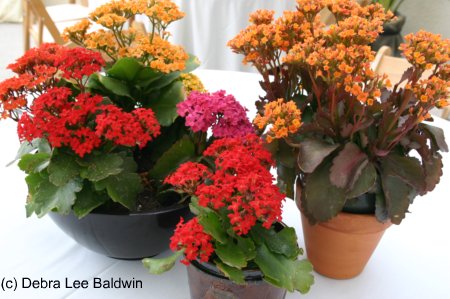 I wait until the plants go on sale. I remove the spent flower stalks, tuck several plants into a pot, and give them good air circulation, three or four hours of bright but not hot sun daily (morning sun is best), protect them from frost and extreme heat, and keep the soil moist but not soggy.  The plants flourish, and a few months later, give an even better bloom show.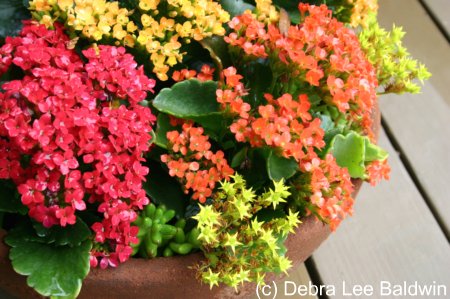 This composition is one example. The yellow, star-shaped flowers are Sedum rubrotinctum, used to fill gaps between the kalanchoes.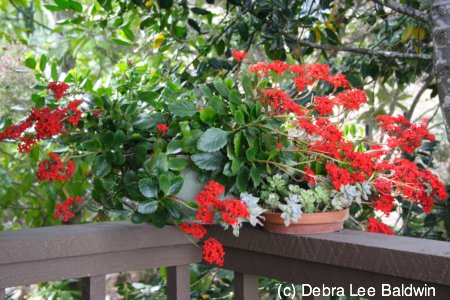 A red supermarket kalanchoe, in a pot atop my deck railing, didn't let a lack of light slow it down.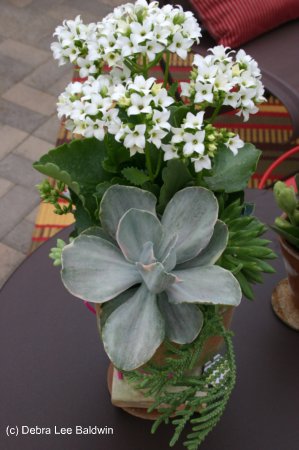 White supermarket kalanchoes are useful in centerpieces at wedding receptions and for reflecting moonlight alongside walkways.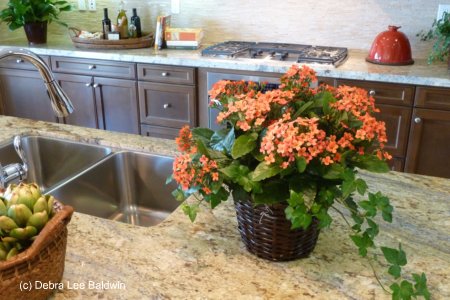 And what do you think of this? I saw it in a model home. Not only are the plants fake, so are the artichokes! Well, you know what they say: Imitation is the sincerest form of flattery.
A few design and cultivation tips:
— Deadhead spent flowers. This seems obvious, but the plants are repeat bloomers. They'll perform better and look best with old flowers out of the way.
— Combine several of the same color in one pot to get what looks like one big, lush plant.
–Use with rosette succulents to create floral-style compositions. Supermarket kalanchoes with cream or pastel blooms look especially good with rose, pink and/or teal echeverias.
–After a year of repeat blooming, the plants tend to go downhill. Take cuttings if you want the same color again, or simply discard the plants. Replacements are easy to come by.
My goal is to share the beauty of waterwise, easy-care succulents in gardens, containers and landscapes via blog posts, newsletters, public speaking and workshops, photos, videos, merchandise, and social media (Facebook and Pinterest). My books: 
Designing with Succulents
,
Succulent Container Gardens
, and 
Succulents Simplified
.  
www.debraleebaldwin.com