A big thank you to Rob Cardillo, judge for this month's Picture This. As always, he has done a terrific job in facilitating, inspiring and teaching all of us!  Fran Sorin
Here's what Rob has to say:
Five entries deserve Honorable Mention. In no specific order, here they are with a few comments.
A backlit hellebore by Ellis Hollow reveals intricate leaf venation and a rich burnished color that complements the blossom.
A lovely spring tree line by Hartwood Roses captures that wonderful time when new leaves push out and glow in the soft milky light.
I love shadow play and there's lots of fun details in this well observed moment by Oh What A Beautiful Garden.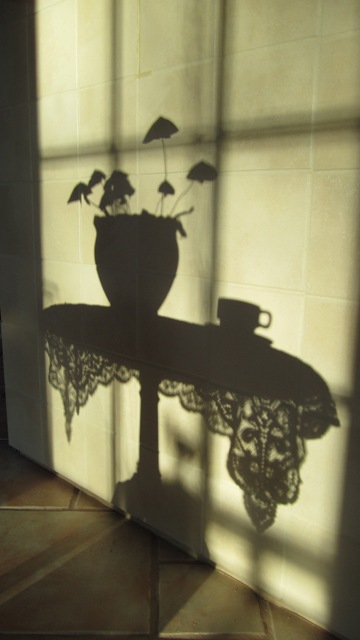 There are some lovely colors and delightful water reflections in this composition by Sequoia Gardens.
A simple but enjoyable take on a backlit leaf by Heather's Garden. Love the echo in the background.
First Runner Up is awarded to A Tidewater Garden for this moody bearded iris. Close ups can yield wonderful abstractions but I like to get a hint of what flower I'm looking at. I see the beard and an upright petal in the foreground and more of the stem in the background. Together, they say iris but in a fun unconventional way.The lighting here is wonderful — back lighting the petals and illuminating the maroon red tips. But there's enough fill light to reveal the green stem. (Fill light is generally a less intense light coming from the opposite direction of your main light to help fill in the shadows so they register on your film or digital media).
The Silver Medal Winner goes to this sun infused landscape by Casa Congilio. Formally constructed using classic landscape rules (rule of thirds, vanishing perspective, layers of depth, etc.) but with a little dose of sun flare on the right. Flare can certainly be a problem when shooting towards the sun but I find a small amount adds authenticity. I might add a thin black trap line around the frame to contain the white sky especially if I were to make this into a print.  Again,  I can tangibly feel myself walking this road at sunset.
The Gold Medal Winner goes to this soft and artful study of  Straight From The Garden. By offsetting the focal point towards one corner, a dynamic tension has been created but nicely resolved by the smaller cluster of buds and leaves in the upper left. And the echo of out of focus flowers and branches throughout give us a lovely open depth to explore.  The lighting is not dramatic — it's soft and even BUT very well matched to the subject.  I suspect the photographer gently brightened this image with their editing software to enhance the atmospheric. I can feel the cool April morning here.
The entries this month are outstanding. Thanks to all for entering. To see a listing of all entries, visit The Gallery. Now it's time to get ready for next month's contest which also be dealing with light. One of our favorite judges, Alan Detrick, will be returning. Keep your eyes open the first week of May for the new contest.