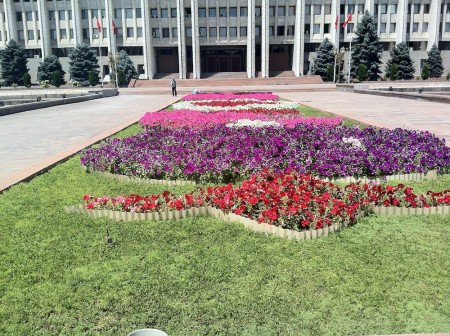 Bishkek is my first experience of the former Soviet Union (USSR), words drained of real meaning to a younger generation, but for any of us who grew up and were politically aware before 1989 a major part of our consciousness of the world – but now all that seemingly indestructible grey concrete has turned to dust. I'm here for a botanical tour of north-east Kyrgyzstan, the most mountainous and remote of the former USSR's 'Soviet Socialist Republics', up against China's own remote province of Xinjiang. Amazing to be in a country which was once almost totally closed to outsiders, and about which we knew almost nothing. Now it is developing for tourists, but it feels like virgin territory for visitors. It is a botanical paradise.
Check out my own blog to find out how we got on in this country's incredible wild spaces.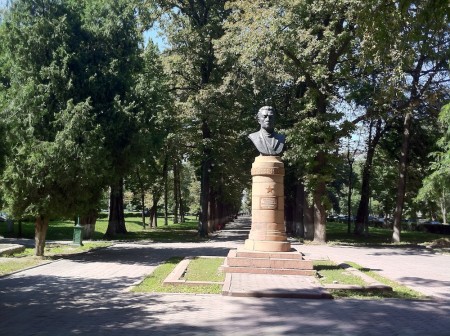 Communist architecture and city layout are familiar to me from many travels in east Europe, but Bishkek is a very pleasant surprise. It is the greenest city I have ever been to, with nearly all central streets lined with trees. Shady. It needs to be as temperatures here are in the 30s for the summer (and 30 below in the winter). Lots of parks, mostly linear, and well used. Basic city centre landscaping and parks were something which the communist regimes did do relatively well. Except of course for the massive central square, which is a treeless sunbaked wasteland surrounded by grotesquely pompous buildings – the totalitarian cityscaping which fascist and communist regimes (two sides of the same coin after all) seem to love. Ala-too square is now however a very different place, its raw power designed for military parades and harangues of Marxist-Leninist rhetoric softened by fountains and beds of bright petunias and marigolds, just as the power structure here is being slowly mellowed by Kyrgyzstan's messy and turbulent democracy. By late afternoon, the place is heaving with people; cooled by the now-running fountains, sellers of cold drinks and the growing shade from the surrounding buildings.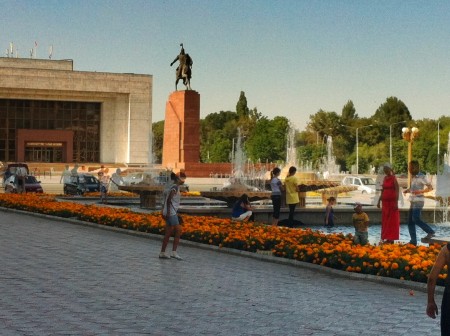 One side of the square is the massive national museum in front of which used to stand a vast statue of Lenin. Replaced on his plinth by national hero Manas, the old bastard has been re-erected around the back where he gestures in the direction of – with wonderful irony, the American University; perhaps he is trying to say "look, I got it wrong, there's the answer over there". In front of him is a flowerbed in the form of a circle enclosing a star. The outer bits are planted with yellow marigolds, the central star shape with Salvia fulgens, the plant which used to be grown by the million across the communist block for bedding schemes utilizing red flags and red stars. The soil has clearly got as tired of salvias as the population did of Russian rule and communism, and the few plants are weak and spindly. Inescapable symbolism! Unfortunately they can also be taken as a metaphor for the state of the country's economy.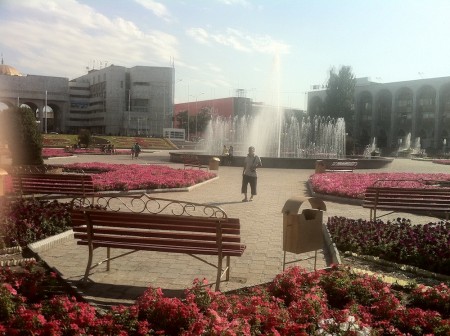 In travelling through the country I am reminded of how similar the garden culture of the former communist countries is, we may be next to China, but it feels very European. Everyone grows vegetables, but also flowers, in a real exuberant cottage garden style. Gardening was one of the few areas of life where the communist state made little attempt to intervene, although I have just read that in the final years, under Gorbachov, his anti-corruption drive led to attacks on private vegetable growing by some over-enthusiastic KGB and a declaration that "the tomato is an enemy".
Very few varieties of perennials, only those which can survive for decades. The garden at our guest house in Karakol is a wonderful example. There are some truly good phlox here, about half a dozen varieties, very healthy looking. Someone mentions that some German researchers once did some travelling in Russia to collect old varieties which had dropped out of cultivation in the west; in this harsh climate anything which survived would be a very durable plant. Mostly it is plots of vegetables, including garlic, with Calendula marigold self-seeding amongst them. One could do worse than make a cottage gardens tour of the old USSR.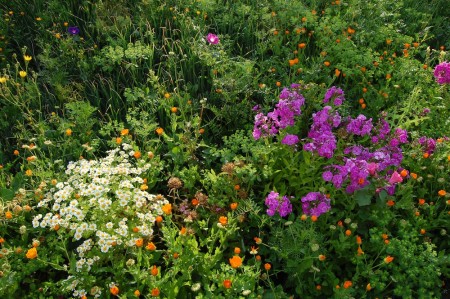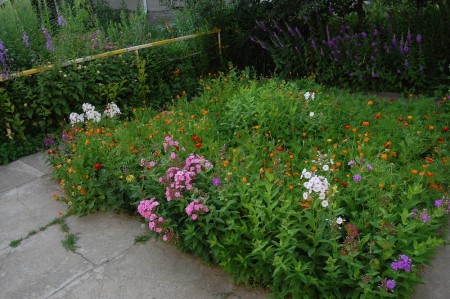 One final note. When I first started coming to eastern Europe back in the early 1990s I noticed how good the house plants were.Which surprised me.
Without ever anything being shipped in from abroad apart from the original plant!
With massive Soviet-style district wide heating systems (very profligate although basically a good idea – NYC does the same, which only goes to show a bit of capitalism/communism convergence! ) so everyone has very warm flats, and with those long cold winters, no doubt much yearning for greenery. Succulents and cacti very popular as with the two below in our guesthouse in Bishkek; she had some amazing Stapelia in flower too, but I forgot to photograph.
Given the range of species I suspect what happened under communism was a whole process of barter (the whole system ran on barter because centalized planning is so hopelessly inefficeint). I envisage the following scenario: Vladimir works at the Botanic Gardens, and needs his car fixed and knows that Stane, the mechanic at the Lenin Garage will do a job on the side and that his wife likes plants. Vladimir smuggles a load of cuttings out of the botanic gardens, gives to Stane, who fixes the car, while his wife Olga propagates the plants, doling them out to relatives, friends and people she owes favours to: a cactus for a bottle of vodka, a pachypodium for some bread out of the back of the bakery and a zebrina for the woman who looks after the kids after school. I imagine this whole process repeating itself a thousand times over the whole USSR and Warsaw Pact countries, just like how cottage garden plants in Victorian England found their way out of the gardens of the wealthy into practically every cottage garden in the land. Commercial house plants have yet to make an impact.
If I had the time, the money (and the Russian) I'd love to follow this up. There'd e some great stories and some interesting plants.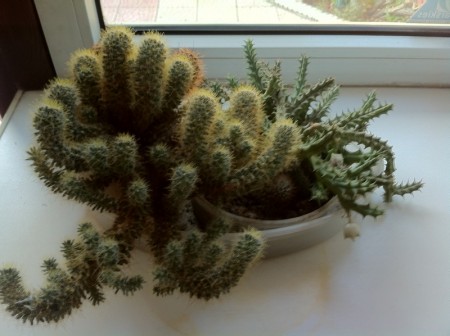 Check out my own blog to find out how we got on in this country's incredible wild spaces.