I have always been a huge fan of Chanticleer, what was once a private estate garden in the suburbs of Philadelphia that was turned into a public garden in the early 1990s by its owner, Adolph Rosengarten and led by the extremely talented Chris Woods, and in recent years by the very capable hands of Bill Thomas, formerly of Longwood Gardens. One of the many things that Chanticleer horticulturists/gardeners do so very,very well is container plantings. Among all of the other exuberant and edgy planting, in almost any other garden, the container plantings would be swallowed up. But not so at Chanticleer: which is a testament to how container plantings are conceived, designed and planted as individual pieces of art.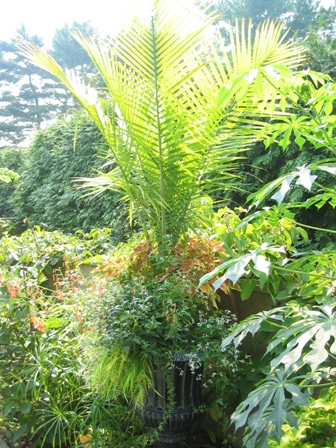 In the photo above,  the far reaching palm in the traditional iron container is totally ensconced by a myriad of plants including coleus and several other 'fillers' and 'drapers' that I am not able to identify. The fact that it is positioned as part of a luxuriant landscape, to my eye, makes it even more of a standout.
The photo below depicts one of two matching containers sitting on the front terrace of the formal home at Chanticleer. It is a stately and lush landscape unto itself. When you analyze all of the pieces that go into creating such a magnificent dripping self contained garden, again an outreaching palm, abutilon, creeping jenny, a yellow leaved heuchera, several ivies and other drapers, it is dazzling (if anyone can identify any of the other plants, please feel free to do so!)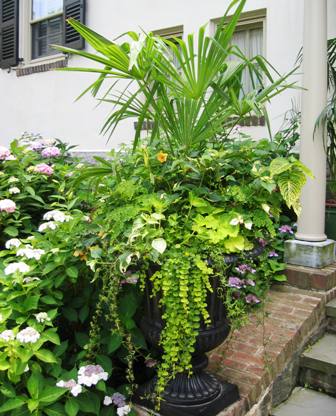 One of my all time favorite container vignettes is one filled with the art of Marcia Donahue: ceramic bamboos surrounded by a grove of real bamboos. How about that for great and cheeky art?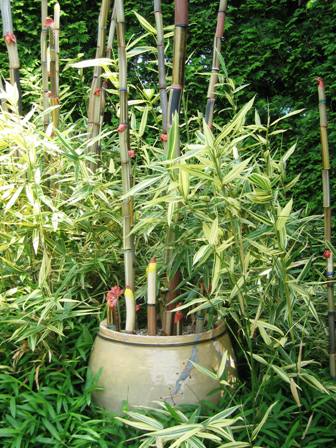 The photo below of a container as part of a very formal, narrow bed is outstanding. Once again, the designer (who I believe to be Dan Benarcik) has used the palm as his centerpiece.