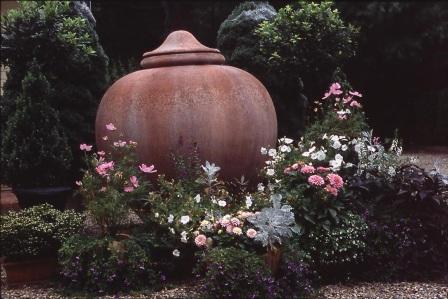 I'm so enamored with using containers in the garden that I sometimes don't even bother to plant them. And empty pot can work wonders in the garden. Of course it has to be a good-looking pot, but given that, a container can become an instant ornament in almost any garden scene. All you have to do is drop it into place. Look what this big-big enough for me to crawl into-pot did for Brie Quimby's Farmington, CT driveway. I love the way the smooth human-made contours of a pot contrast so sharply with the more organic shapes of plants.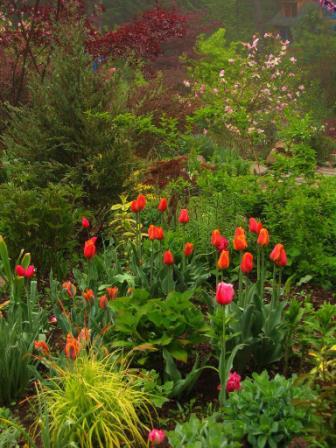 I liked this spring vignette in my garden well enough, but it lacked something. My eye wandered aimlessly through the scene, with no destination-until I dropped a pot into the picture. Then, somehow, the 3-foot high terra-cotta pot elevated the whole scene and pulled it all together. Bigger is almost always better when you're thinking about using a pot as a focal point. sometimes I put a smaller pot on a pedestal to give it a little more oomph.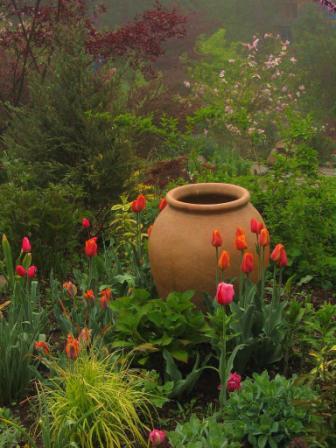 Empty pots as focal points serve well at any transition area-like this gate at Marietta and Ernie O'Byrne's garden in Eugene, OR.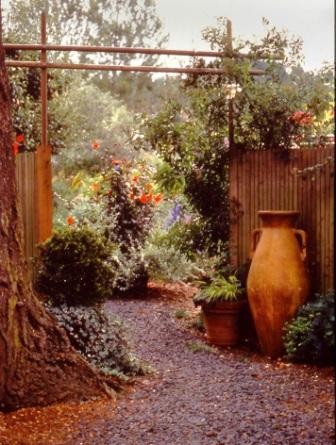 Or at the foot of my stone stairway, where this empty pot presides over a passel of smaller containers.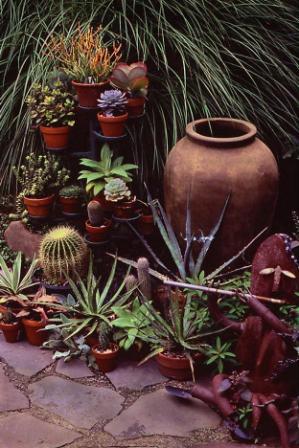 Using two empty pots instead of one provides an element of symmetry and formality here at Wesley Rouse's Southbury, CT garden.
Even your old, broken pots can be a piece of garden art, as at this archaeological/funereal scene at Jan Nickel's Green Dreams garden in Avon, CT.