In my previous post, I shared some relatively low-growing foliage plants that are easy to raise from seed. The group I like even better, though, is the taller-growing annuals: the shrub substitutes, if you will. When you have lots of space to fill and a limited budget, these quick growers are invaluable for providing height and bulk in a hurry, and for practically pennies apiece.
One old-fashioned annual that's almost irresistible to variegated-foliage aficionados is snow-on-the-mountain (Euphorbia marginata). It forms dense, bushy clumps reaching 2 to 3 feet tall here in southeastern PA, though I hear it can be a foot or two taller in warmer areas. The seedlings are light green to grayish green at first, developing a white edging on the new leaves as the season progresses. By the time the insignificant flowers appear, the uppermost leaves are practically solid white.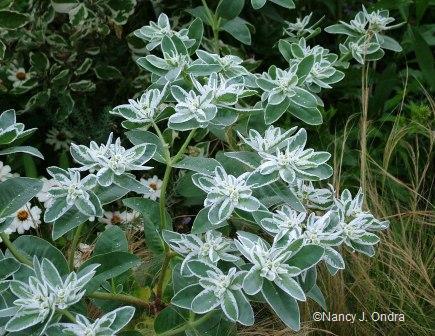 It's an amazingly pretty annual, but I ought to give you two warnings about it. First, it self-sows freely, sometimes to the point of being aggressive in the garden; it's easy to spot and remove the seedlings, though. And second, like other euphorbias, it has sap that can be irritating to skin and eyes, so you'll want to wear gloves and be careful not to touch your face when working around the plants. Still, I think snow-on-the-mountain is worth growing despite these drawbacks. You can buy seed from a number of sources, including Select Seeds.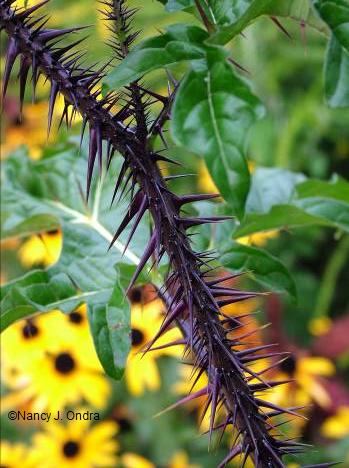 While snow-on-the-mountain isn't a "please-touch-me" plant, Solanum atropurpureum takes the anti-social attitude to a whole new level. Its branching stems are bristling with purple spines, and the green leaves too carry many inch-long spikes. It's one of those plants that you know you really shouldn't touch, but you just can't resist the urge to do so – once, anyway. It's as easy to raise from seed as a tomato or pepper, and it grows quickly, usually reaching 4 to 6 feet tall by the end of the season. I can't find a current mail-order source for the seeds, but you can often acquire them through seed exchanges. I see that it's sometimes available as a plant from Annie's Annuals & Perennials, and it's a simple matter to save the seed, so you could easily keep it going from year to year. It would be an excellent boundary planting to discourage nosy neighbors, don't you think? Or perhaps it could add just the right unwelcoming touch if you're not much into having visitors.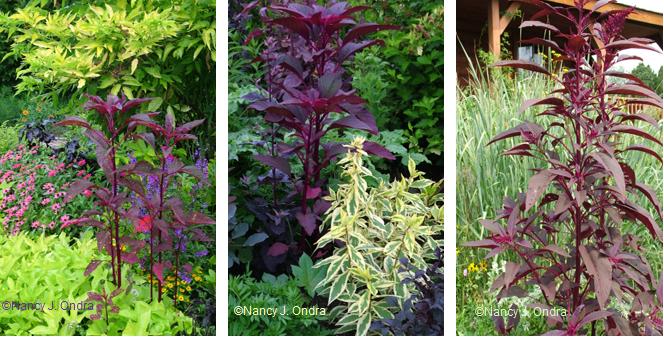 Looking for something a little more gardener-friendly? Here's one I know several of you already appreciate: 'Hopi Red Dye' amaranth (Amaranthus), shown above. The seedlings emerge a solid deep red from base to tips, and that rich color stays all through the growing season, extending up through the flowerheads and seedheads. It typically tops out at about 6 feet with one main stem, though you can keep it shorter and bushier, if you wish, by pinching out the shoot tip when it's 2 to 3 feet tall. 'Hopi Red Dye' self-sows generously – even enthusiastically – so once you plant it once, you'll have it year after year. One seed source is Seeds of Change.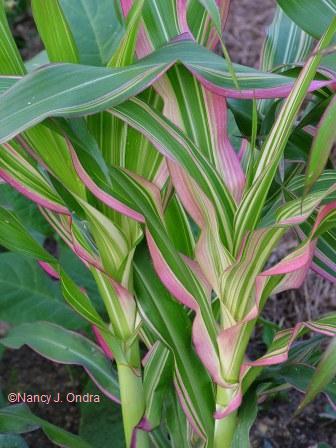 For those of you who prefer pastels, 'Quadricolor' corn (Zea mays) is an out-of-the-ordinary option for adding height as well as eye-catching color and texture. Also sold as 'Japonica' (the two may be different, but they look the same to me), it reaches about 6 feet tall by tasseling time in mid- to late summer, with arching green leaves randomly striped with varying amounts of white and pink. This a field-type, hard corn (not a sweet corn), with kernels that are usually deep red.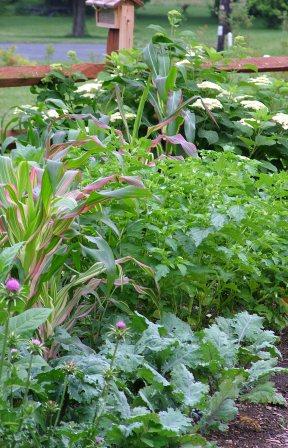 It's easy to grow variegated corn from seed sown directly in the garden a week or two after the last frost date (once the soil's at least 50 degrees F). Or, start it indoors a few weeks before your last frost date: Sow 3 to 4 seeds in each 4-inch pot and then set them out as a clump when they're a few inches tall. The seedlings may take a few weeks to show their striping. You can get seeds from Johnny's Selected Seeds or Territorial Seed Company. Park Seed sells 'Tiger Cub', which reaches only 3 to 4 feet tall and lacks the pink in the stripes.
Another annual with a similar color range to variegated corn but a much more eccentric name is variegated kiss-me-over-the-garden-gate (now Persicaria orientalis 'Shiro-gane Nishiki', but you may still find it as Polygonum orientale 'Variegata' or some combination of those names). It generally grows 4 to 6 feet tall, with broad green leaves heavily splashed in cream to white, plus dangling chains of pink flowers in late summer and fall. You can get seeds through The Fragrant Path. Like many of the other annuals I've mentioned, it self-sows, so you'll usually have to plant it only once.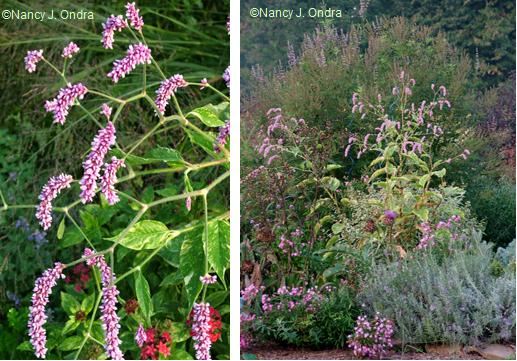 And one more big beauty: 'Sunspots' sunflower (Helianthus annuus). Showily splashed with yellow to cream, the broad leaves show their markings from seedling stage to maturity, finally accented with the typical large sunflower blooms later in the summer. Seeds that I start indoors about 2 weeks before our last frost date or direct-sow around that date usually reach 4 to 6 feet tall, but I've had self-sown seedlings, such as those shown below, easily reach 8 feet tall. Originally from Plant World Seeds, 'Sunspots' is now available from Thompson & Morgan as well.