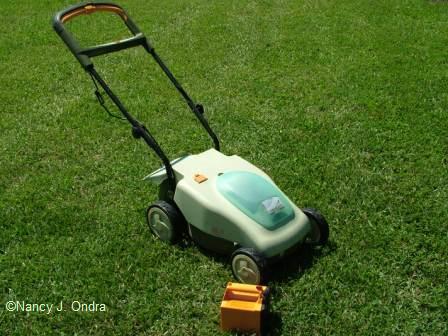 You know how irritating it can be to hear people preach about low-maintenance gardening – as if we want to spend less time in our gardens? Now, talk to me about low-maintenance lawns, and I'm listening. At this point, I have only one patch of proper lawn-like space, though there's still plenty of grass to mow overall, simply because I haven't yet had the time to replace it with gardens, groundcovers, or meadow. And as much as I'd like to, I'll probably never be able to get rid of it completely.
I don't worry about weed control, fertilizing, watering, dethatching, overseeding, or most other typical lawn-care chores. But the stuff grows regardless, and I have no choice but to mow it. So finding a way to make that task a bit easier has been a big relief. I'm not saying I enjoy mowing now – what a waste of time that could be better spent doing just about anything! – but using a Neuton cordless electric mower has eliminated a good bit of the hassle, at least.
I can hardly tell you how much of a relief it is to be spared the hassle and expense of acquiring and storing gasoline, as well as the bother of oil changes, tune-ups, spark plugs, and all the related mess and required tools. The Neuton needs no gas or oil, because it runs on a rechargable battery. It's a simple matter to bring the battery indoors, plug it in, and leave it overnight to recharge. According to what I've read, it takes about 10 cents worth of electricity to fully charge the battery. So instead of maybe $8 worth of gas, I use about 50 cents worth of electricity. And the environmental benefit of not dealing with engine emissions, possible gas spills, and waste oil? Priceless.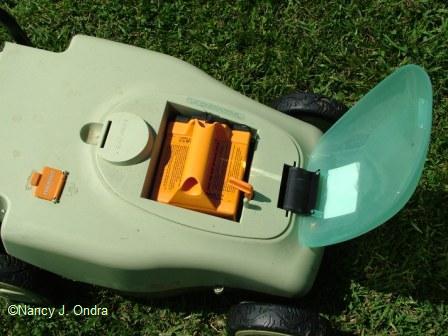 I have to admit that my first impression of the mower itself was that it was kind of dorky-looking. Made almost totally of plastic, it reminded me of a Fisher-Price Bubble Mower toy. But this thing is surprisingly sturdy, as well being simple to use. You flip the top open, drop in the battery, and then insert the "safety key."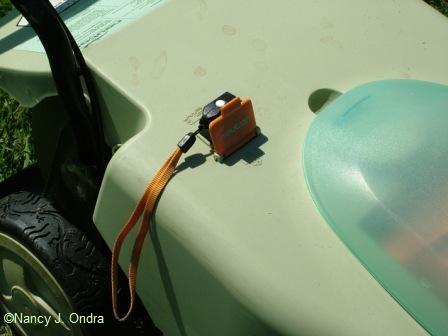 Forget about endlessly tugging on a pull cord to start the mower. On the Neuton, you simply start at the handlebar, in ready-to-mow position.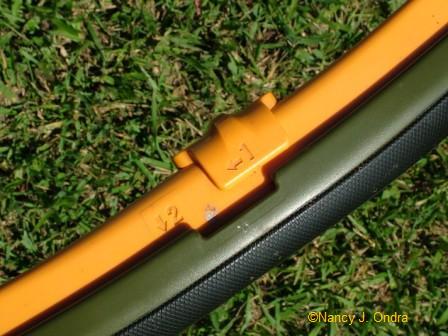 Slide the orange start knob, then squeeze the handlebar, and the blade starts spinning.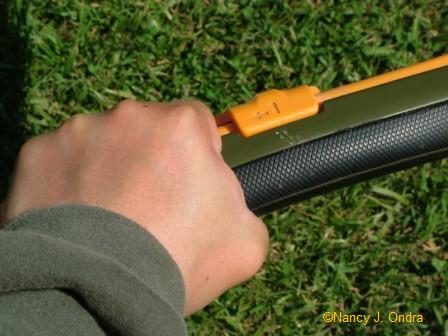 Once it's running, you use the Neuton as you would a gas-powered mower. The 5.1 and 5.2 have a 14-inch blade, which effectively cuts a swath about 1 foot wide (figuring overlapping passes to avoid skips). That's several inches narrower than most power mowers, so it does take more walking to cover the same amount of lawn.
With the Neuton, you have several options for dealing with the clippings. You can use the typical side-discharge chute (shown below).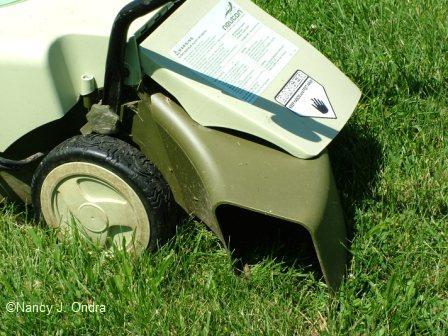 Or, you can lift the back flap, unhook the side-discharge chute, and replace it with the bagger frame.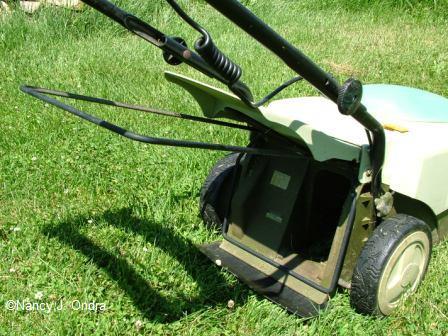 Then, slip on the bag, and you're ready to collect the clippings for composting or mulching.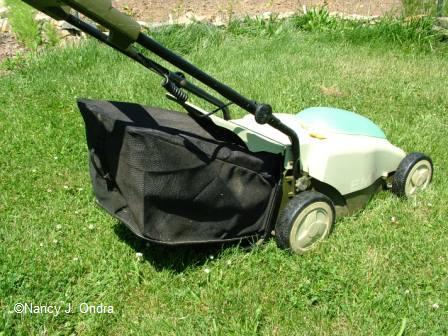 If you spring for the accessories package, you also get a "mulching plug," with replaces the side-discharge chute and makes the clippings drop straight down into the lawn. Another item included in the accessories package is a trimmer/edger attachment. It has two prongs that easily slip into holes in the front of the mower.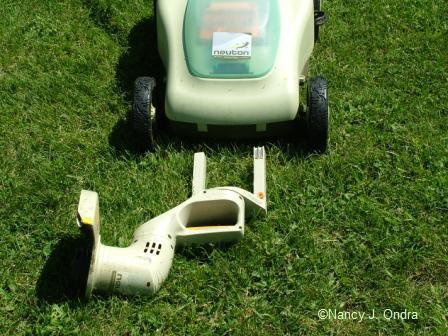 You can adjust the head to the horizontal setting for trimming along paths, walls, and other features.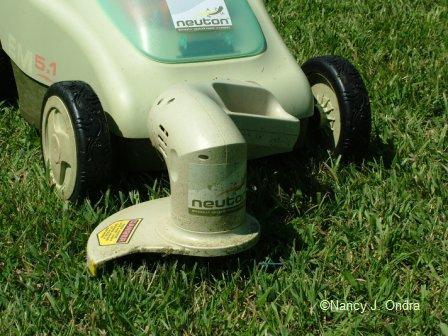 Or, you can set the head vertically or at an angle to cut an edge along a bed or path.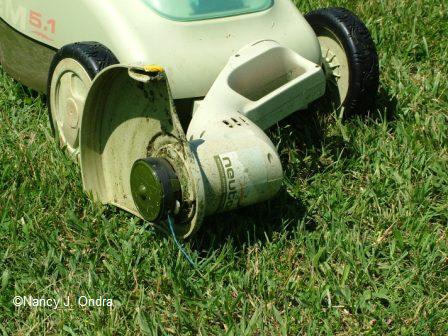 Flip the handlebar switch from "mow" to "auxiliary," squeeze the handlebar, and you're ready to go!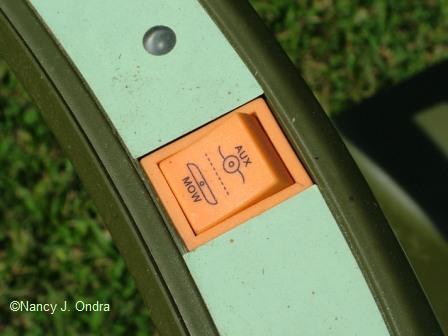 Now, to be fair, there are a few things that are less than impressive about the Neuton. First, I read a lot about how quiet they are, and my neighbor says that she thinks it's quiet, but it sounds pretty loud to me. It's not annoying enough to require the use of ear protection, but it's not like you could hear music or a ringing phone over it. Still, it's definitely not as noisy as a gas engine.
While I like having the option of the trimmer/edger, using it depletes the battery faster than mowing, and the trimmer line seems to run out quickly. (Fortunately, the accessories pack includes some extra spools.)
I think my biggest grumble is the amount of hand strength it takes to squeeze the handlebar to keep the blade running. It's a great safety feature to have the blade stop quickly, but it's a bit annoying to have it stop if you let up at all on your grip. It's not much of a problem for short mowing stints, but it gets pretty tiring after an hour or so.
As with any mower, the Neuton works best in dry conditions. If the grass is at all wet with rain or dew, or if it's very lush, the mower clogs quickly. It's a simple matter to stop and clean the mower deck, but it's still a bit of a bother. But that leads me to one of my very favorite features of the Neuton: how easy it is to change the mowing height. Here, it's shown on the next-to-maximum cutting height, which is about 3 inches.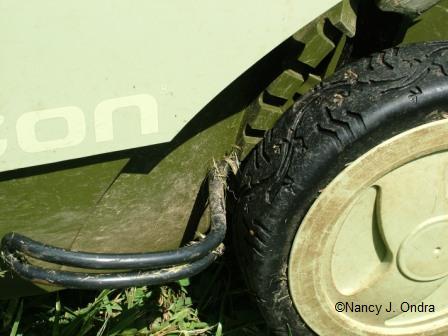 There are six settings, taking you down to about 1.2 inches at the lowest setting. To change the setting, simply lean down, pull lightly on the lever, and slide it up or down to adjust the height. If the grass is thick or succulent, raising the blade height just a notch or two can really help to avoid the clogging problem.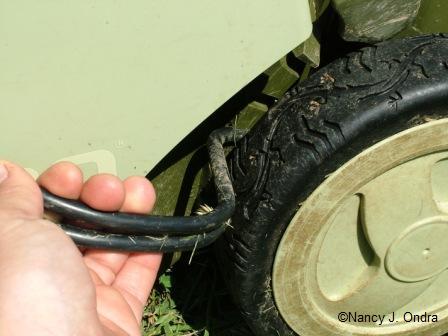 I'll also mention that if you don't order the entire accessory pack, it's at least worth getting a spare battery. One fully charged battery lasts for about an hour of mowing (approximately a quarter acre), or less if you're trimming or edging. If you need more time, having a spare lets you charge one while using the other to finish the job.
Mom and I went halves on the 5.1 last spring, and I can't remember how much we paid for it, but I see they're selling the very similar 5.2 now for $374, including shipping. There's also a Model 6.2, currently listed at $474, with a 19-inch cutting blade. We bought our Neuton directly from Country Home Products at Neuton Power. A reader over at my Hayefield blog tells me that you can also find local retailers if you contact their Customer Service folks.
If you're at all considering getting rid of your gas-powered mower, I really encourage you to check out the Neuton. No, I don't have any affiliation with the company, other than being a long-time, satisfied customer of Country Home Products. (They're my source for two of my other favorite tools: my DR Field and Brush Mower, which I wrote about in Meadow Mowing Time, and my manual sod cutter, which I wrote about in Sod Off [in an Eco-Friendly Way].) I won't tell you that owning a Neuton makes mowing fun. It doesn't. But it does make the whole process of dealing with the mechanics of mowing a whole lot easier!