Every year I struggle under the weight of our own precedent. "Chanticleer, the edgiest garden in the country" and other such terms applied to us are wonderful, but consider the maintenance of such a reputation.  So I struggle, I obsess. While installing this year's display, I am already considering next year's options. This plant in my hand, can I use it again next year? Should I use it again? This January I was given the opportunity of a horticulturist's lifetime. The gift of travel. Chanticleer sent me to New Zealand to visit gardens, public and private, nurseries and production facilities, public spaces as well as natural areas. Three weeks was just about enough time to get a real sense of that amazing country and to adjust one's sensibilities to the Kiwi aesthetic.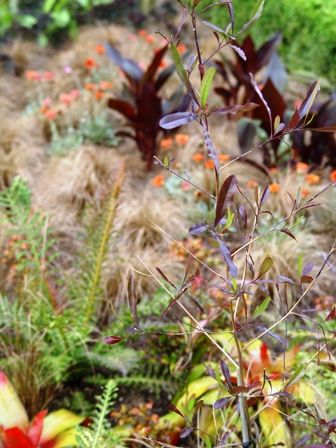 New Zealand is a land of contrasts. Rugged and severe landscape bathed in unrelenting summer light. Harsh organic forms are the shrubs and trees skirted in a gentle mass that are the tussock grasses and sedges. Bronze, brown and gold tones of the landscape interrupted by the brightest of colors both introduced to as well as native to this island community. It is certainly more than just tree ferns. It was those influences of color, texture and at times harsh contrast that drove my installation at Chanticleer this season. Our director Bill Thomas made it clear to me that the experience was for me as a person, and as a gardener, but under no circumstances was it necessary for me to replicate the New Zealand landscape back home. That was a good thing. What was apparent to me immediately was the amazing climate of NZ. Cool and bright, dry and fresh, not the sticky and stagnant humidity that can be the hallmark of the Delaware Valley in summertime, our main display season.
But as an artist of sorts, my medium is plants.
This season I drew on the influences of the NZ landscape.
The contrasts of form, the harmonies of colors, the rhythms and the textures drove my aesthetic. Working with a local grower (always support our local industry first), I had access to a new and timely line of NZ plants. Cultivars of Coprosma, a New Zealand shrub, just recently introduced to this country on the west coast but not yet here in the east. I selected bright foliar selections with thick waxy leaves that hopefully will combat the dark forces of humidity. The native New Zealand Flax, Phormium tenax, used by many in this country, imparts a wonderful brown and bronze tone to many a container or bedding display. This season at chanticleer, it mixes and mingles with those of its old neighborhood. Those colors that stand as innovation here in this country, now harmonize with the shrubs and sedges of its native land. Certain concessions, I confess, were made to the design due to availability and climate. But all were made in the spirit of what was being done here. Eucalyptus, for example, forms the canopy for this seasonal display. While not native to NZ, It has long since escaped into, and is now part of, the landscape. A South American fern that tolerates heat and humidity represents a terrestrial fern that is a constant constituent of the forest, or "Bush" floor in that wonderful land. Seed grown selections of native Kiwi carexes form a unifying texture to skirt my designs.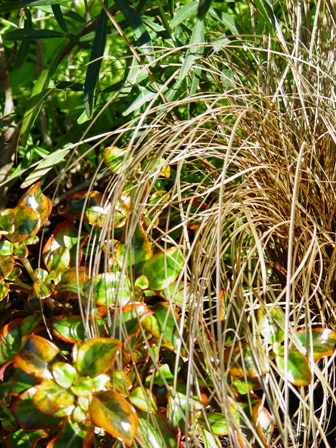 I'll likely not get back to NZ anytime soon. However the influences of that austere landscape, that windswept and bright land will influence me for years to come.