I recently travelled to the second largest flower and garden show in the US, in Seattle, to give two presentations. Here's what I enjoyed  most—a subjective collection, to be sure, and one dependent on the capabilities of my iPhone's camera. Even so, 25 photos is more than double the number I usually show in a GGW post. (I think it might have been the shopping that did it. I kept thinking, "I can't bring this home, but at least I can show it to everyone!")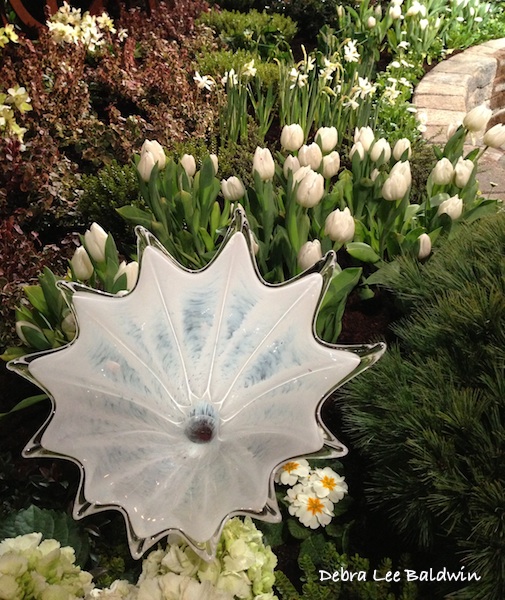 A recurring theme of the display gardens was blown glass. Famed  artist Dale Chihuly's studio is near Seattle, and his influence is everywhere. For example, this white glass flower in a green-and-white garden.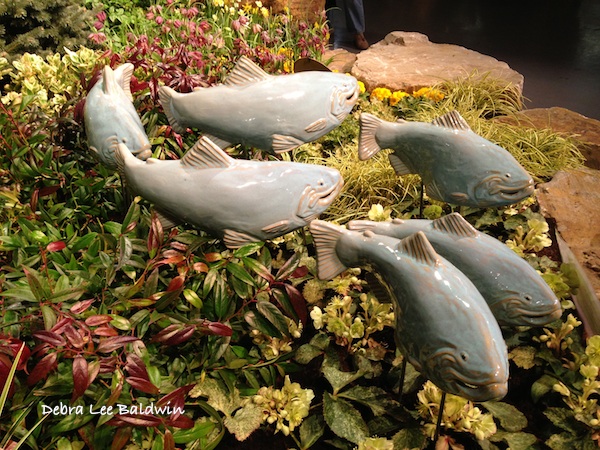 The Pacific Northwest is famous for salmon, so finding them swimming through a garden seems appropriate.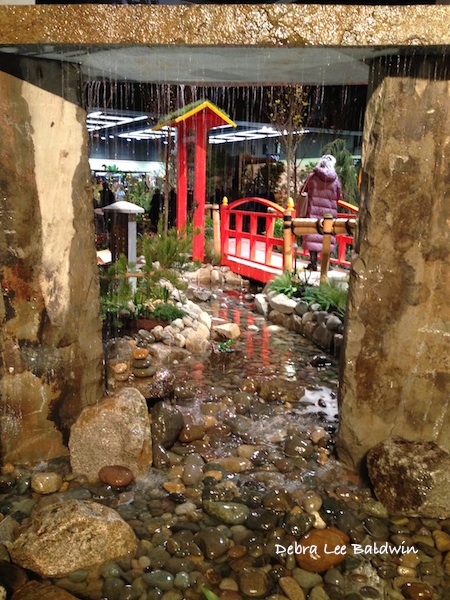 Don't you love the way this display brought the weather indoors?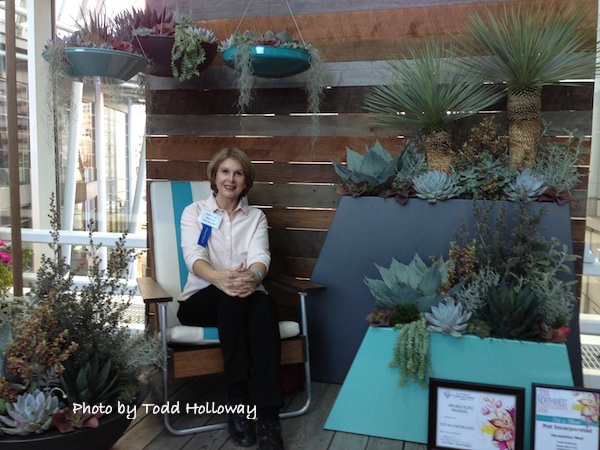 Designer Todd Holloway of Pot, Inc. in Vancouver, B.C. created a succulent garden in shades of blue on the convention center's skybridge. He let me be part of the display while he took my photo.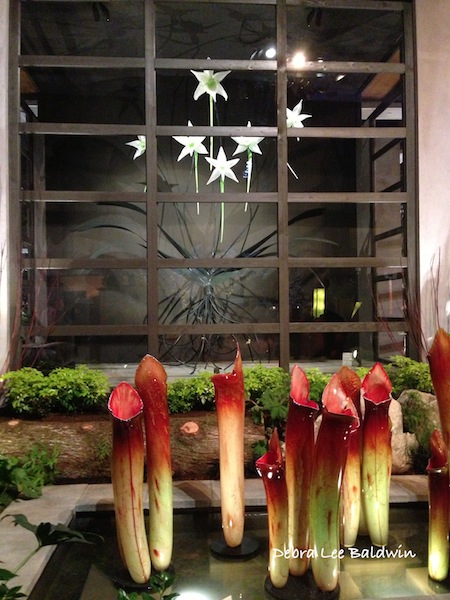 Blown glass pitcher plants.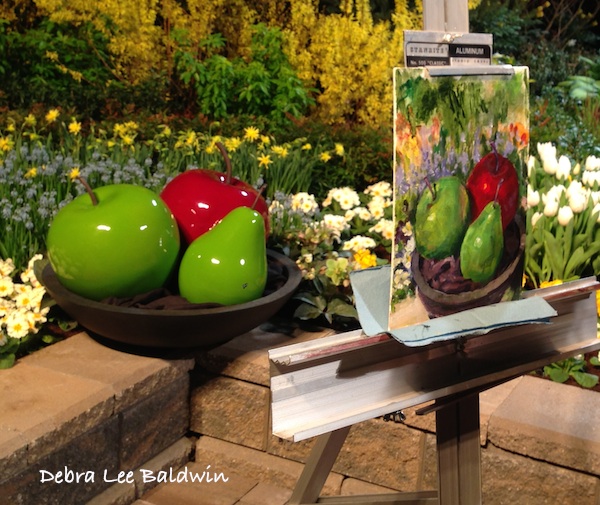 An artist standing at an easel in one of the displays painted this still life on the spot. (Note that the fruit are glass.)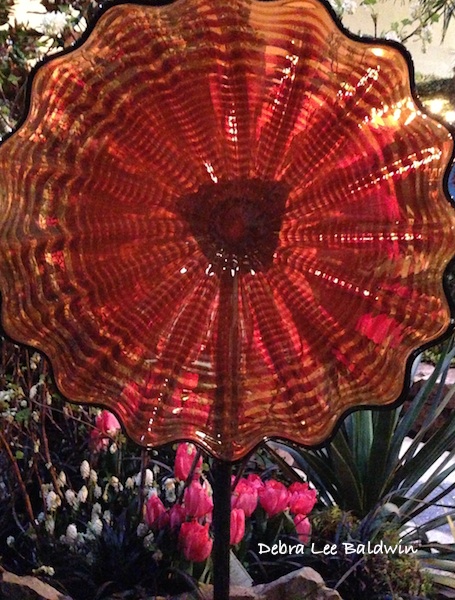 Yet another glass flower.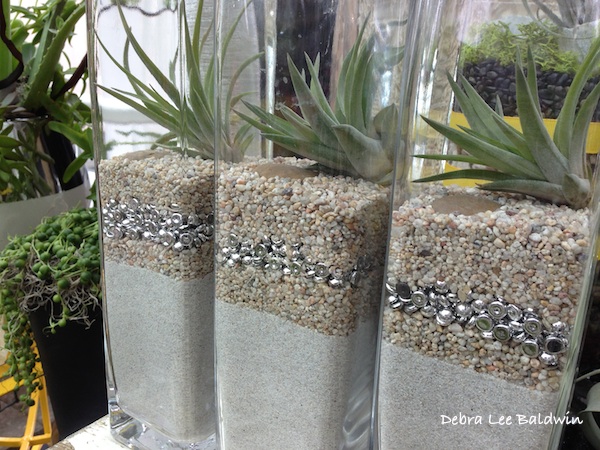 Tillandsias (air plants) were included in numerous displays.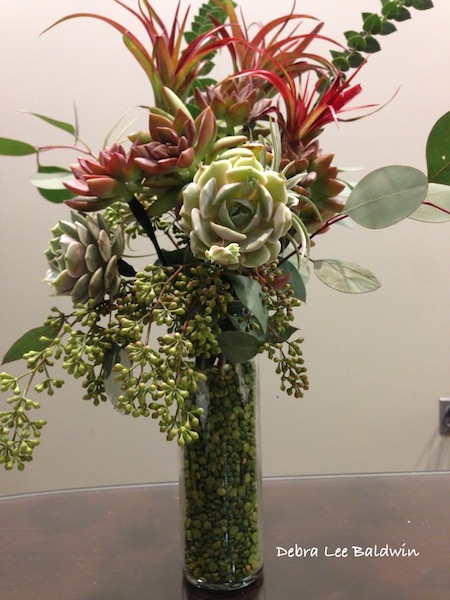 For my DIY presentation, I made two bouquets: a dry (no-water) one consisting of red tillandsias, eucalyptus greens and wired succulent rosettes, with green split peas for ballast…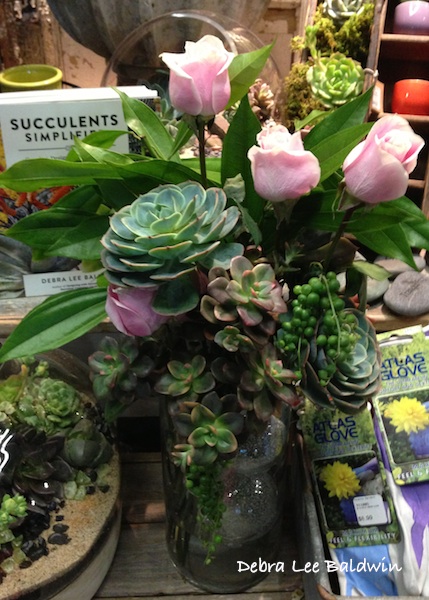 and one with water, consisting of wired echeverias, string-of-pearls and greens, plus roses that repeated the rosy red in the succulents.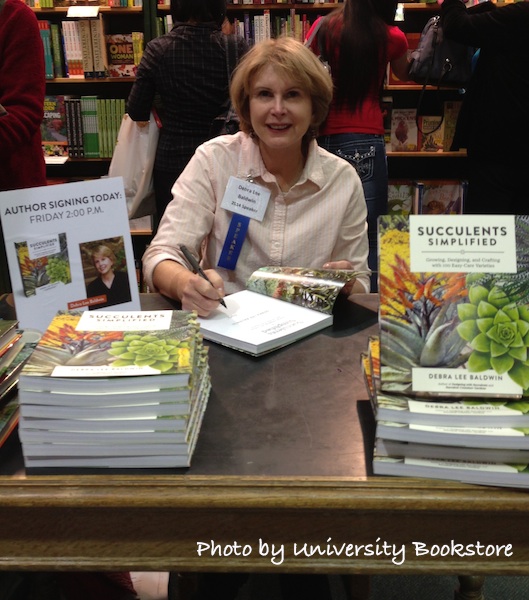 While signing  books, I chatted with people about growing succulents in their gardens. And whenever I got a chance, I went shopping. I'm a recreational shopper.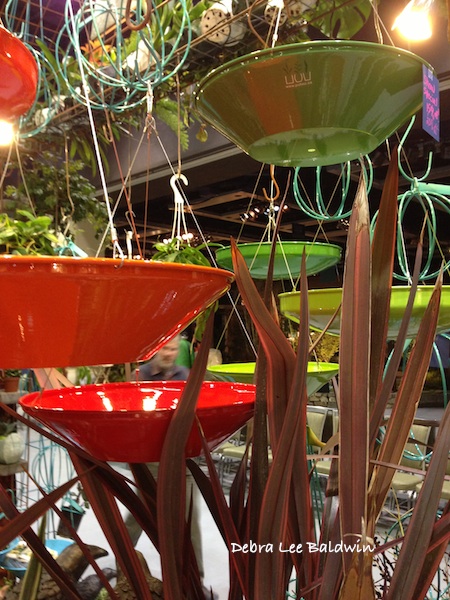 Above is the Dig garden boutique booth, which sold Pot, Inc.'s metal hanging containers. The owners were really nice and keen on succulents.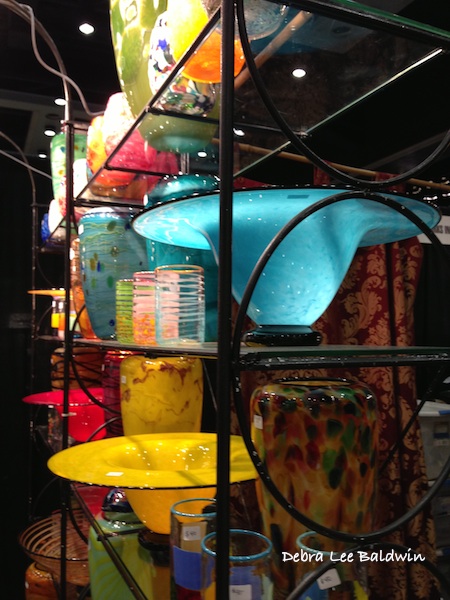 Not only was blown glass everywhere in the display gardens, it also was for sale.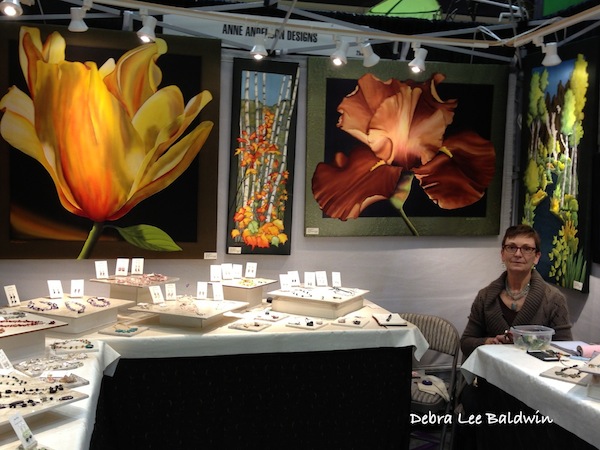 It was fun to meet various artists in their booths. Many of them spend all year preparing for the show.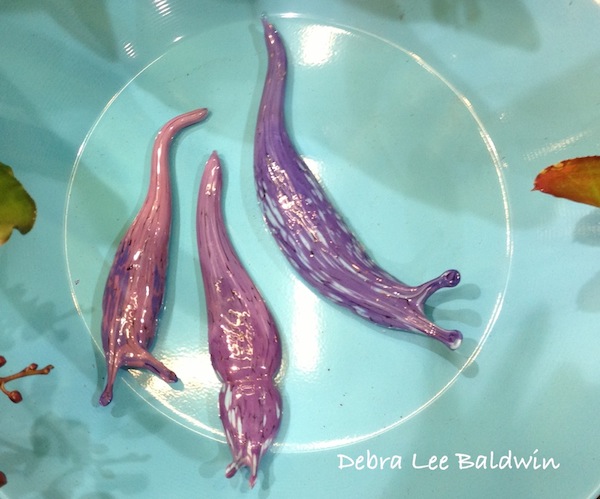 Look at these blown glass slugs! Do you think they're cute or gross?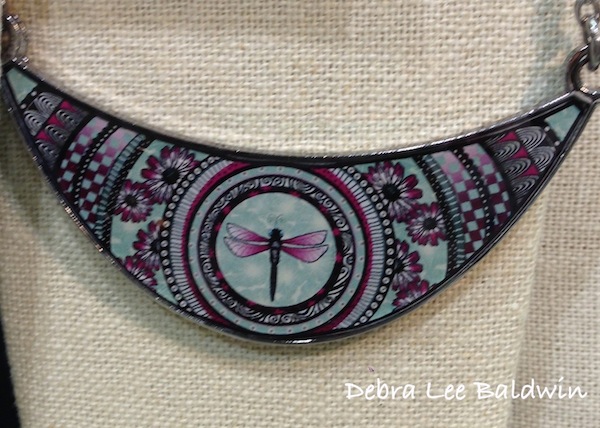 Garden-themed jewelry was everywhere.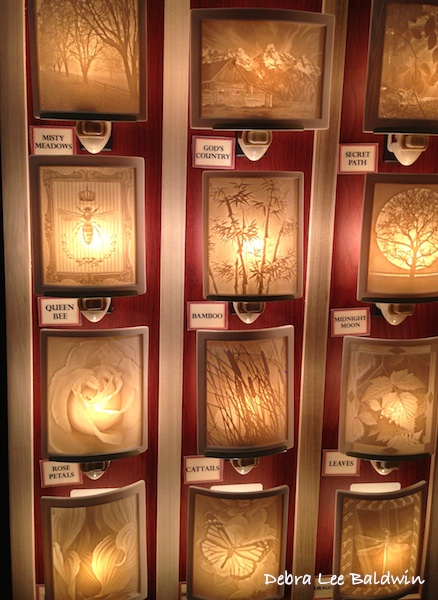 I love anything that plays with light, like these night lights.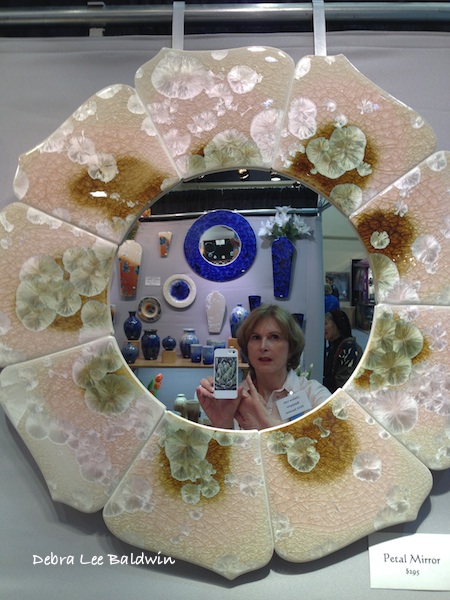 I really liked this artist's crystal-glazed pottery. She sells under the name of Juneberry. I bought a couple of small pieces from her—nothing as magnificent as this mirror.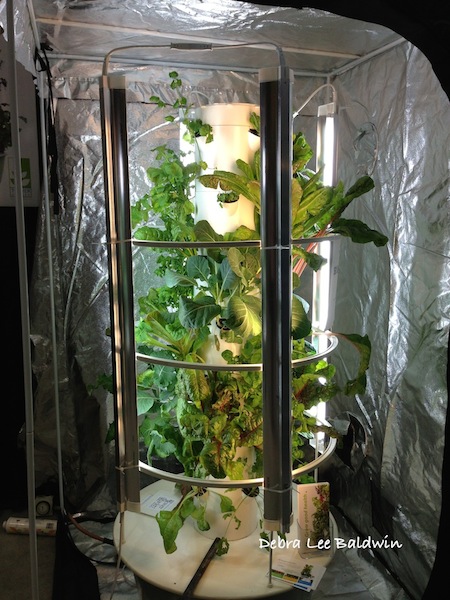 Growing one's own food is a big deal these days. But just how badly do you want to do it? This contraption will enable you to grow lettuce indoors in the dead of winter, regardless of where you live.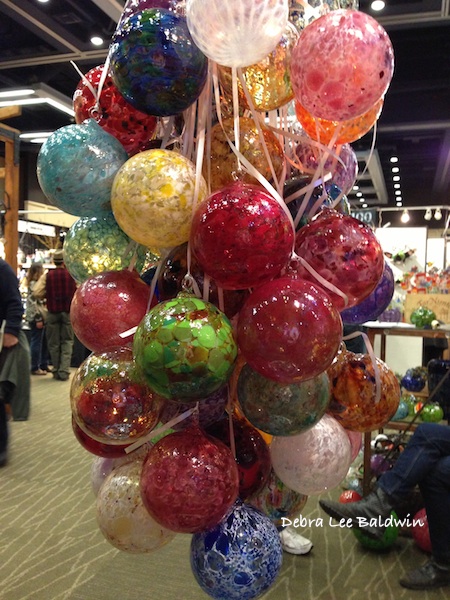 A bevy of blown-glass balls. Don't they look like helium balloons?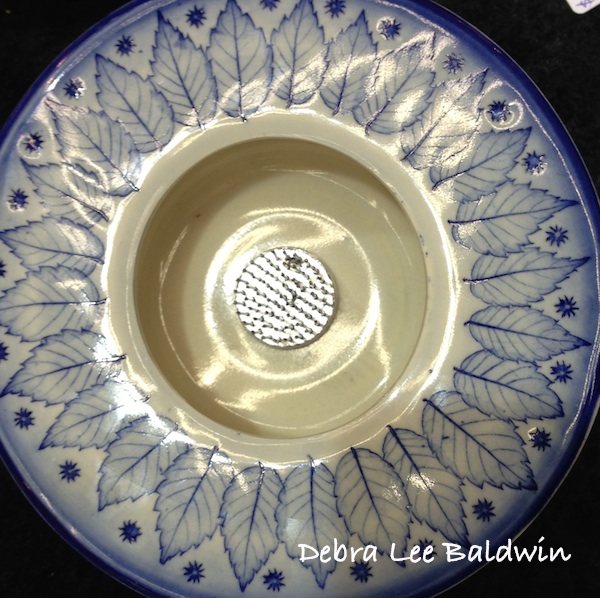 This pottery saucer has  little points (a frog) to hold stems upright.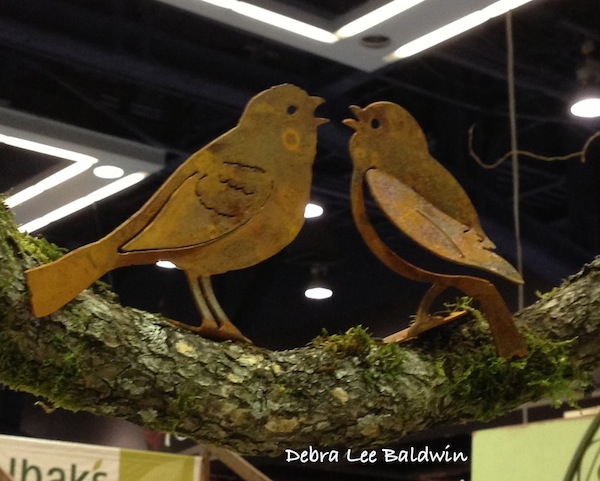 The booth of one of Seattle's most popular garden center's, Molbak's, had these.
Another booth sold repurposed objects, like this birdhouse made of a metal funnel, a tin of coffee, and a vegetable steamer.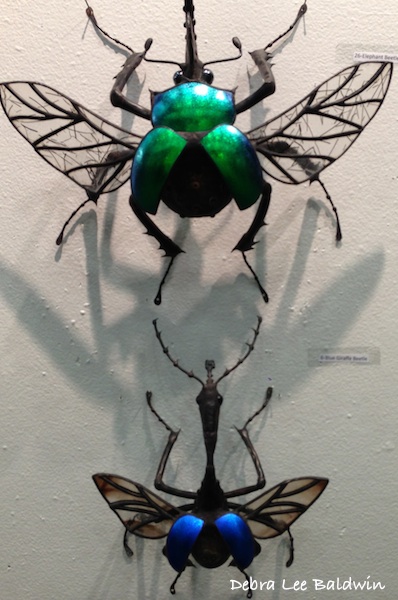 And who doesn't need a pair of big bugs? These measured more than 18 inches across.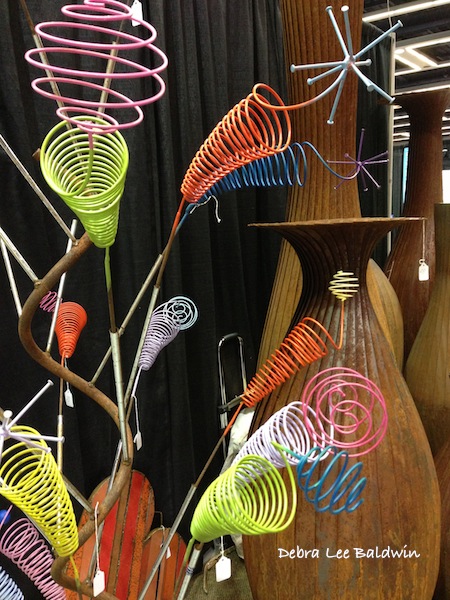 Or goofy coiled, colored wires? Don't these look like repurposed bed springs? Uh…OK.
So, what might have tempted you to try to carry home?
My goal is to share the beauty of waterwise, easy-care succulents in gardens, containers and landscapes via blog posts, newsletters, public speaking and workshops, photos, videos, merchandise, and social media (Facebook and Pinterest). My books: Designing with Succulents, Succulent Container Gardens, and Succulents Simplified.  www.debraleebaldwin.com