Here is Part 2 of Snowdrops In The Hidden City Garden from Dutch garden designer Harry Pierik.
To read Part 1, click here.
"In the previous post I showed how I prepared the borders of the snowdrops.
Now we're going to look at how the snowdrops grow in the Hidden City Garden.
Also I'll show three different yellow cultivars.
In total there are more than one hundred different snowdrops in the Hidden City Garden.
Snowdrop border with in the foreground around the birdbath. Epimedium x peralchicum 'Frohnleiten'. Three different buxus shrubs form the backbone in this border which appears from the evergreen background, as a peninsula in the grass. In the background the large evergreen leaves of Viburnum x rhytidophylloides Willowwood 'among others',  Skimmia japonica, Sasa palmata, Aucuba japonica ' Rozannie ', and Fatsia japonica.
Fatsia japonica in the background with maturing fruits. In front is the marbled leaves of Cyclamen hederifolium which flowers in autumn.
Behind Fatsia japonica is the peninsula full of snowdrops in the grass.
In the picture you can see that the right pedicle is a small piece of yellow behind the ovary. Nicolas Top has discovered her in an old cemetery near Cologne. No snowdrops are easy to hold.
Sometimes snowdrops are yellow or lime-green on markings and ovary, on stains where normally snowdrops are green. Snowdrops with yellow markings were once regarded as inferior and weak growing, but that turns out to be. They do well in a humus-rich pitch with bright light.
Galanthus nivalis 'Sandersii' was named after Mr. Sanders from Cambridge. He found the first one in 1877 in Northumberland, north of New Castle. This snowdrop has not only yellow markings on the petals but a yellow ovary too.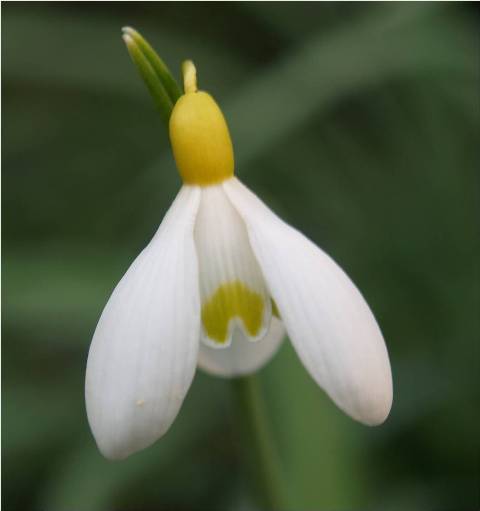 Some yellow snowdrops are more vulnerable than ordinary snowdrops. Galanthus 'Primrose Warburg ' is not only one of the most beautiful yellow snowdrops but also a pretty strong cultivar that grows well.
This snowdrop is a form of Galanthus plicatus, which can be seen on the beautifully shaped rather large flowers and especially to the broad leaves that are slightly curled at the edges. It originates from the English country estate South Hayes and is named after the owner who collected many snowdrops."
**BOOK RECOMMENDATION – A Gardeners Guide To Snowdrops, written by Freda Cox, is a beautiful book with  a lot of information about snowdrops.
NOW IT'S YOUR TURN. Share your stories about the snowdrops in your garden and post photos. Also, feel free to ask Harry any questions you have.