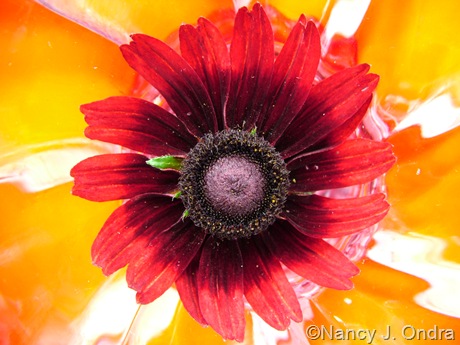 If you're interested in enjoying and learning about great garden photography and you're not already reading David Perry's A Photographer's Garden Blog, you should be. Along with philosophy and garden adventures, all accompanied by stunning images, David frequently addresses out-of-the-ordinary photography topics, such as An Introduction to Shooting for the Cover, Point-and-Shooting Straight into the Sun, and Now for a Little Background. Best of all, you don't need to have loads of high-tech camera equipment to try out his challenges – just a basic point-and-shoot camera and a willingness to experiment. We're going to focus on one of David's creative ideas for an upcoming Picture This contest: Macro in a Mason Jar.
I know that a few of you have already tried this technique, but for the rest of you, this advance notice gives you plenty of time to practice. Not that you'll need it, though; it's amazingly simple – as simple as putting a leaf, a flower, seeds, or other small items in the bottom of a wide-mouthed glass jar, then shooting straight downward into the jar. Resting the camera on the rim of the jar keeps it perfectly steady, so you don't need a tripod to get super-sharp closeup shots.
Honestly, I couldn't believe that it was really as easy as it sounded, so I decided to start with some dried persimmons; that way, I wouldn't have to worry about stuff wilting while I was experimenting. My first shot, in a simple clear glass jar set on a wooden bench: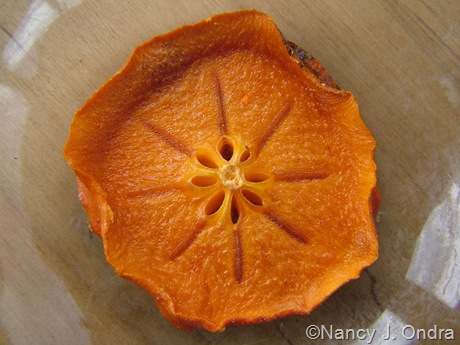 That's not bad, but it was just the beginning. In his Mason Jar Master Class, David  takes the technique to another level by setting the jar on different backgrounds. So I grabbed some dishes…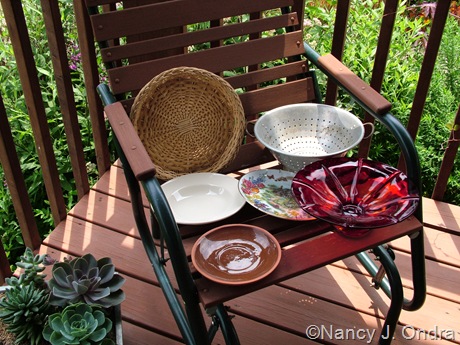 …and a bunch of colored and patterned papers I had left from my scrapbooking days…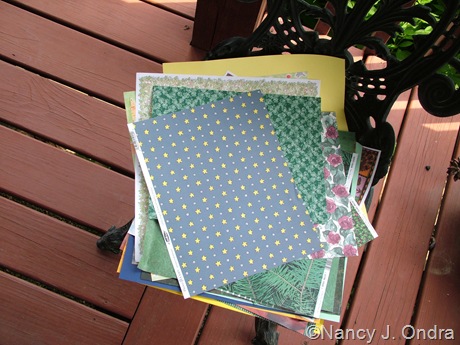 … and tried out some different options.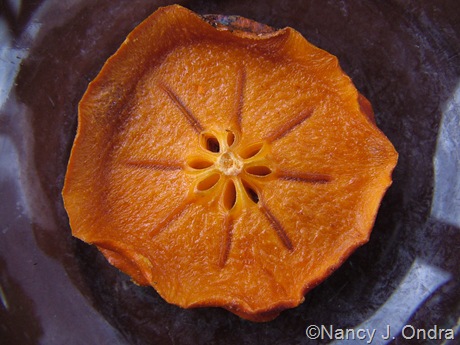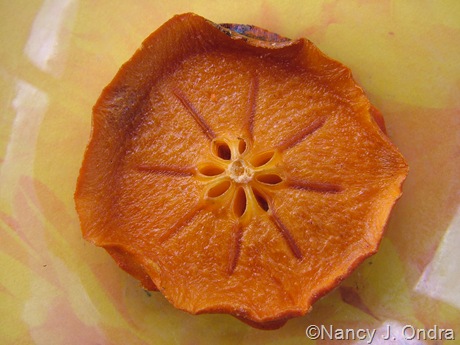 That's getting more interesting. I moved on to some other experiments with some square clear-glass jars, including 'Goldflame' honeysuckle (Lonicera x heckrottii) set on one of those woven things meant for supporting paper plates: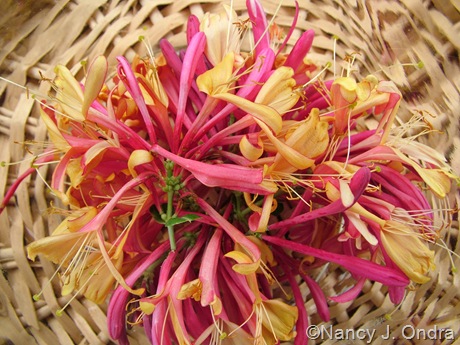 'Fairytale Cinderella' portulaca against a swirled red glass dish: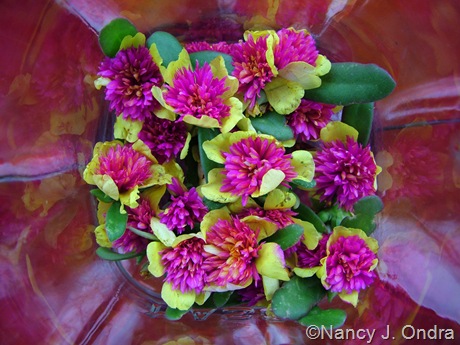 And 'Dragon Tongue' and 'Trionfo Violetto' beans against a checkerboard paper.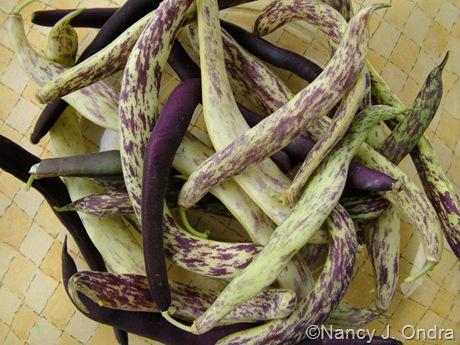 Then I got a little carried away experimenting with using different kinds and colors of jars and vases.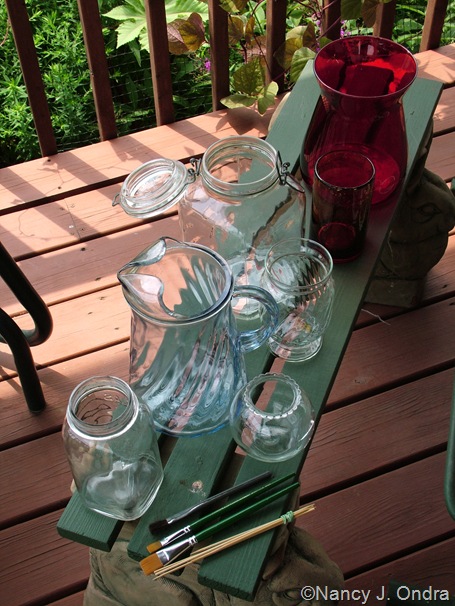 Here are some tumbled zebra jasper stones in an cylindrical amber glass vase against a plain background: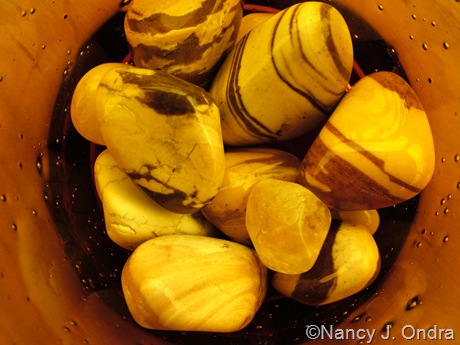 And then set in a dish of more stones: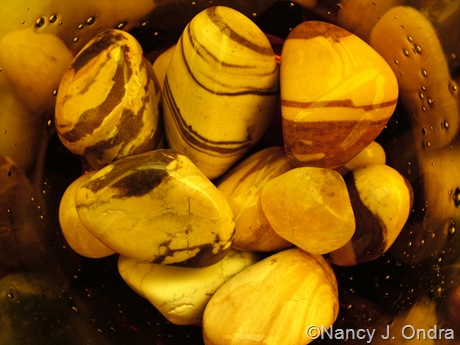 And the 'Goldflame' honeysuckle' in a red glass vase: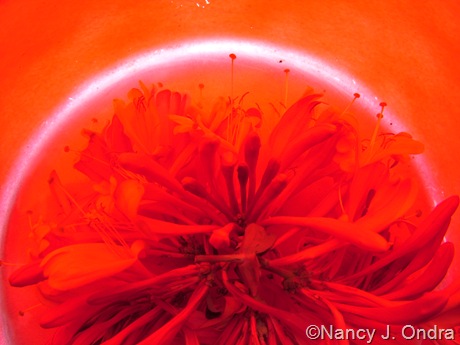 Using a vase and a pitcher with swirled sides added some extra-cool effects. Here's a 'Benary's Giant Golden Yellow' zinnia with scented geranium foliage against green-and-white striped paper: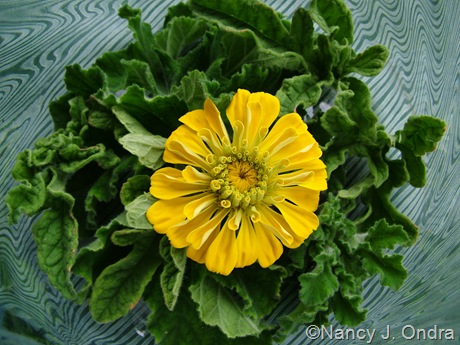 And 'Sunsugar', 'Tumbling Tom Red', and 'Black Cherry' cherry tomatoes against a picture of pumpkins: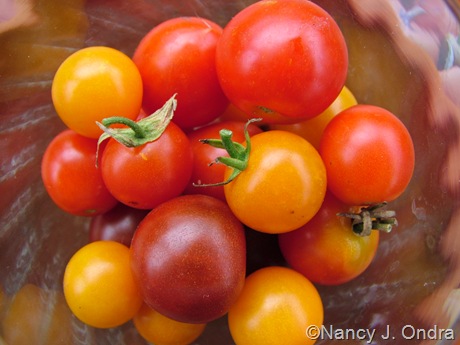 I got a little carried away after that. The image at the top of this post is 'Cherry Brandy' rudbeckia in a swirled glass vase set on a swirled red glass dish. I followed that up by slipping a metal colander between the vase and the dish and got this: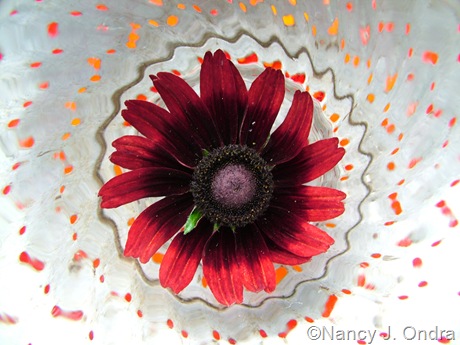 And then, I took the bloom and vase and set it inside a large red glass vase: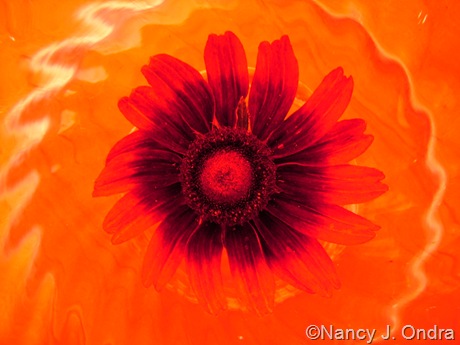 One factor I didn't play with is lighting: I took all of these out on my porch on a bright but overcast afternoon. I also didn't do any cropping, color correction, or other sort of photo editing; these are all straight out of the camera. As you can see, it's easy to go a little wild combining subjects, containers, and backgrounds.
David has graciously agreed to be our judge for this theme, and he'll tell us exactly what he's looking for in the Picture This announcement on January 1. For now, give the technique a try and have a good time with it. (Remember, you can find David's original posts at Macro in a Mason Jar and Mason Jar Master Class.)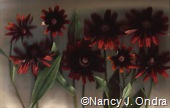 While you're at it, don't forget to do some bloom scans for October's Picture This. The plant pieces you pick for the macros can work great for scanning, too!