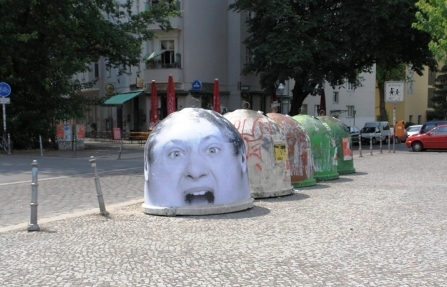 Since moving to the center of Tel Aviv this past winter, I've experienced how a major city deals with its recyclables and trash collections. I've found the system here to be lacking in efficiency, environmental awareness and creativity. So, with my curiosity picqued and the internet beckoning, I got online to see what's been happening in other cities.Germany comes out smelling like a rose (no pun intended); from everything I've read, it's considered to be the leader in the field. Some sources site that 9 out of 10 households separate their trash. In Berlin there are 7 different types of bins, each one for different recyclable waste; general waste, paper, compost, plastic/metal, amber glass, clear glass, and green glass.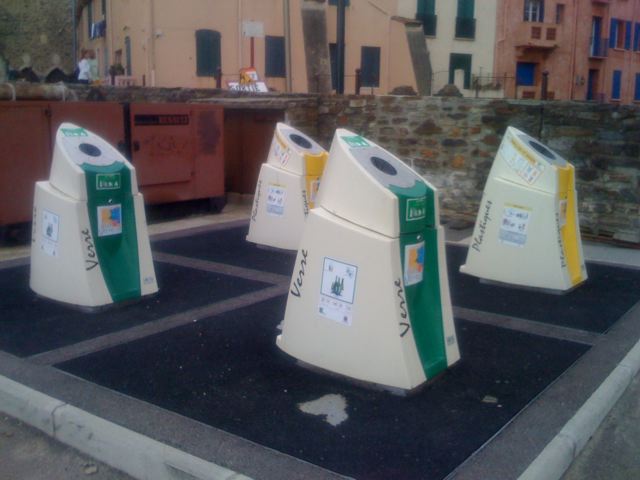 In Paris, rubbish is collected at least once a day, either early in the morning or at night. They limit the color of their containers to two; yellow and green. Their rationale is that the public wouldn't respond to more than two colors. OK….
In Rome, trash is collected seven days a week. The only days with no collections are major religious holidays. Even with 2500 new recycling bins ordered by the city council, a BBC reporter still found it difficult to locate these containers throughout the city. Italy is far less advanced in recyclable rates in comparison to other European countries like Germany and Denmark
The most elegant solution for trash and recyclables goes to Bryant Park in NYC. Ignachio Ciocchini, the designer of the trash bins, was inspired by the plants and flowers in the park in creating the tulip shaped metal trash bins; he chose the fern green color to match the greenery. Although Bryant Park, one of Manhattan's jewels, may appear to be only a block long urban (square) park that should have few problems with trash disposal, during the summer traffic it draws up to 5,000 people per hour at peak times.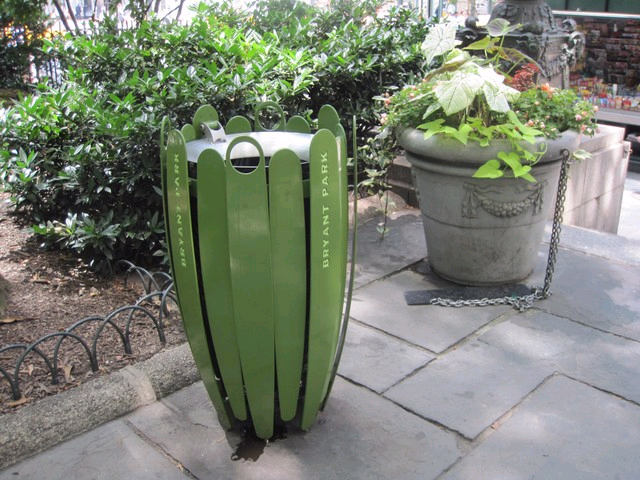 Bryant Park has also received 25 new cans for recycling. Paper recycling containers are lime green and bins for bottles and cans are a deep blue with circular cutouts.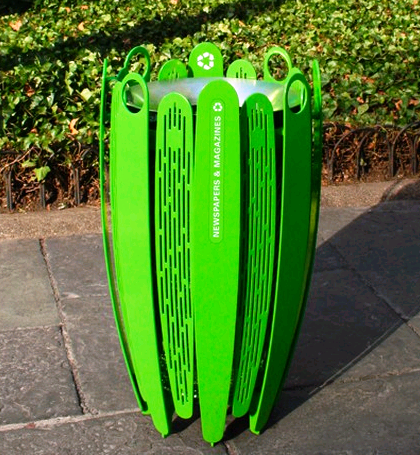 Ciochinni said that the eye catching bins, contrary to conventional public trash cans, are meant to be looked at. He feels that they'll get people to pay more attention and act as a reminder that throwing out garbage is important. These 'hard not to notice 'containers will be showing up in other parks and areas of the city.
But it's Jim Foss' invention that hands down is transforming the world of recycling and trash disposal in a big way. In 1999, Jim was taking a walk in Fenway Park and saw all the overflowing trash cans and litter; he decided that he wanted to help Boston with this problem. At the time, Jim was working for an electric-car company so he was comfortable with solar technology and motors. He proceeded to create a makeshift design for a garbage can fitted with a solar-powered trash compactor.
A huge benefit of his invention, Big Belly, is that it holds four to five times more than conventional city trash cans. It significantly reduces the number of trips made which in turn reduces the amount of time, money and fuel a municipal government spends in order to collect trash. His original idea led to the creation of a 15-employee company, Seahorse Power, which sold its first solar-powered receptacle in 2005.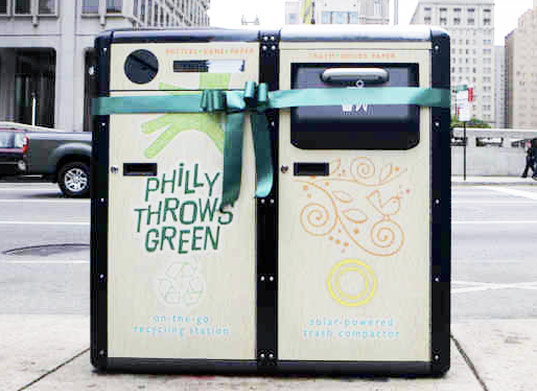 In Spring 2009, Philadelphia inaugurated its first Big Belly; within a matter of months over 500 units were installed, with 210 of them featuring an additional recycling bin component. Since the compacting bins can hold close to eight times as much waste as a regular trash can and only have to be emptied 5 times per week (versus regular bins which need to be emptied 19 times), the city stands to save some big bucks on staff time, fuel costs, and greenhouse gas emissions. Ka-ching! Philly is slated to save close to 12 million dollars over 1o years using Big Bellys. Other cities that are using Big Bellys are: Baltimore, Chicago, Los Angeles, Ventura, Ca., Queens, New York and Banff, Canada.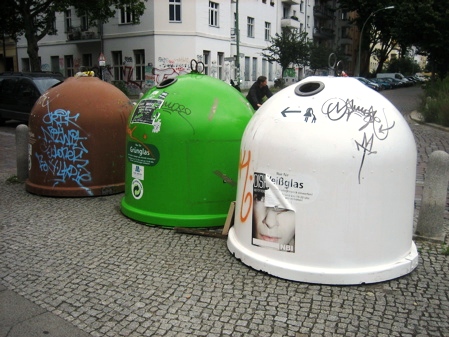 The award for the funkiest recyclable containers goes to the dome shaped, graffiti and designer bins (at top of page) in Berlin. Germany once again comes up with a solution for an effective and cool way of disposing of trash and recyclables.
Aside from recycling, one way businesses can be more environmentally conscious is by switching to greener forms of energy. Not sure where to begin? Go to the Utility Bidder website to see a range of different quotes from energy suppliers that can provide the energy your business needs at an affordable price.
A company that has created a service where participants are rewarded with prizes for the poundage of their recyclables is doing some great work. The key is that municipalities, cities, businesses need to sign up for the service; only then can individuals participate. Check out Recycle Bank. It's worth it!