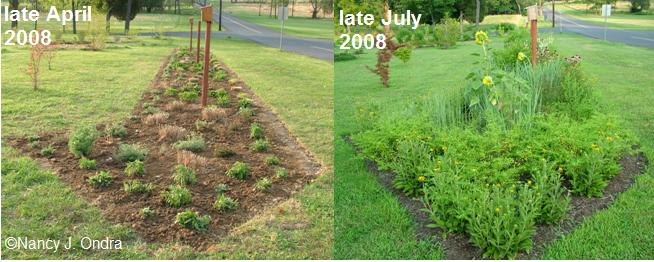 We gardeners tend to be rather critical of our own efforts, seldom satisfied with whatever progress we've made and sometimes disappointed with how our plants have performed (or rather, not performed). Taking the time to sort through old photos and put together posts that show how things have changed over time can be a great way to remind ourselves that we really are doing a good job.
Seeing progressions of other gardens over the seasons and over the years is useful for all of us, often giving us ideas and inspiration for our own planting projects. Another lesson we can all take away from this month's workshop is that we can never have too many "before" photos. So it's a smart idea to wander around the yard a few times a year and take lots of pictures from many different angles, just in case, and to always grab a camera before you grab a shovel or sod cutter.
I'd like to thank all of you who took the time to participate this month, by posting or reading or both. I'd also like to give a special thanks to Craig of Ellis Hollow for showing a technique in his post that's completely new to me: how to make videos out of a series of photos taken from one spot, based on instructions from eirikso.com. Very cool! Now, on to this month's posts:
Garden Bloggers' Design Workshop – Time in a Garden (Nan at Gardening Gone Wild): Kick-off post for this month's topic.
Fifty Years of Change (Nell Jean at Secrets of a Seed Scatterer): Most of us are lucky if we have pictures of our garden from 5 years ago. Nell Jean, though, can boast one from 50 years ago! It's a big difference from then to now.
Time in My Garden (Lisa at Greenbow): Back in 2004, Lisa tackled a new side-yard shade border. Five years later, she has a lush planting filled with texture and color that makes a great complement to her home.
One Year Ago Today (Jamie and Randy at Creating Our Eden): Most changes in our gardens happen relatively slowly, but sometimes, they can happen in minutes. Check out the amazing evolution of Jamie and Randy's garden from a tragic beginning to a beautiful backyard built by their dedication and the generosity of their fellow gardeners. You can see the further progress in Ready for Planting!
Landscape Update (Susan at Simply Susan!): When Susan started her most recent garden in central Florida, she drew on her past experiences in five other gardens. In this post, she shares what has worked and what hasn't over the past two years.
Time Series and Change in Our Backyard (David at Montana Wildlife Gardener): Even though he didn't start taking "before" pictures right at the beginning, David has enough images to show the dramatic transformation of his typical suburban backyard into haven for people, plants, and wildlife, complete with a vegetable garden, arbor, plant beds filled with flowering natives, sitting areas, and a fantastic homebuilt greenhouse. He includes great how-to links to many of his renovation projects over the years. David also contributed 8th Street Pocket Park, the story of a small neighborhood park that he and his wife have helped to develop over the past year.
Hurry Up and Wait (Rose at Ramble on Rose): Starting a new garden is one thing, but when you first have to undo a previous owner's idea of a low-maintenance "rock garden" (i.e., all rocks, no plants), it's even more of a challenge to the patience. Fortunately, Rose has prevailed, and she shares some pictures of her developing new border and rain garden in Illinois.
New Beginnings (Jean at DigGrowCompostBlog): Earlier this year, Jean wrote a series of posts about the major renovations to her backyard landscape. It wasn't always smooth sailing, but the end result is a beauty, and seeing the intermediate stages makes the change all the more dramatic. The first link takes you to her first post: you can find the follow-ups in The Rock Wall, The Beginnings of the Real Garden, and It's Finally Done, for Now. Beds and Stones and Lawns covers some other renovation projects.
Time in a Garden (Philip at East Side Patch): Put your coffee cup down (so you don't risk snorting liquid up your nose or onto your keyboard), then take a gander at ESP's romp through the time-space continuum in his Texas garden. There are a lot of fun changes going on down there!
Time in a Garden and Seasonal Changes (Genevieve at North Coast Gardening): Genevieve found some excellent photo examples showing seasonal changes in her own garden, as well as changes over time in another garden. Her post includes some mouth-watering combination ideas, too!
Developing the Stroll Garden – Phase 1 (healingmagichands): While the gardens at The Havens have certainly changed since they began in 1996, damage from a major ice storm in 2007 was the catalyst for the most dramatic changes in the backyard. You can see more changes in Phase 2: Stroll Garden Update 06 February 2009 and find even more links to posts on the progress in her July 2009 and February 2009 archives. A Little History provides a time-travel tour of the entire property over the past 13 years.
Time in a Garden (Debbie at A Garden of Possibilities): When Debbie started a new full-sun border in her Connecticut garden, she had a whole lot of space to fill. With some smart bargain shopping and acquisitions from a plant swap, she created a pretty planting in less than a year. She already has some ideas for making changes (a gardener's work is never done – thank goodness!), but she's got a great start on a beautiful backyard border.
Open Garden (VP's Open Garden blog): Last summer, Veep created a new blog with virtual tours of her garden to raise money for a special charity. As well as enjoying the "finished" garden, you can see how it looks through a slideshow highlighting the special features in different seasons, as well as lots of before-and-after pics, such as those in A Long Time Ago, in a Garden Far Away… and Round and Round the Garden (which includes some very cool panoramic shots – you can find the instructions for making your own in a comment she left on the kick-off post). You can also check out her "very long time lapse" experiment, which includes both her home garden and her allotment, here.
Before and After & Seven Years Later (Michelle at Garden Porn): A radical transformation indeed! Michelle recently revisited a garden that she designed and installed seven years ago, and she shares pictures of the site before she began, after planting, and now. When you see the unpromising view of the difficult site she started with and the incredible entry she transformed it into, well…it's an excellent example of why hiring a professional designer can definitely be a good way to go.
Videos: Garden Bloggers' Design Workshop – Time in a Garden (Craig at Ellis Hollow): One of my favorite things about the experience of blogging is learning new ways to convey information. Craig has long been a source of inspiration with his Bloom Day collages, and now he's trying a new technique: creating time-lapse videos of his garden. Check them out, then follow the link to the instructions at One Year Worth of Images Give Some Amazing Videos to learn the technique and try it for yourself!
Dwarf Evergreens – Now and Forever (Pam at Helping Gardeners Grow): In the kick-off post for this month's topic, I asked our readers if they were "now" gardeners – planting closely for immediate impact – or "later" gardeners – planting at wider spacing to give their plants room to expand over time. With her fondness for slow-growing dwarf conifers, some of which grow only a few inches a year, Pam would qualify as a "much later" gardener!
My Bamboo is Scaring Me! (Laura at Interleafings): Laura is taking the opposite route from Pam: she knows that her clumps of giant timber bamboo are going to take time to maintain in her small garden over the years. But she's picked up several strategies for controlling and directing their growth, and the plants' beauty and grace make them worth the extra effort.
Gardening Style (Kate at Evolution of a Gardener): Kate has a fairly young garden, but she's already off to a good start, with lots of plans for the future. I think she'll have a great time looking back on this post a few years from now, to see how her ideas and plant choices have changed as she has evolved as a gardener. I also really liked her Heart Garden; what a cute idea!
Garden Bloggers' Design Workshop: Time in a Garden (HG at Heirloom Gardener): HG shares links to two posts she's done on the changes in two parts of her garden: Heirloom Gardener's Four Year Makeover of Her Front Garden – How to Improve Boring Urban Landscaping and the follow-up Front Yard Garden Design Challenge – Five Ideas for the Downward Sloping Front Yard.
End of Month View August 2009 (Helen at The Patient Gardener's Weblog): Six months ago, Helen had the great idea of doing a walk-around of her back garden at the end of each month. She now has a series of posts with photos from the same views, with the idea of creating a slideshow once she has a full year's worth of images. You'll find links to her previous posts at the end of the August view.