The response to August's Picture This Photo Contest was over the top!  Our judge, David Perry, not only had a huge amount of work to do just looking at each photo but he also had some hard decisions to make.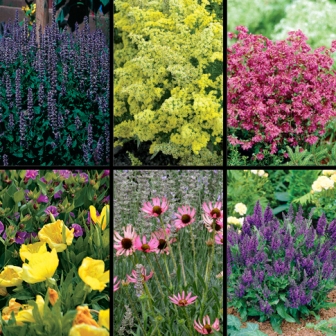 The first prize winner receives a selection of late summer blooming perennials from High Country Gardens.
Now, what everyone has been waiting for: David's choice of winners and honorable mentions:
"The first thing I want to do is congratulate each of you who put yourselves out there, who got down on your knees and risked making pictures from that powerful, if lowly place, who committed time to shoot for the contest, and then posted and explained what you'd been thinking as you shot and selected, and who absolutely blew the doors off my expectations with your stunning submissions. 
As I've visited and revisited your sites, I have felt the way I can only imagine people must feel when they win the lottery or something big and unexpected like that.  You really, individually and collectively have outdone yourselves.
So the second thing I want to do is ask you to imagine me grinning from ear to ear as I thank you, each of you . . . for joining in the fun and playing.  For making this such a feast of a contest.  For taking me to such beautiful places.  For stretching my imagination and enlarging my faith in humanity.  What a generous, insightful, curious and aesthetically savvy group of people!  What treasure to get to play and explore in the sandbox of your gardens with you!
If you have wandered through the submissions of each of the other entrants and been as impressed as I by the imaginative and emotive quality of the work, you will know that judging this contest, needing ultimately to pick a winner, and a second place winner and a handful of honorable mentions was a bit of an emotional maelstrom for me.  I wanted to heap praises on so very many of your images and award so many more awards than there are awards available to be offered.  And the sheer numbers of entries make it almost impossible to fairly comment on each image, as I would have liked to, while still keeping my day job.
So ultimately I copied about two dozen of the images that I thought had really paid attention to the original criteria of the contest and that also had that 'extra little something' and put them all up in a grid on my dual 30 inch side-by-side screens to let them just be there, calling out to me and making their respective cases as I worked on other projects over several days' time.  Slowly I began to understand which images had called out powerfully to me initially but didn't seem to keep pulling me back again and again with the same steady fervor that some of the others did.  And then, within that hard won insight, I found myself additionally needing to refer back to the initial description of what I was looking for in this contest, to weigh each impactful image remaining against those initial criteria I had outlined.
As you will recall I asked for:
 "photographs that allow me to see plants, flowers, insects, plant pairings, or textures in ways that are fresh and unexpected.  . . . about seeing first and the garden subjects second.  They need to evoke mood, and elicit some sort of emotional, poetic or "Oh my goodness!" response. Which means that they will strive toward the intimate, as opposed to being just one more variation on a shot we've all seen a couple of hundred times before."
It pained me to realize that there were several stunning and technically amazing shots which I reluctantly could not to move up in my ratings simply because they were shots I had seen close variations of many times before, even if not so well done as the one's entered here.  One I recall in particular is Foghorn's hummingbird shot, which takes my breath away and which I would have been tickled pink to have captured myself, had I been so lucky.  And yet, as perfect and as far superior to many published hummingbird shots as it is, it is still a 'hummingbird-hovering-near-a-flower' shot that each of us has seen in perhaps lesser variations many times.  The same thing happened with several of the 'butterfly on a flower' shots that were completely delicious, but again more distinctively familiar than completely unexpected.  I'll admit that I relied on that phrase, " fresh and unexpected" along with "as opposed to being just one more variation on a shot we've all seen a couple of hundred times before." from the contest's original published parameters to aid me in narrowing a very fat field of stunning images into a much narrower, more manageable few.  And for that, I hope you will all forgive me.  I winced several times in the edit.
Now, on to what I've concluded are the most magical and best qualified, given this contest's stated parameters, out of a bushel basket of really, really great images.

My selection for the GOLD WINNER is ESP, East-Side-Patch with the entry:  "Cattail Sparklers. Typha latifolia. "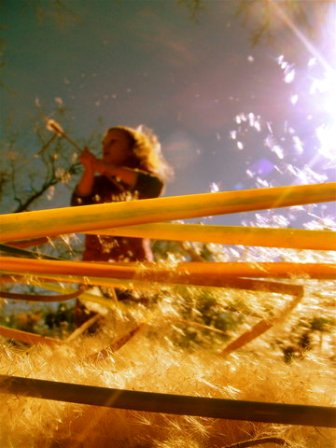 This wonderful, poetic image stirs up all sorts of emotions, questions and intrigues, and at first glance left me with the impression that I must be seeing upward from under water. 
In the larger version on his blog, you can see that the glowing, backlit cattail leaves and fuzzy seeds in the foreground are crispy sharp, which satisfies the eye's need for an anchor and order, and sets up a visual tension that enhances one's slightly voyeuristic sense of peering into a world where your presence is unseen and unnoticed.  Delicious!  We are watching from behind something, peering into a world not quite our own, and one that has a certain timeless, dreamlike, Alice-in-Wonderland quality to it.  Compositionally, there is the sun, the brightest part of the image where my eye starts its journey before traveling down those eye-leading, image-framing, diagonal flares to the brightest of the fluff below the little girl and then upward to her.  There is motion in the child at play, in her wispy hair, in the extended magic wand of a backlit cattail.  And winding up through all that, there is this receding, but traceable world of cattail fluff, extending from the razor sharp foreground, just inches away, upward and toward the sun, and off into the faint scattering breezes of the blue sky ether above the little girl's head.  This image meets every one of the criteria set out in the contest parameters.
My selection for SILVER WINNER goes to Frances at Faire Garden for a stunning and surreal belly shot of a Hellebore flower and a honey bee heading straight for it in mid-flight.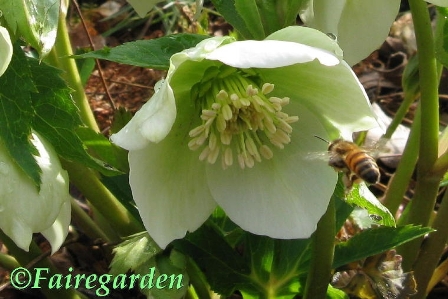 A few years ago I was privileged to shoot an entire annual report for an agricultural bank themed on honey bees and their intelligent teamwork approach to survival in the world, which meant that I got paid to hang out with several beekeepers (a delightful lot), and that I spent a great deal of time on my hands and knees photographing bees and bee-pollenated agricultural crops in bloom.  I know first-hand how challenging a really stunning bee shot can be to capture, and this is a stunning shot.  It tells a story, or rather, sets up any number of possible stories, with an almost three-dimensional, 'Oh my goodness!' feel.  It has all the requisite, attention-grabbing elements of motion and drama.  And would you look at those beautifully backlit wings on that bee!  This is most definitely a vision that you could never see from standing height, and I don't mind admitting that I've imagined and wandered through this image again and again in my mind since seeing it for the first time.
Another of my very, very favorite images, which I'll list first among the very 'Honorable Mention' images, comes from last month's second place contest winner, Jo at joco-roses.blogspot.com.     
"Softly, softly", her dreamlike image of Deutzia elegantissima "Rosealind' through the veil of her greenhouse is a masterful exercise in seeing and composition that grants the viewer a mysterious glimpse which I'm quite certain none of us has ever seen before.  Ahhhhhhhhhh.  I suspect I could look into this image for days on my wall without getting bored of it.  I love the very limited pastel pinks and cool green palette, and love too the delicious tension of the moss-topped wooden moulding cutting across the image at a slight angle, adding to the mystery of where we are and what we are actually looking at.  My sincere compliments, Jo.  This is a wonderous image to my mind.  It completely delights my imagination.
Next up for Honorable Mention is another magical picture with pinks and cool greens by Jamie and Randy at Creating Our Eden.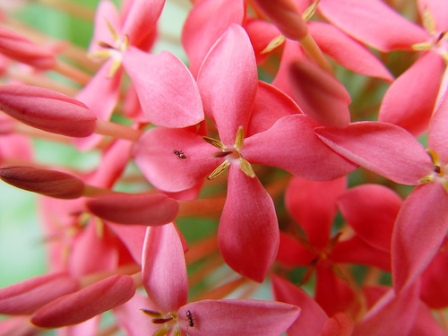 It is something of a pattern shot, and a photograph that beautifully passes along some its most pertinent information by playing with relative scale.  Two crisply focused, if miniscule ants on luscious, pink ixora blooms in soft, neutral, directional light.  Yumm!
"Tomato Napper" from Kim at The Inadvertent Farmer is another Honorable Mention fave, that draws me into the picture through dynamic composition and unexplained elements of mystery.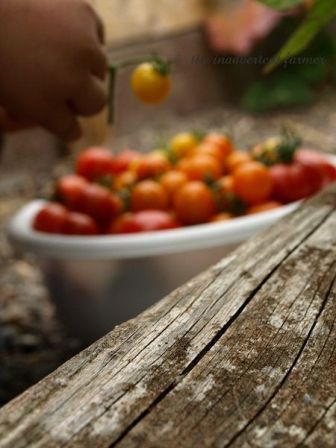 The texture of the wood in the foreground, in sharp focus gives the picture a base and compositional leading lines that direct me upward toward those warm-toned, beautifully out of focus tomatoes.  But what is that hand doing?  Who does it belong to?  What is it doing with that yellow cherry tomato?  The fact that all this is happening just beyond the plane of focus adds to the mystery and heightens the tension for me.  Seeing it within the context of the other images from the series provided in the blog entry helps explain it, but I think it stands pretty wonderfully on its own as well.  Very nicely, and playfully done.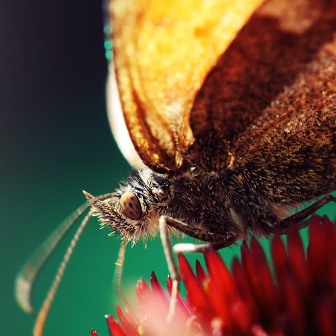 There were quite a few stunning butterfly shots, including one with a black butterfly in flight over a sea of purple petunias that was different enough to really stop me in my tracks.  But this ultra-macro image of an unidentified butterfly on a red-petalled flower by Liz at Gwirrel's Garden, from Sheffield, Great Britain is my choice for Honorable Mention status of the butterfly shots submitted, and partly because she bravely decided that she didn't need to show the entire butterfly or the entire flower, and in doing so created a tight, beautiful composition whose crisp lines dance with the scene's vivid colors in something reminiscent of an Argentinian tango.  I've not looked at a butterfly in quite this way before and can't quite imagine how she got her camera this fantastically close.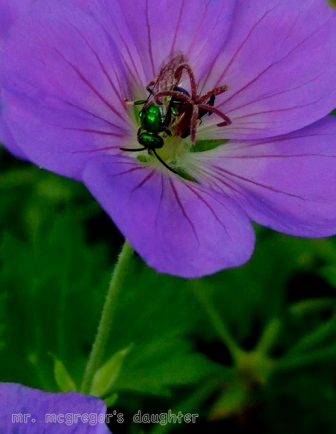 Mr. McGregor's Daughter captured another insect/flower gem, with her jewel-like photo of a metallic looking green bee on a Purple-Blue geranium flower.  I love the subtle repeats of the green foliage color in the bee's body, and just the edge of another blue geranium flower in the lower left corner.  This image makes me smile and leaves me wanting to know much more about the brilliantly colored bee.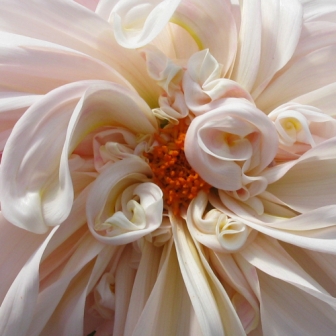 The final image I'll call out here for Honorable Mention is Kerry Michaels' image at Container Gardening: About titled"Here comes the bride. Dinner plate dahlia, 'Café Au Lait'."
What it might not have in sense of place or mystery it makes up for in pure, sensual, textural beauty and well thought out cropping.  The warm, but not too warm light and the flower's colors are insanely beautiful.  I can hardly take my eyes off of this image.  It just pulls my eye in and sends it round and round, unwilling to leave, peering down into each undulation and sensual fold, leaving me imaging what those petals must feel like to the touch.  Bravo!
So what more can I say?  I loved so many more of the images than these few.  I loved the upside down daddy long-legs spider, and the ghost-edged image of the Nanking Cherry blossoms, and the fairyland of mushrooms and looking up the stunning tree trunk, and got a real kick out of the sneezing clematis.  I loved finding the chrysalis casing at the bottom of the frame in Meems' backlit, newly emerged butterfly image as I pered more deeply into it, and found myself both admiring and chuckling at Pam's playful spirit once again through her choice of the crimson gladioli image in the Amsterdam church.  I loved seeing salvia taller than trees and ran my imaginary finger along the edge of the Melianthus major leaves, and let out a little gasp when I first saw Caroline's perfect, ankle-level image of a Gray Hairstreak in a patch of Blackfoot daisies.
I loved looking out onto a gravel road through claustrophobic eyes and pastel grasses, and into the throat of a flower that resembled a tropical sea creature.  And what I came away with from seeing all these amazing glimpses here was this.   We have defied the odds here together, having risked being seen, having risked being understood, or misunderstood, or under-appreciated, or feeling rejected.  We have made this world just a little more personal and friendly by figuratively picking a flower and sharing it with someone else. 
How wonderful it was to see all the positive encouragements and heartfelt compliments from others, your readers, as I visited your blogs and websites, and read what they had to say!  How generous you have been with me, in the kind things you've said as you explained your assignment to your readers, and in then trusting me enough to see and then sort through your pictures in relation to the others. 
I thank you for playing, and for the honor of setting the rules for this particular game.  You have honored me, and more importantly, honored yourselves.  Your images are stunning, and I am grateful to have spent such a rich time getting to know you a bit, through them.  I thank you. Namaste. "
First, a huge thank you to David Perry who, although in the middle of a very busy season, put in a huge amount of time making well thought out decisions. We want to thank David Salman of High Country Gardens, who each month helps to make The Picture This Photo Contest a success by contributing the prize of hardy and stunning plants.
And finally, as always, we want to thank all of you, the participants. Some of you took a risk in sending in your photos for the first time. We're glad you did. Each of you made a contribution to what has quickly become a resource for hundreds of bloggers who want to look at excellent portfolios representing a specific subject.  Please continue getting involved each month.  To view all photos sent in, please click on: Picture This Photo Contest.
September's contest will be posted on the 5th of September and the subject will be Ornamental Grasses. Who is the judge? I'll keep that as a surpise.. So, start shooting! We'll look forward to seeing you here next month.
*** Philip and Frances, please write me at fransoringardendesigns@gmail.com. Philip, I need your mailing address. And if either one of you can't copy the medal onto your blog, I will be happy to send it to you as an attachment. Congratulations!