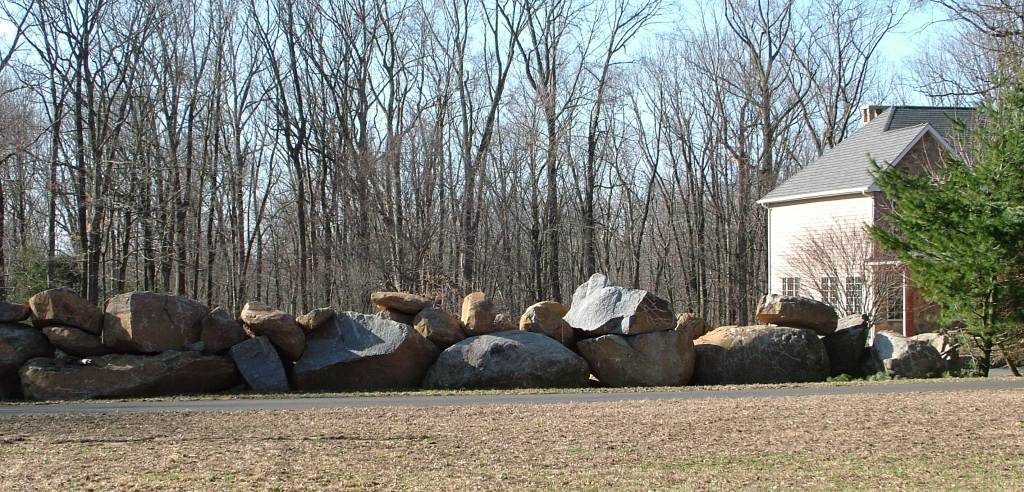 We now return you to our regularly scheduled Gardening Gone Wild programming: the end-of-the-month summary of this month's posts on the topic of stone in the garden.
In Fran's post this month, she commented on the value of "simplicity and subtlety" when it comes to stonework. I think the photo above is a good example of what can happen when those working with stone have somewhat different values. My alpacas and I occasionally walk past this mega-wall on our rambles around the neighborhood, and I'm never sure that one of these teetering boulders isn't going to let loose and crush us as we go by. Fortunately, this month's Design Workshop has brought us many more practical, inspiring, and aesthetically pleasing examples of how to incorporate stone into the garden and landscape.
Clearly, stone is a subject of great interest to many of you. It's terrific to see some new participants this month, as well as the return of many past GBDW participants. It was also fascinating to see how many of you are putting recycled concrete to great use in your gardens.Below, in no particular order, is a rundown of all the posts I know about. I'm afraid I might have missed a few of you, though. Our spam filter seemed to take great exception to the terms "stoned" and "stoner" at first, then started grabbing any comment that included the word "stone." I think I retrieved all of the filtered-out comments, but I may have missed one or two. If you wrote a stone-related post and aren't listed here, please leave a comment and a link so I can add you to the main list. Many thanks!
Garden Bloggers' Design Workshop – Stone in the Garden (Nan at Gardening Gone Wild): Kick-off post for this month's topic.
Stone: Can't get Enough of It (Fran at Gardening Gone Wild): Stunning stone walls turned Fran's steeply sloping back yard into a series of terraces, creating prime gardening space.
Gifts from the Gravel (Frances at Faire Garden): Why bother preparing loose, fluffy garden soil when you can get gems like these growing right in packed gravel? Frances also wrote Stones in the Winter Garden a while back to show off her garden's rock features, with and without mosses and lichens.
One Step at a Time – Stone in the Garden (Helen at The Patient Gardener): Helen has made good use of gravel in her garden for steps and for mulching.
Rock 'n Roll (Dave at The Home Garden): Dave drafted some help for a heavy-duty garden project. Not a novice to stone projects, he also posted about using gravel for paths and mulching in Using Rock and Gravel in the Garden.
The Rock the Garden Project (James at Double Danger): James and Mashala document the genesis of the stone pathway in their new vegetable garden. Hey, you two: How about an update?
Got Rocks? (Nan at Hayefield): Tired of fighting with those pesky rocks every time you need to dig a planting hole? Be glad you don't have *these* rocks to deal with!
Installing a Stone Patio (Pam at Digging): Part of Pam's terrific "How I Did It" series, this post details the construction of the lovely stone patio in her back garden.
Rock Me Amadeus 'Till I'm Stoned (Benjamin at The Deep Middle): Take a tour around Benjamin's garden on his stepping-stone path.
Garden Bloggers' Design Workshop: Stone in the Garden (Heirloom Gardener): Treat yourself to views of an amazing stone staircase, a pebble path, and a dry-laid stone wall in HG's post for this month.
When Land Hands You Rocks (Christopher at Outside Clyde): If you ever visit Maui, you may see mysterious piles of rocks with no apparent purpose. Read Christopher's post to find out what they're all about, and then follow the progress of the stone projects at his new home-in-progress.
Front Garden or Cinderella Meets Her Prince and Gets Some Pretty Clothes (Gail at Clay and Limestone): Gail wrote this post for last month's topic, but it's just as appropriate for this month. If you're interested in stone paths and retaining walls, check it out!
Stone in the Garden (Shady Gardener at Does Everything Grow Better in my Neighbor's Yard?) Limestone, field stone, and recycled concrete all work hard in Shady's garden, serving as pathways, edgings, and low walls for raised beds. You can see more of the construction of the recycled-concrete raised bed in Today's Activities.
Stone in the Garden (Phillip at Dirt Therapy): Looking for more inspiring ideas for working stone features into your garden? Check out Phillip's post to see free-standing walls, retaining walls, water features, steps, pathways, and patios, including an outstanding example of what you can do with recycled concrete.
Garden Walk Rocks! (Jim at Art of Gardening): Jim shares a photo gallery of walls, paths, and other stone-related garden features from Garden Walk Buffalo.
Stone in the Garden (Tina at In the Garden): Don't have enough (or any) stone on your own property? See how Tina took advantage of "found" materials for her garden walls and edgings.