Pelargonium Necklaces: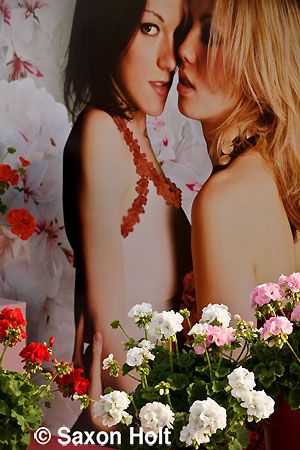 I didn't mean to shock you gentle garden readers with such a shocking (oh, shocking!) introduction. But if you have followed my other photo postings from California Pack Trials you knew this was coming. .1 post The marketing of plants is no different than anything else these days I suppose, it just doesn't seem it will actually work judging on the response we have received on this thread. Then again, readers of garden blogs are not the target audience – we are already gardeners.
I suppose I promised this one as well after my .2 post selling osteospermums: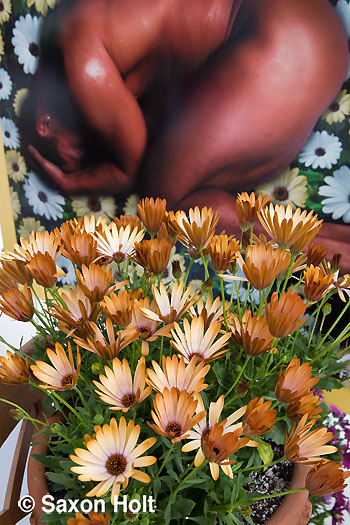 Enough of this; and now lets move into the truly sexist marketing as opposed to marketing with sexual overtones.
These banners were hovering above one of the vendors at California Pack Trials: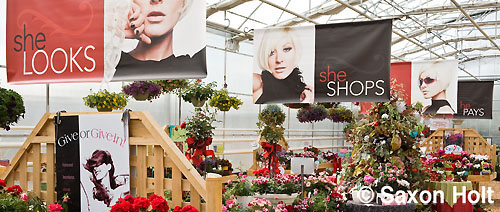 "she Looks . . . she Shops . . . she Buys . . . " and: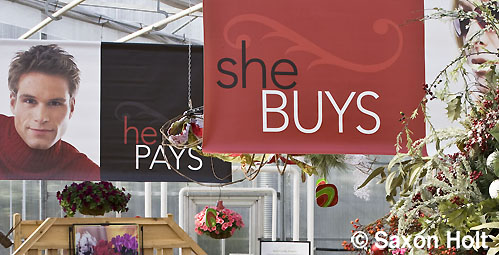 " . . . he Pays" . . . . and don't they both look like gardeners?
This particular vendor was not actually a plant breeder but a marketing group for retail nurseries. It was here I overheard a marketing specialist telling a potential retail nursery customer "Don't call your customer a gardener – you may insult them". These folks want retail nurseries to be lifestyle centers for shoppers accessorizing their lives.
My Pack Trials rant is done, the photos tell the story and I thank Amy Stewart and her wonderful "Flower Confidential" book for inspiring me to learn more about the business side of the flower industry.
I went to visit Amy last week and to see Sun Valley Floral Farm which she featured in the book. They are planting tulips now for late summer delivery. And I thought those Whole Food tulips we see in August came from Chile. I will post on that soon, but I must reveal the truth about Amy.
Suitable to her postings on the Garden Rant blog she rants in her own garden: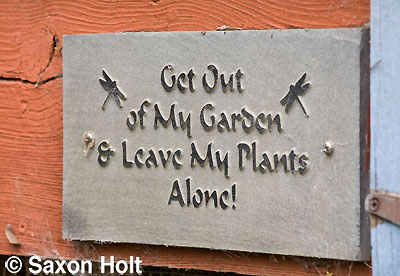 Lest any of the Gardening Gone Wild readers think there is any hint of bad blood with the queens of garden blogging I must say Amy is vivacious, smart and gracious. But she posted a photo of me on her site a while back and this is payback. The photo of me she posted was incorrect, we know The Camera Always Lies – I am the guy on the marketing poster above.