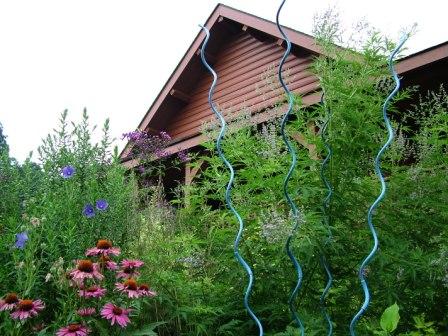 My fellow garden bloggers, I stand in awe of your collective whimsicality. I mean, I know you're not a boring bunch, but really, I'm floored by your enthusiastic response to this month's Garden Bloggers' Design Workshop topic. It's been a real treat to see how each of you ran with the theme and put your own particular spin on it. We've experienced some ways that whimsy varies from region to region, and we've learned some great stories behind your personal collections. From classic garden gnomes to graceful faces, from funny names to silly-looking plants, seeing the various ways we gardeners find to bring a smile to our own faces and those of others has been a true delight.
I do apologize for taking so long to visit some of you – so much whimsy, so little time, don't you know – but I think I've finally made it around to visit each of you who left a link on this month's kick-off post. If I missed you, please leave me a reminder here so I can add you to the main list.
And now, in no particular order, an abundance of links to a whole lot of garden-blogging fun!
Garden Bloggers' Design Workshop – Garden Whimsy (Nan at Gardening Gone Wild): Kick-off post for this month's topic.
Faces in the Garden (Fran at Gardening Gone Wild): Whimsical or spiritual (or both)? Whichever way you choose to describe them, faces seem to be a popular choice for garden accents, based on this month's responses. Check out Fran's take on the topic.
A Little Whimsy in the Garden (Frances at Faire Garden): No one does whimsy like Frances, and she came up with a brilliant contribution for this month's topic. If you haven't yet read the story of the Bongo Congos, go now! (Then come back, of course.)
Got Whimsy? (Steve at Gardening Gone Wild): Steve offers images of some of his favorite bits of whimsy, from his own garden and others.
A Touch of the Whimsical (Phillip at Dirt Therapy): For someone who thought he didn't have much whimsy in his garden, Phillip managed to come through with quite a few fun and quirky garden ornaments for us to enjoy.
Whimsy in the Garden (Carol at May Dreams Gardens): Think you don't have fairies in your garden? Check out Carol's list of signs to watch for, and you may find out that you really do – and you'd better start treating them right!
Fierce Creatures (MMD at Mr. McGregor's Daughter): Who knew what dangers lurk along the deceptively welcoming paths of Squirrelhaven? MMD enlightens us on the dangers facing unwary visitors to her garden.
A Bit of Whimsy (Lisa at Greenbow): From gazing balls to festive fairies, Lisa shares the stories behind some of her favorite bits of whimsy that grace the gardens of Greenbow.
The Gaudy Garden (Nan at Gardening Gone Wild): Ornaments are one way to add personality to your garden; using color creatively is another.
Just a Bit of Garden Whimsy! (Shady Gardener at Does Everything Grow Better in My Neighbor's Yard?): Take a fun tour through Shady's garden to experience her variety of charming whimsy. Even her plants have something to say!
GBDW – Garden Whimsy (VP at Veg Plotting): VP's bits of whimsy may have been impulse acquisitions, but they add lasting enjoyment and amusement to her garden; don't miss them! She also shared some wilder versions of whimsy in her post Garden Centre Kitsch.
Ladybug (Eve at Gardening on the Gulf Coast): Finding bits of whimsy to buy is a thrill, but it's even more fun when you can make your own, as Eve did. See how she transformed a boring bowling ball into a delightful garden accent.
Garden Bloggers Design Workshop on Garden Whimsy: Guard Frogs and Garden Names (HG at Heirloom Gardener): HG's version of garden whimsy may be subtle, but it's still fun, so be sure to check it out.
Garden Whimsy! (Layanee at Ledge and Gardens): From glass globes to cute critters – and yes, even a few plastic flowers! – Laynee's collection of garden whimsy is sure to make you smile.
Name That Garden (Nan At Hayefield): Not comfortable with obvious ornaments or shocking colors? Choosing plants with fanciful or theme-related names is a subtler way to have fun in your garden.
I Get Whimsical with a Little Help from My Friends (Annie at The Transplantable Rose): Annie gives us a tour of whimsy in her gardens, past and present, and reminds us that the memories behind motion-detecting frogs and silly signs are even more valuable than the items themselves.
Whimsy (Gail at Clay and Limestone): From superbly silly to elegantly abstract, Gail's garden whimsy is a joy to behold. Do go over for a visit (but be sure to ring the doorbell first)!
Garden Bloggers' Design Workshop (Craig at Ellis Hollow): Bottle trees, quirky containers, and a plastic flamingo – oh my! Craig shares his own take on whimsy and treats us to a tour of whimsy in some of his friends' gardens as well.
Backyard OCD (East-Side-Patch): Check out ESP's fun in the garden, central-Texas style, here and in Everything is Falling Apart and – aw, goodness, just read the whole blog; it's hysterical.
Papyrus Daydream (Lois at Lois de Vries' Garden Views): Can plants be whimsical? You bet! Check out the shaggy glory of Lois' papyrus to see for yourself.
The Lawn Police (Our Friend Ben): We all know that garden whimsy is a very personal thing – but watch out that you don't run afoul of the Lawn Police! You'll also want to check out the story of The Gazing Ball Thief.
The Scarecrow (Christopher C at Outside Clyde): Christopher transforms some unpromising scrap lumber into a wonderfully whimsical garden accent.
Garden of Earthly Delights (Michelle Derviss): All of you appreciators of whimsy need to treat yourself to Michelle's slide show – I guarantee you'll find it a delight!
At Least I Sort of Have a Theme (Heather at Heather's Garden): For someone who claims to be "not much…for whimsy," Heather sure has a good start on a collection of fun frogs for her garden.
Pieces of Flair (Kim at Blithewold): Kris has ventured beyond the bounds of Blithewold to show us how the folks in Bristol, Rhode Island, have fun in their gardens.
Gnomeless (VP at Veg Plotting): VP treats us to a great overview of gnome history and some must-see links to current gnomes in the news.