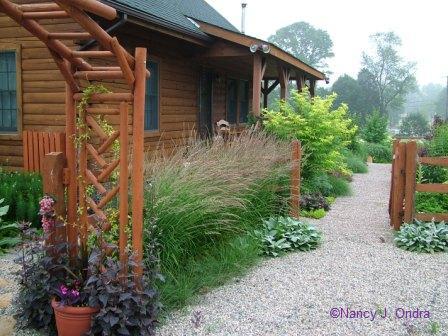 It seems we have plenty of readers here at GGW who aren't shy about showing off their love of gardening where everyone can see it. If you're looking for a new supplier for your gardening tools check out Tradefix Direct. As with any garden, these front-yard spaces are often works in progress; even if others think they look great, we know what we had in mind and tend to focus on what didn't work and what we haven't yet accomplished. Still, let's not overlook the value of even the smallest front-yard garden in lifting our spirits and adding a welcoming touch of cheer. It can be something as simple as a beautifully mown lawn, which is easily achievable with Reel Rollers. From traditional foundation plantings and flower beds to out-of-the-ordinary front-yard meadows and vegetable gardens, we have a lot of posts to look at this month, so let's get busy! Here are all the posts I know about to date, in no particular order.
Garden Bloggers' Design Workshop – Front-Yard Gardens (Nan at Gardening Gone Wild): Kick-off post for this month's topic.
Curb Appeal (Gina at My Skinny Garden): Gina's been making some major changes to her front-yard space over the last six months! The link takes you to all of her posts tagged "curb appeal" so you can follow her progress. To see the plan that Carolyn Gail of Sweet Home and Garden Chicago created for Gina's space, check out A $1,500 Gift Certificate for Gina.
Breaking the Rules (Fran at Gardening Gone Wild): Fran discusses some lessons she's learned from watching her garden evolve over the years and shows the transformation of her front yard into a garden room filled with roses and perennials. You can learn even more about her front-yard space in the post Front Yard Gardens.
Front-Yard Gardens: Garden Bloggers' Design Workshop (Pam at Digging): Those of us who visit Pam's site regularly get treated to snippets of her front-yard garden from time to time, and we've seen some aspects of its creation in former Design Workshops. This month, we get the detailed overview of its history and layout and a complete tour of this amazing space.
Front Yard Fiasco (Steve at Gardening Gone Wild): Steve ponders some of the challenges of his front-yard space and muses on possible solutions.
New Front Yard Garden (Kim at A Study in Contrasts): Lawn – who needs it? Not Kim! Check out her front-yard expansion project from last fall. And hey, Kim – don't forget to show us what it looks like this summer!
Front and Center (Nan at Gardening Gone Wild): It's natural to want your front-yard space to look good all year long, but it's possible to get a lot of joy from three-season plantings as well.
Front Yard Makeover (Cathy at 2GreenThumbsUp!): Cathy and her mom have tackled some overgrown old front- and side-yard beds to give them a fresh and flower-filled new look.
Tulips in the Front Garden (Dave at The Home Garden): Come along for a spring tour of the border that edges the front sidewalk at Dave's house and get a preview of what's to come for the summer. The tour continues in Front Garden Spots (Mailbox Garden, Yoshino Garden and Other Spots).
Kate's Gentle Plea (mss at Zanthan Gardens): Tired of cookie-cutter, all-lawn landscapes? Take a tour of some gloriously exuberant front-yard gardens in mss' Austin neighborhood.
Mission Possible: Front Yard (Melanthia at Garden Muse): Come celebrate with Melanthia on the completion (for now) of her cheerful and charming front-yard garden in Seattle. In Paths, she discusses some challenges with her planted parking strip.
Front Yard Meadow – The List (Brent at Breathing Treatment): Considering turning your front yard into a meadow? Check out Brent's collection of links to learn how he's been transforming his typical suburban front lawn into a haven for wildflowers and wildlife.
Garden Bloggers' Design Workshop – Front Yard Gardens (Craig at Ellis Hollow): Craig writes about the problem with his front-yard garden. Or…maybe it's not really a problem after all?
Help, My House Has a Green Moustache! (Mr. McGregor's Daughter): What's the solution to MMD's yew hedge challenge? She's gotten a lot of encouragement to say sayonara to that "green moustache"! As a follow-up, Anna at Flower Garden Girl posted Surprise for Mr. McGregor's Daughter Before and After with some renovation ideas.
Garden Bloggers' Design Workshop – Front Yard Gardens (Shady Gardener at Does Everything Grow Better in My Neighbor's Yard?): Shady takes us on a tour of several beds and borders in her front yard in southeast Iowa.
Front Border in Summer & Plan for the New Path (Heirloom Gardener): In this post, HG muses about possible solutions to some traffic-flow challenges in her front-yard space. That space includes a mixed border, which you can see in another season in her post The Front Border Last Spring with Tulips. For a complete view of how HG's wonderful front garden has developed over the years, see Garden Bloggers' Design Workshop: Heirloom Gardener's Four-Year Makeover of Her Front Garden.
Front Yard Design (Pookie and Schnookie at IPB Living): Squash and corn in the front yard? Why not! Check out this fantastic front-yard vegetable garden in central New Jersey.
Front Yard Controversy in England (Fran at Gardening Gone Wild): Fran shares a bit of news on the challenges facing front-yard garden spaces in England.
Front Garden (Frances at Faire Garden): Frances may not be too thrilled with her front yard, but clearly the rest of us think it's terrific!
Full Frontal (Jim at Art of Gardening): If your front yard were a room in your house, which one would it be? Check out Jim's thoughts on his public gardening space (and don't miss what has to be one of the most spectacular spring curbside plantings ever).
Front Garden or Cinderella Meets Her Prince and Gets Some Pretty Clothes (Gail at Clay and Limestone): Come admire the amazing transformation of Gail's front-yard space into a delightful wonderland of wildflowers and shrubs.
I'm pretty sure that covers everyone who has posted a comment here and left a link as of April 29. If I missed you (sorry about that), or if you post about your front-yard garden later on, leave a link on this post so we can find you too, please. And many thanks to all of you who participated in this month's workshop, either by posting or reading (or both)!