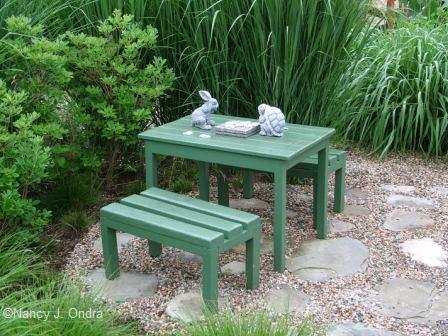 Stone may seem like an odd topic for a design workshop, I suppose. But in the last year of blog-reading, I've noticed that many of you incorporate stone into your gardens in one form or another: as gravel for paths, slabs for paving and patios, rocks for walls, and boulders for accents. I thought it might be interesting to hear why those of you who don't naturally have stone on your property chose real stone over concrete masonry units or other manufactured building products. And to those of you who've been blessed (or cursed) with stones large or small, how about showing us how you've coped with those challenges?
Have you recently completed any garden projects with stone: a gravel or stepping-stone path, perhaps, or a stone patio, or a rock wall? Here's your chance to show and tell.
Maybe you'd like to ask for ideas on a stone project you've been considering? Our readers always have lots of ideas and opinions to share.
Or, how about showing off your favorite plants and plantings that associate well with stone: anything from tiny alpines or mosses and lichens to tough groundcovers tucked into a stony slope.
Have you seen any spectacular (or spectacularly bad) stonework on your travels? Oh, come on – you know you have! It's fair game too. We'd love to see beauty shots of stone in natural settings, as well.
That should give you enough ideas to get started. Ok, gardeners, rock on!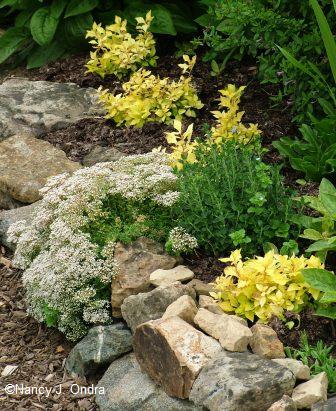 If you're new to the Garden Bloggers' Design Workshop, here's how it works: Write a post on any stone-related topic on your own blog and leave a link here (already-archived posts count too), or jot down your thoughts in a comment below. At the end of the month, I'll gather all of the links into one summary post for easy reference. If you're interested in checking out previous GBD Workshops, you can find them here:
Paths and Walkways
Fences and Walls
Arbors and Pergolas
Color in the Garden
Container Plantings
Front-Yard Gardens
And for those of you who like to know what's ahead, here's the list of proposed topics for the next five months of Garden Bloggers' Design Workshops:
* Decks, Porches, and Patios (bringing plants into your outdoor living spaces)
* Garden Whimsy (plantings and accents that are clever, quirky, or just plain fun)
* Trellises and Screens (and vines, too)
* Water Gardens (ponds, waterfalls, bog gardens, and container water gardens)
* Coping with Slopes (groundcovers, terraces, steps, etc.)