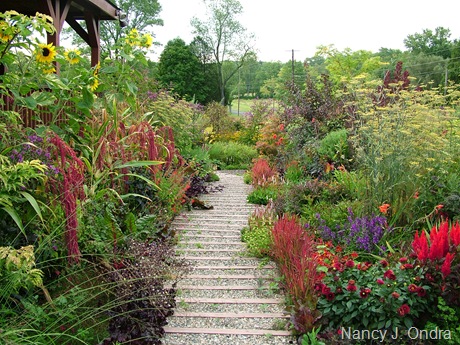 Just a few links this month, so let's get right to them:
Garden Bloggers' Design Workshop – Entrance Gardens (Nan at Gardening Gone Wild): Kick-off post for this month's topic.
Garden Walls and Fences (Cameron at Designing Your Home): Originally written for last month's GBDW, Cameron's post on her front-yard cottage garden works just as well for this topic.
Working on the Weekend (Jayne at Jayne's Country Garden): Instead of living with a foundation planting of sickly hollies, Jayne renovated the area from the ground up to get a fresh new look.
Have You Got Space for Wildflowers in Your Garden? (Claire at Plantpassion): Claire turned a tough-to-mow grass strip along the road into a colorful mini-meadow. She posted an update with more pictures and a list of the wildflower ingredients in Wildflowers in a Small Space Update.
Thanks to all who participated by reading and/or posting this month!