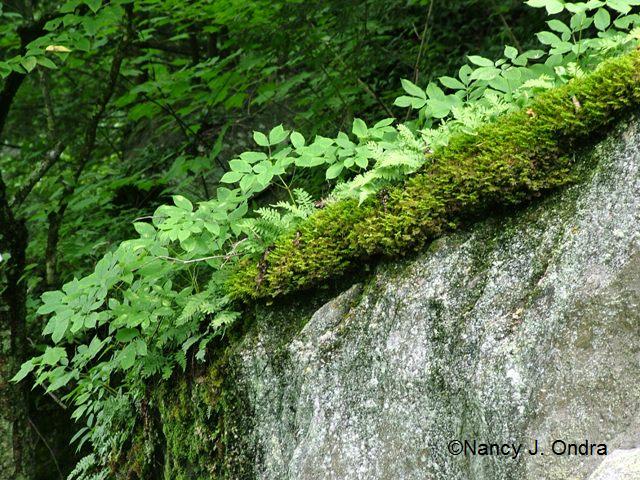 We've gotten some fantastic contributions for this month's Design Workshop – solid how-to advice as well as a wealth of design ideas. So without further ado, on to the links…
Garden Bloggers' Design Workshop – Coping with Slopes (Nan at Gardening Gone Wild): Kick-off post for this month's topic.
How It All Began (VP at Veg Plotting): As part of her Open Garden blog, Veep showed the "before" pictures of her steeply sloping property, explained the planning process for turning it into useable space, and showed the terracing process that created the lovely garden she enjoys today.
Gardening on Steep Slopes in Marin County (Michelle at Garden Porn): Sloping sites often offer the benefit of a great distance view, but they can present major challenges when it comes at trying to create a people-friendly landscape.close at hand. Michelle offers a photo essay of design solutions for several seriously sloping California hillsides.
Fun with Concrete (Frances at Fairegarden). Regular readers of Fairegarden know that Frances' entire back yard is a serious slope, so every post has some connection to this month's topic. But this particular link is a real gem for any gardener: besides detailing the various sorts of steps that make the area more manageable, Frances offers some great ideas for making garden accessories with concrete.
Coping with Slopes – Gardening Gone Wild's Garden Bloggers' Design Workshop (Heirloom Gardener): HG too lives on a sloping property, so one way or another, her entire blog relates to gardening on a slope. In this post, she's gathered links to six entries that specifically deal with the challenges she's encountered over the years.
Building Stone Steps for Mules and Gardens (Ryan at DryStoneGarden): Ryan takes building with stone very seriously, so it's no surprise that he offers some rock-solid how-to advice for building stone steps in this post. And in Cabernet Stone Terracing, he talks about considerations for terracing with dry-stacked stone walls.
Coping with Slopes: Future Fruit (Dave at The Home Garden): Dave's place includes a rather sizeable slope. It's currently a meadowy area with mown grass paths, but Dave has big plans for its future!
My thanks to all of you who have participated in the last two years of the Garden Bloggers' Design Workshops. We're going to take a break for the next few months so I can do some much-needed reformatting of the wrap-up posts (some of the earliest ones, in particular, have gotten all wonky as our WordPress template has changed slightly over time), and to fix broken links. If any of you have topics you'd especially like to cover or revisit in future workshops, feel free to leave your suggestions below.