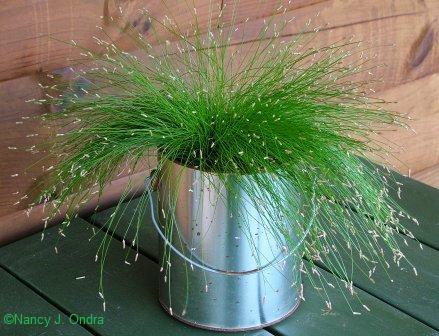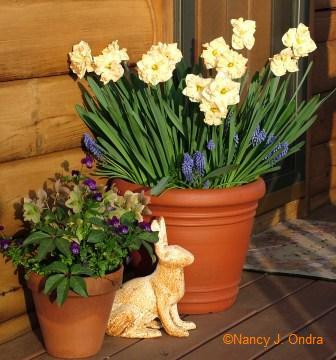 Pots, planters, windowboxes, and hanging baskets: If it can hold potting soil, we'll stick a plant in it. Some of us have gotten the knack for creating and maintaining amazing container plantings and use those skills to the utmost. Others of us aren't quite as successful, but we can admire what our more successful counterparts have achieved and try to learn from them. Fortunately, quite a few of our container-savvy readers have generously shared their container-care and design pointers this month, so we should all be in good shape for a more successful container-gardening season.
All the posts I know about to date are listed below in no particular order, except that I've tried to group them somewhat by topic.
Garden Bloggers' Design Workshop – Container Plantings (Nan at Gardening Gone Wild): Kick-off post for the month's topic.
For Inspiration and Design Ideas
Contemplating Containers and Container Mania Continued! (Kerri at Colors of the Garden): An abundance of eye-catching plant and color combinations for pots, windowboxes, and baskets.
Containers (Karen at Savannah Garden Diary): Karen points out that even successful gardeners sometimes aren't the best at making the most of container plantings.
Dog-Proof Vegetable Loft by Prospect & Refuge (Maria at City Dirt): You've heard of raised-bed gardens, but how about a bunk-bed garden? Check out this slide show of a high-rise container veggie-and-herb planting.
A Concatenation of Containers (ourfriendben at Poor Richard's Almanac): Give your deck, porch, or patio a lush, tropical look with an abundance of potted plants and these design pointers from Our Friend Ben.
Garden Walk Container Plantings (Jim at Art of Gardening): A fun and inspiring gallery of containers from Garden Walk Buffalo, ranging from classic to quirky.
Window Boxes and Hanging Baskets (Kerri at Colors of the Garden): Kerri raises container planting to a whole new level in this post on her color-filled annual baskets and window boxes.
Love Me Love My Herbs (Heather at Heather's Garden): Container plantings can be practical as well as pretty. Heather shares her experience with growing fragrant and flavorful herbs in pots, planters, and baskets. She also shows off a flower-and-foliage-filled plant table in Are You Sure It's October? and a great-looking trellis planter in Zucchini.
Thrillers, Fillers & Spillers (Steve at Gardening Gone Wild): Overwhelmed by the adundant options for container plants these days? Steve's sure-fire formula for creating effective combinations will help you put together your best potted plantings ever. In a follow-up post, Thrillers, Fillers & Spillers 2.0, Steve offers some great ideas for arranging pots and planters for eye-catching effects.
Spring in Different Parts of the World (Fran at Gardening Gone Wild): Fran shares photos of containers and courtyards from her recent trip to Israel.
Over the Top Coture Container Gardening (Fran at Gardening Gone Wild): The title says it all: Classy container plantings from Chanticleer in Pennsylvania. And in Follow Up on Over the Top Coture Container Gardening, Fran reports back on her discussion with Dan Benarcik, one of horticulturists at Chanticleer who plans, plants, and cares for their amazing container creations.
Containing Yer Gardening Enthusiasms: Containers, Part 1 (Jodi at Bloomingwriter): Jodi shares some of her favorite pots and planters in this post. For some of her most successful plant container-plant choices, see All-Star Annuals for Containers.
Focusing on the Containers
Troughs (Frances at Faire Garden): A gallery of trough plantings for both sun and shade, plus tips for making your own troughs.
Containers – Part One and Containers – Part 2 (Frances at Faire Garden): Often, the containers themselves are as interesting as the plantings within them. Frances shares some of her favorite concrete-type, metals, and pottery containers.
A Policy of Containment (Mr. McGregor's Daughter): The evolution of potted plantings at Squirrelhaven, with tips on choosing and filling containers.
Take Stock of Stock-Tank Planters (Pam at Digging): Garden centers aren't the only sources for perfect planters; farm-supply centers, too, can provide a vertiable field day for container-seeking gardeners. Pam shows how metal water troughs can really galvanize creative container plantings.
Containers: In a Wide Variety of Shapes, Colors, Textures, Styles and Prices (Fran at Gardening Gone Wild): In the mood for something new this year? Fran checks out the container offerings at her local garden center, from moderately priced pottery to high-end "investment containers."
Focal Point Pots (Steve at Gardening Gone Wild): Tired of priming and pampering those high-maintenance container plantings? Consider ditching the plants and enjoying the containers as garden accents in their own right!
Wreath Made of Pots (Lisa at Greenbow) Lisa shares another creative way to add care-free containers to your garden.
Practical Container-Care Pointers
Hanging Basket Make-Over (Shirl at Shirl's Gardenwatch): One trick for keeping containers looking good is freshening them up with new plants once or twice during the season. Here, Shirl spruces up a silver-theme basket planting. There's also a follow-up photo at What a Beautiful Day.
Container Plantings: Variety, Soil, and Care (Heirloom Gardener): HG shares her extensive container-gardening experience, proving that with pots, anything grows! Great ideas for choosing potting soil, caring for containers, and maintaining multi-season interest, as well.
Containing Yer Gardening Enthusiasms – Part 2: Tips for Success (Jodi at Bloomingwriter): From choosing the right container and growing mix to watering, feeding, and grooming, Jodi offers excellent advice for creating healthy and happy container plantings.
Container Planting at May Dreams Gardens (Carol at May Dreams Gardens): Carol reviews the basics of choosing and caring for containers, then asks for inspiration for her own container plantings this year. Share your favorite potted partnerships with her, and if she chooses one, you'll play a part in the glory of May Dreams Gardens this summer.
Ok, I think that's everyone who has posted about containers and left a link either here or on one of the posts listed above. If I missed you, or if you post later on, please leave a note below so I can add you to the main list. Many thanks to all who've read and posted this month. Now, I'm off to work on April's GBDW announcement….