Who ever thought that we gardeners would be offered such a plethora of choices when it comes to containers for the garden?  I'm not even talking about unusual, one of a kind, types of containers, something you might find at a flea market, like an old kitchen sink, a trough or an antique pedestal. Nope, I'm talking about the newly manufactured ones, the kind you buy at your local garden center, big box store or online. The choices are huge by any standard. And the truth is, selecting a great container to place in your garden, with or without plants, packs alot of punch for a minimal amount of dollars, unless you can't resist buying an extravagantly expensive one (to be discussed further along in this article).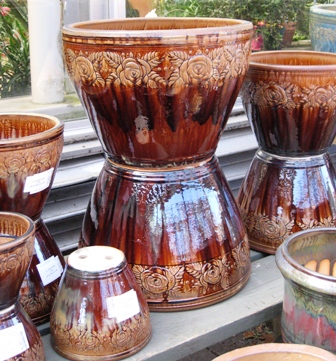 Last week, I took a stroll through a local garden center, Waterloo Gardens, to see what plants they were marketing for early spring. But it didn't take long before my eye was pulled over to the container area. It's hard not to take notice. There is a very large designated area consisting solely of containers, everything from finely chiseled terra cotta pots to the highly polished ceramic pots that come in every color imaginable.
It feels like it was about 5 years ago (could actually have been longer) that I noticed ceramic colored containers from Viet Nam showing up in stores like Smith and Hawken and Home Depot. These first 2 pictures show a couple of varieties of ceramic containers now being imported from Malaysia. I love the petal shape of the second one and can imagine it filled with a striking tall grass such as Panicum virgatum 'Cloud Nine'.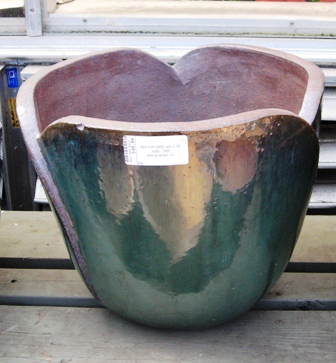 The Marchioro Italian planters in the photo below(www.marchioro.it) evoke a sleeker and more subtle feel which I think is a safe bet for practically any type of garden style.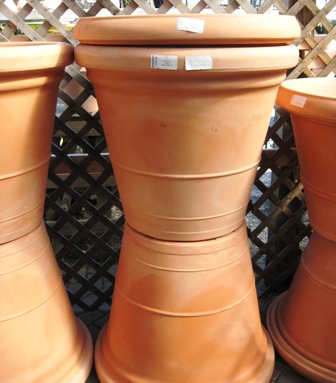 A huge smile came across my face when my eyes rested upon these striking ceramic containers and birdbaths in all of the 'hot' colors that I love…lime green, a robust, creamy blue and a canary yellow. After checking the price points starting at $59.99, I began to imagine placing the eye catching chartreuse container at the entryway of the garden in the back and two of the blue containers at my front door as a welcoming for spring. What a moderately priced way of giving the spring garden some real zestiness and panache!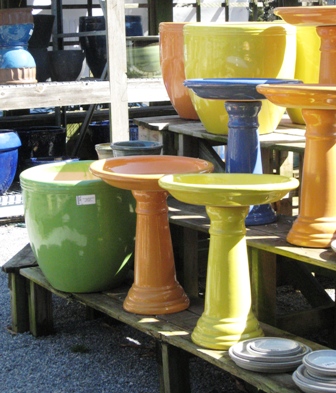 I haven't yet made the trek over to Home Depot to see what containers they have in stock but I wouldn't be surprised if I found some goodies there that prove to be surprisingly low in price. On the other hand, if you're thinking about 'Investment Containers', then start with Gladdng McBean. It's a true American company that has been in business since 1875. The story goes that at the end of the Gold Rush era in California, 'potters clay' was discovered in Lincoln, California. A Mr. Charles Gladding of Chicago, who happened to be visiting California at that time, took samples of the clay and sent them back to Chicago for testing by ceramic experts. Originally, the company manufactured clay sewer pipes and then architectural terra cotta facades. But by the early 1890s, the company got into the business of ornamental garden pottery. Once you've seen a Gladding McBean oil jar, you'll never forget it! Its shape and the colored glazes offered are outstanding! Because each jar is custom made, you can get in volved in the process of designing your own container. The last time I checked, the smallest containers were beginning at $700. Gladding McBean's website is: www.gladdingmcbean.com
Another great manufacturer of garden containers (and other garden accoutrements) is Haddonstone. It's a company of English origins that is a well known entity to designers, landscape architects and seekers of beautiful garden ornaments and architecture. The material, Haddonstone, is a special form of reconstructed limestone that is mixed with another product, Tecstone. Due to the nature of this material, Haddonstone can be molded into practically any shape: reproducing new designs that are markedly close in appearance to any original. I was told by one retailer with whom I spoke that one of its more popular containers, the Waterloo urn, with dimensions of 31″W and 30″L, retails for $1150. For more information, click on: http://www.haddonstone.co.uk/shop/index.asp?CS=ROW
One of my favorite companies of high end containers is Seibert and Rice. It is the largest distributor of handmade terra cotta pots from Impruneta, Italy. This company prides itself on working with the finest craftspeople in Impruneta and sells Impruneta terra cotta exclusively. Some of their containers grace such institutions as The Metropolitan Museum of Art, Longwood Garden, Biltmore Estate, The New York Botanical Garden and The Boston Public Library. To  learn more about Seibert and Rice, click on: www.seibertandrice.com
If your pockets doesn't allow for such high end investments, check out more moderately priced brand name containers like Campania: they sell to garden centers throughout the country. The glazed lipstick planters, as shown in the photo below, that they began selling a few years ago in an exclusive partnership with the Eschbach Group, a well known European designer and manufacturer of garden containers, has kept their name in the public as a 'fashion forward' company.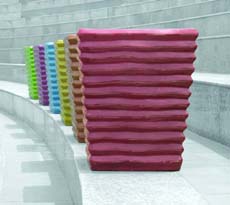 The photo below is of a Campania planter that I use indoors as well as outdoors. As you can see, I've filled 'the face' with primulas to bring some color inside for the remainder of these winter days.