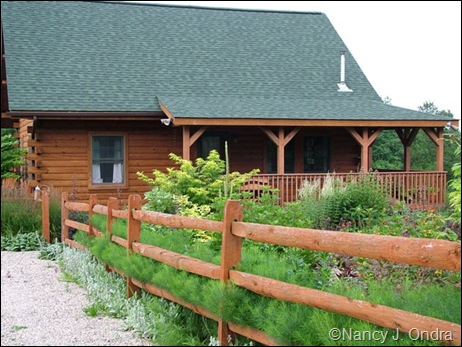 To kick off Year Three of the Garden Bloggers' Design Workshop, we're revisiting what has turned out to be one of our most popular topics: fences, walls, and other means of creating enclosure, separating spaces, and adding privacy and protection.
There's a lot to be said for not having walls or fences: unenclosed gardens usually appear more spacious, and good air circulation helps to keep plants sturdy. But in some cases, they're a necessity: when, for instance, you need to keep something in or out.
In my previous garden, a solid fence was a must-have. With a busy side street just a few feet away, making sure my Shelties (including one super-energetic puppy) stayed safe was high priority. I would have loved a taller boundary for more privacy and sound screening, but both my budget and local zoning rules nixed that possibility.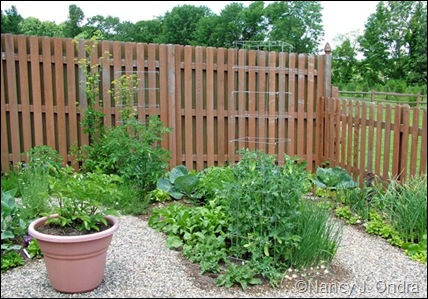 When I started my current garden in the middle of 4 treeless acres, one of my first priorities was creating a bit of shelter for a small kitchen garden and propagation area. A 6-foot-tall "shadowbox" fence on the south and west sides and 4-foot picket-style fence on the other two sides did a good job blocking the worst of the wind, with the added benefit of providing a great support for trellising peas and climbing beans.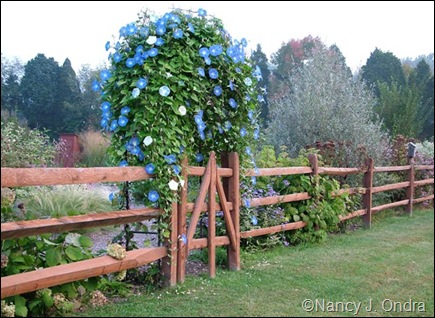 Second priority was figuring out how to divide up the blank slate: to separate what would be the closely gardened area around the house from the meadow, naturalistic plantings, and shrubbery. With plenty of setback from the road, and dogs who at this point rarely left my side, a more open fence was an option. Post-and-rail is a common style here in Pennsylvania and well suited to the rural setting. At 4 feet, it's not nearly high enough to keep deer out, but for the most part, they seem to go around it, except for occasional forays in during the winter.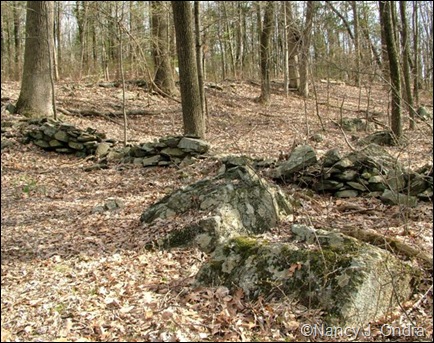 Beautiful stone walls make me weak in the knees, but I quickly accepted that there's no way I could ever afford them. Rocks are certainly plentiful around here, but they're mostly small and uneven: less than ideal for wall-building. There are still some remnants of old walls on my parents' farm next door, but they're basically loose piles of rocks gathered when the land was cleared long ago for farming and roughly stacked along fencelines.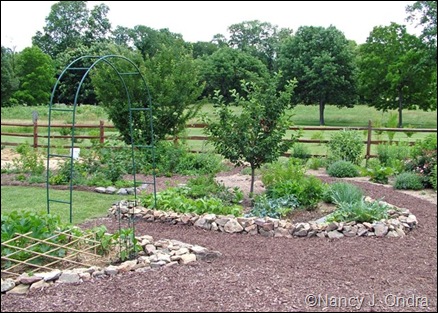 When I started preparing planting areas, those piles began to make a lot of sense: it was much easier to use the abundant small rocks as edgings than to haul them away and find a place to dump them.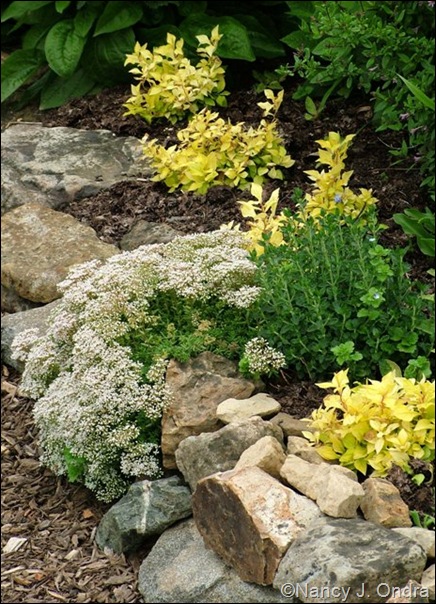 Besides serving as dividers between paths and beds, the low stone "walls" also work well as frames for the looser dug-up planting areas, creating much-needed raised beds.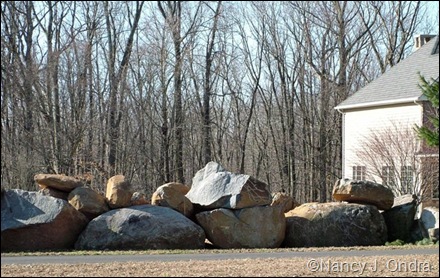 Other properties in my neighborhood have much larger rocks. Usually, these boulders are left in place, but in this case, they were arranged to create a serious stone wall. I think they'd have been better left where they were.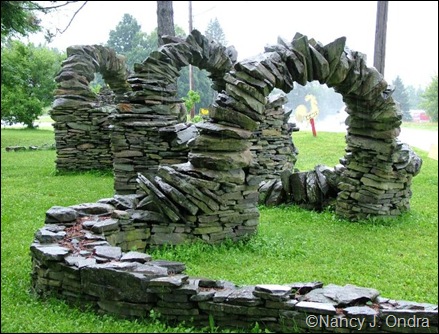 I'm more inclined to admire rocks used artfully, as in this amazing drystacked "Tripple Flip" built by Thea Alvin of My Earthwork. Granted, something like this is more of a landscape feature than a garden wall; who would even notice plants around something like this?
Ok, back to more practical issues, and your turn to share your thoughts on and photos of walls and fences, in your own garden or those that you've seen on your travels.
Do you already have a wall or fence – either one that you chose or one you "inherited" when you bought your home? Are you pleased with it, or would you like to replace it with something different?
Have you removed an old fence and decided not to replace it?
Do you not have a fence or wall now but wish you did? What kind would you get if money were no object?
Do you use walls or fences to enjoy vertical gardening – in other words, to support vines, climbers, or espaliers?
Have you used  a wall or fence as an aesthetic feature: as a focal point, or to frame an eye-catching entrance?
If you're new to the GGW Garden Bloggers' Design Workshop, here's how it works: Write a post on anything related to garden walls or fences on your own blog and give us the link below, or simply leave a comment if you don't want to do a separate post. If you've written about the topic in the past, those links are equally welcome; it's not necessary to create a new post to participate.
I'll gather all of the links into one summary post for easy reference. It'll go up on February 27th, so if you could get your links in by the 25th, that would be great.
If you're interested in checking out previous Garden Bloggers' Design Workshops, you can find them here.