February's Picture This is sure to be another winner. We are delighted to have Roger Foley, a renowned garden and landscape architecture photographer, as the judge for this month's contest.  His awards, publications, photo gallery and books are too numerous to mention individually. It's worth the time to go on his site, Foley Foto to learn more about him and his work: the site is a feast for the eyes. Roger's latest book, A Clearing In The Woods, is now available  online.
So, without further ado, here is what Roger has to say:
"I'm excited to be judging February's Picture This competition. The theme is Winter Light. To most, this may not seem like the ideal time of the year for garden photography: but if you're willing to brave the elements you may find that there are plenty of opportunities for beautiful photographs. Winter sunlight can be bold and graphic in the way it falls in the garden – textures become more pronounced and shadows fall in long, sharp lines like in a film noir movie.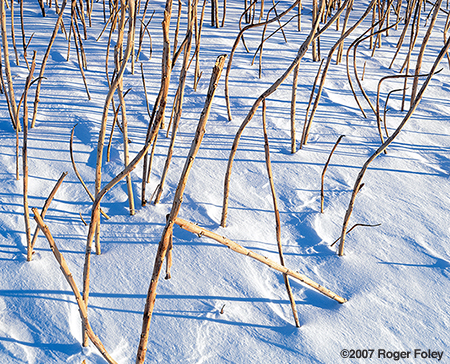 Without so many leaves to block it, winter light can reach into a garden space very early or late in the day to rim a scene in light. These effects can be equally dramatic when shooting a landscape or a close-up, and when you see it working its magic, you'll forget how cold your feet are, or that you've lost the feeling in your bare fingertips.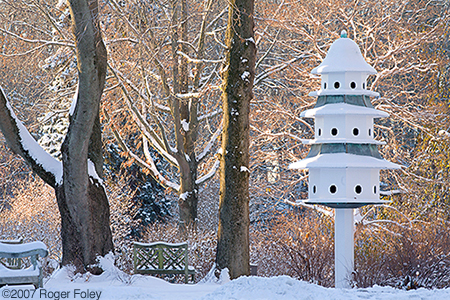 A fresh snowfall gives us the most dramatic conditions, but the amount of snow can make or break a winter garden shot. Too much snow can reduce most of the garden to a few rounded bumps. When this happens, you can look to the larger landscape with big trees beautifully loaded with snow on every branch. In a garden with a deep snowfall, dried stalks and seed heads will stick up out of the white to create Japanese-flavored pen-and-ink drawings.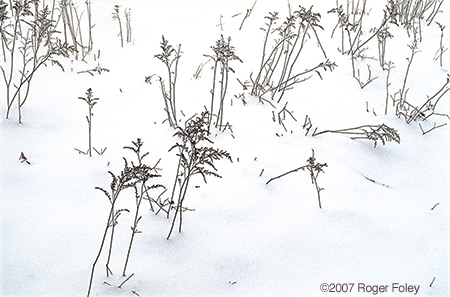 A dusting of snow adds its own texture to the landscape, letting some of the garden show through, but lending its own effects of light and shadow and adding a bit of frosting to holly berries and other winter plants. If the wind is up, the swirls of blowing snow will create a fog-like screen over an area.
Look for the effects of ice in water sources and a glazing of ice covering plants. If there is no snow and no ice, the moody winter light in the garden has lots to offer, giving you opportunities for photos that could only be taken at that time of the year. Winter plants in the garden have textures, colors, berries and bark that you won't see later when it's finally warm enough to walk outside without ten minutes of preparation.
Some tips for winter photography may help you get going.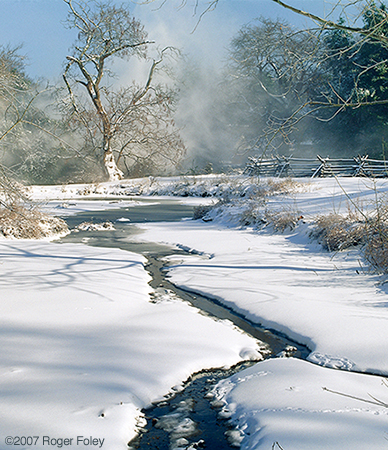 – Make sure you don't overexpose the snow. To do this, you've got to pay attention to your camera's histogram to keep the highlights from blowing out with no detail at all. If you avoid the middle part of a sunny day to go out, you'll be in a better situation for beautiful light. If you shoot jpegs and can set a picture style in the camera, adjust those setting for low contrast when shooting snowy gardens in sun.
– Beware if you go out to shoot while it's still snowing. It is tempting, because it's so beautiful, but unless you have a space to stand that's under cover, snowflakes can easily drift onto your lens, where they will melt just enough to blur your photos. It may not be visible when looking through the lens or on the LCD screen, but when you get home and call up the photo on the computer screen, it will be depressingly obvious.
– The cold quickly drains batteries of their power, so take a spare camera battery with you. I keep one in an inside pocket of my parka, so it stays warm. I'll also turn off the camera more often, if I know I won't be using it for a couple of minutes.
– In the snow, you have to think more carefully about where you put down your camera bag. I'll bring a large black garbage bag to put under my bag on the ground. If, like me, you use a tripod for your photography, you should protect the bottom leg sections from the snow. I wrap the bottom leg sections with pieces of thick garbage bags and the cover with duct tape to keep moisture out. And when I get home, I let it stand overnight, fully open, in my studio to let it dry out.
– Don't forget to protect yourself, too. Unlike hiking or doing winter sports, winter photography involves a lot of standing around, so you'll be colder than you might think. My right hand is always a problem, since I haven't yet found the perfect gloves that I can easily use for working the camera. Ones with bare fingertips are the best I can do for now."
And now that I have figured out exactly what the 2010 New Rules for Picture This are (thanks for your patience), they are in effective for February's contest with no exceptions.
1.  You must have an active blog in order to participate. We love that you send us a link to the blog post that includes your photo. To be eligible for judging, you also need to send us a direct link to the image.
2. Your photo must be able to be copied from your site. That makes it possible for us to collect all the entries in one place for easier judging.
3. Entered photos should be approximately 500 pixels on the long side. (If you're using Microsoft Office Picture Manager to resize your images, there is a pre-set resize option for "Web – Large"  which comes in at 640 x 480. That would work just fine.)
4. The deadline for entries is 11:59 pm Eastern time on Sunday, February 21, 2010.
Roger has offered up a challenging and timely subject with Winter Light. So bundle up, get those cameras out and have a blast with this month's theme. Good luck!!