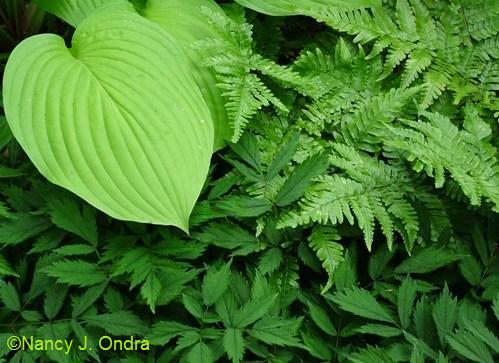 For gardeners, shade is kind of like rain: if we don't have it, we wish for it; if we do have it, we often long for less. And with both, there are no simple solutions. In my own garden, set in a wide-open, sun-baked field, shade is scarce, and it'll be many years yet before any of my tiny trees will be big enough to create any. What passes for my shade border is on the northeast side of the house, but it still gets sun from dawn until 1:00 or so, which is way more sun than even the sunniest spot in my last garden. Still, it's been interesting to experiment with traditonal shade-lovers and find out how much sun they tolerate without extra watering.
What about the rest of you? Want to share your strategies for dealing with too much or too little shade?
If you too have lots of sun, have you been able to create shade through planting or building structures? What tricks do you use to grow plants that would prefer shadier sites?
If you have shade, tell us about your garden – is it morning shade, afternoon shade, or all-day shade? Share your shade-related successes, as well as the disappointments, if you can bear it.
How about your personal top-10 plants for shady sites? Or, maybe a gallery of your favorite conbinations for shade?
Dry shade always seems to be near the top of shade gardeners' biggest gripes. Have you found ways to deal with these difficult conditions, or are you still struggling and looking for advice?
If you're new to the GGW Garden Bloggers Design Workshop, here's how it works: Write a post on anything related to shade gardening on your own blog and give us the link below, or simply leave a comment if you don't want to do a separate post. If you've written about the topic in the past, those links are equally welcome; it's not necessary to create a new post to participate.
At the end of the month, I'll gather all of the links into one summary post for easy reference. If you're interested in checking out previous Garden Bloggers Design Workshops, you can find them here: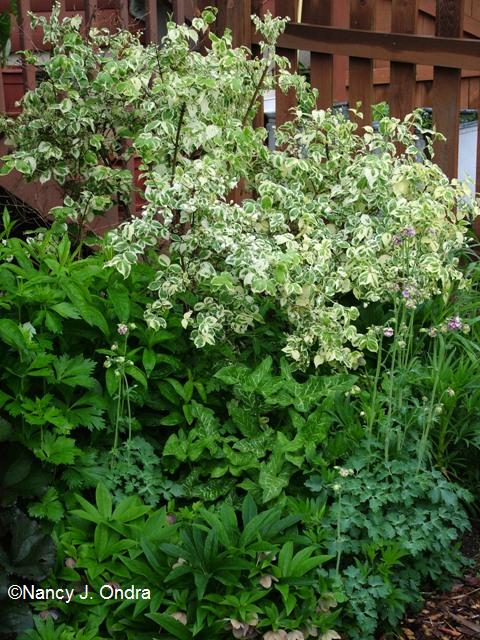 Paths and Walkways
Fences and Walls
Arbors and Pergolas
Color in the Garden
Container Plantings
Front-Yard Gardens
Stone in the Garden
Decks, Porches, and Patios
Garden Whimsy
Trellises and Screens
Water in the Garden
Sheds and Outbuildings
Incorporating Edibles
Kids in the Garden
Labeling and Record-Keeping
Pets in the Garden
Wildlife in the Garden
Water-Wise Gardening
Don't forget that you're all welcome to go back and add links to these older posts at any time.
A final note: Our July topic will be designing with bulbs: both hardy and tender kinds. That gives you plenty of advance notice to take pictures of your spring bulb displays and plan ahead for summer, too.