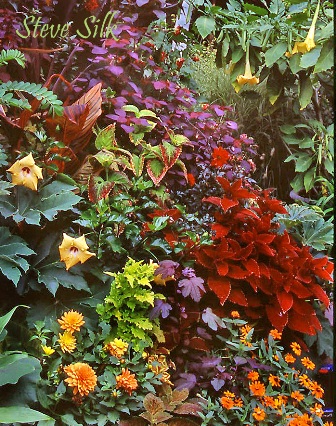 For this month's Picture This Photo Contest,  the subject is containers. And Steve Silk, the master of creating magnificent containers, is our judge.
These are Steve's comments on how he'll be judging photos:
"I'll be looking for a picture that is well-composed and well-lit with a clean background, of course, but also one that has many of the same features you'd find in a good container planting."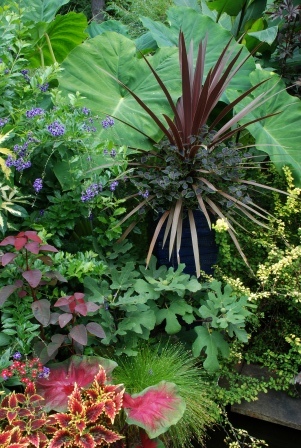 "That means, first and foremost, a rich mix of textures and shapes. A winning image will also display a canny use of proportion and color. It doesn't matter to me if I can actually see the pot. I'm more interested in the interplay of plants, as in, for example, the picture of the tropical smoke bush and its associates. That said, participants can depict a collection of plants in pots, like the extravangaza pictured, or even one plant in a single pot, as long as it's a dramatic image in which the pot and plant  really complement their setting. To me, simplicity is a virtue in photography. And I find that crisp, direct images are often best."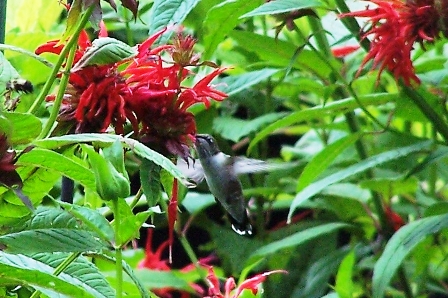 Now for the prize!! We're thrilled that Yellow Springs Farm, a nursery that specializes in native plants, is participating in GGW's Picture This Photo Contest. Catherine Renzi, the owner of Yellow Springs Farm and a Guest Contributor on GGW, is offering the Hummingbird Collection of Plants.  It includes fiveplants selected from the following, depending on the time of year: Bee Balm, Blue Lobelia, Red Lobelia, Coral Bells, Columbine and Indian Pink. Catherine has also added a Lonicera sempervirens vine to the collection to make a total of six vibrant native plants.
Coming off of last month's contest where the subject was native plants, Yellow Springs Farm's participation in May's contest couldn't be coming at a better time.
If you would like to enter the contest, here's how you do it.  Choose one photo as an entry, post it on your blog or website, then leave us a link in a comment below. (Although we allowed more than one photo last month, we are now limiting it to one.) Also, all entries must be sent in as a link; we can't include any entries that come to us via an e-mail address. And finally, no late entries. The cut off date this month is midnight Eastern Time on May 22nd. For all of you who participated last month, we look forward to having you join us again. And for all newcomers, welcome to this invigorating and inspirational photo contest! For more information, check out April's Picture This Photo Contest on Native Plants.
Good luck to all!