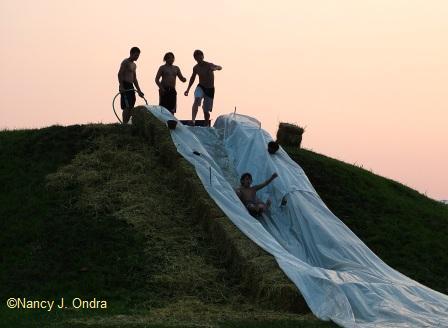 Here's one way to get kids having fun in the garden: find a slope, set up a water slide, and let them wear themselves out on a hot summer afternoon. (This setup sure was a hit at a party held at Linden Hill Gardens in Ottsville, PA, this past July.) Mostly, though, when we think about children and gardening, we're looking for ways to get youngsters interacting with plants, insects, and other aspects of the great outdoors – to engage their brains as well as exercise their bodies.
This isn't a subject I have much experience with, but I know that many of you delight in sharing your gardens with your childen. Heirloom Gardener's contribution for last month's Design Workshop, for instance – Five Tips for Growing Edibles with Children – works just as well for this month, and I know she has many other posts that show and tell how she's incorporated a number of kid-friendly spaces into her garden. And Frances, your stories of daughter Semi's evolution as a gardener would work here too!  Fun plants, project ideas, play spaces – all of these and more are fair game for topics.
If you're new to the Garden Bloggers' Design Workshop, here's how it works: Write a post on anything related to gardening with kids on your own blog and leave a link here, or jot down your thoughts in a comment below. If you've written about the topic in the past, those links are equally welcome; it's not necessary to create a new post to participate.
At the end of the month, I'll gather all of the links into one summary post for easy reference. If you're interested in checking out previous GBD Workshops, you can find them here:
Paths and Walkways
Fences and Walls
Arbors and Pergolas
Color in the Garden
Container Plantings
Front-Yard Gardens
Stone in the Garden
Decks, Porches, and Patios
Garden Whimsy
Trellises and Screens
Water in the Garden
Sheds and Outbuildings
Incorporating Edibles
By the way, I hope none of you who visit regularly feel obliged to take part each month, or to apologize when you don't have the time or inclination. If you find a topic of special interest and want to share your enthusiasm and experience through new or archived posts, that's fantastic. But if you just want to read and learn and get inspired, that's great too!