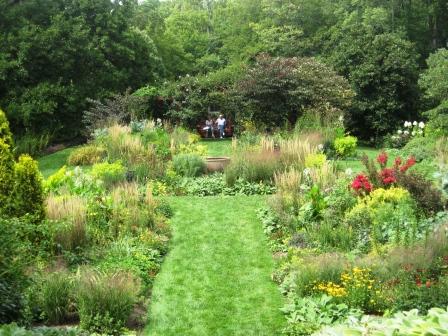 Although Chanticleer closed to visitors for the season a month ago, I was lucky to get in for a visit after its final curtain call. So, on a cloudy, warmish 'but with a chill in the air' first day of December, I came to this jewel of a garden to see how it had changed since my last visit 3 months ago.
One of Christopher Lloyd's many books, Succession Planting for Year-Round Pleasure, left an impression on me. His garden had been photographed through out the seasons so that the reader could get a sense of its transformation over a period of 7 months. So, as an homage to the great Christopher Lloyd, here are a few of the gardens at Chanticleer photographed this spring and then again in December.
The picture above is one of the tennis court garden taken this August. When in bloom, it is a huge open space that is exuberant and overflowing with color and texture: a piece of flat land totally exposed so that it is 'in your face' (in the best sense of that phrase). Below is a picture of the tennis court garden as it appears today.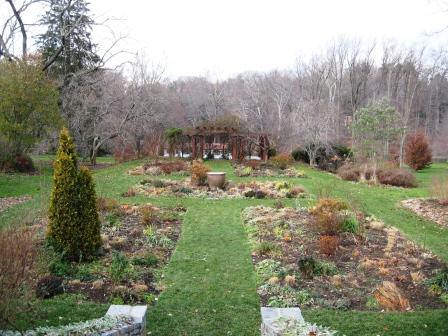 I then walked down to the cutting and vegetable garden. As you may recall in an earlier post, I raved about it being reminiscent of Giverny, Monet's garden. Here are some pictures of it in bloom taken this summer and the last one, this past week.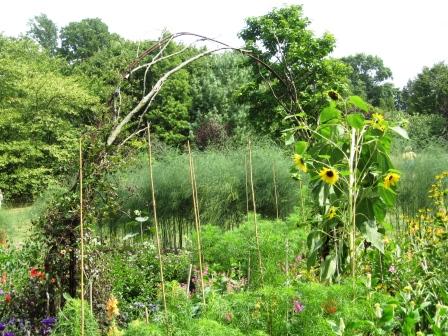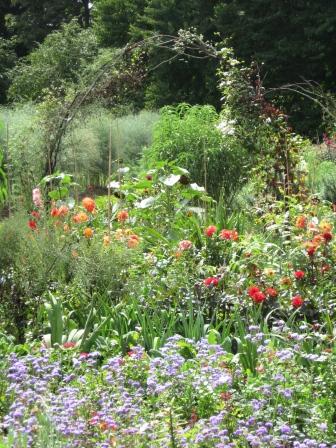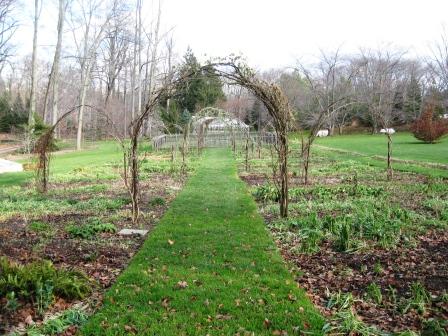 And then there is the Tea Cup garden which is the first of the gardens you come upon after walking through the entry way arbor. This is how it looked in April and again this week.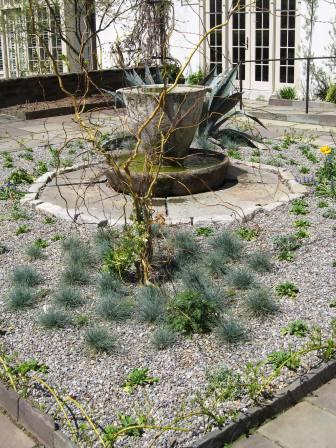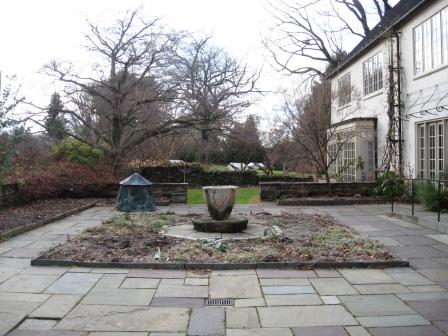 Throughout this visit, my eyes fell upon some of the craftsmanship and stonework which are an integral part of the garden. Several of these pieces were created by gardeners at Chanticleer, who also happen to be incredible craftspeople, which should come as no surprise. As I took the meandering path towards the woodland garden, I came upon a bridge that I have walked across dozens of times. But somehow, on this late fall day, its rustic, wooden hand rails were all the more outstanding.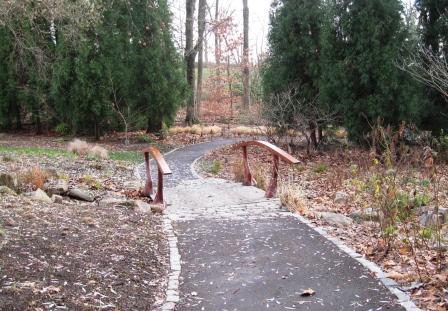 When I walked out of the woodland garden, I was startled by a whimsical but yet classic water fountain that was perched on the edge of the walkway. The sight of it gave me such pleasure that I let out a guffaw. This piece was designed and crafted by Doug Randolph.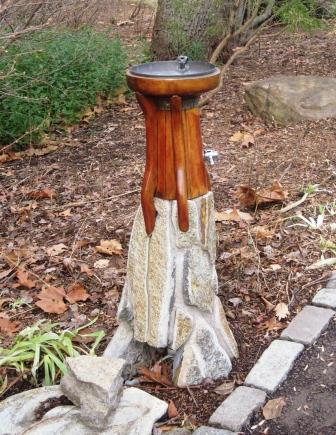 I remember several years ago visiting Chanticleer with a friend of mine and her mother and grandmother. Grandma was in her 90s and was able to make her way through the first part of the garden at a pretty decent pace. But by the time we were at the top of the hill, before reaching the view of the pond, she needed to sit down and rest her weary body. I will never forget the sight of her sinking into a relaxed state on this massive stone 'sofa'. Who would have ever thought it possible that such a hard stone piece could be so comfortable? The furniture was designed by Chris Woods and Doug Randolph.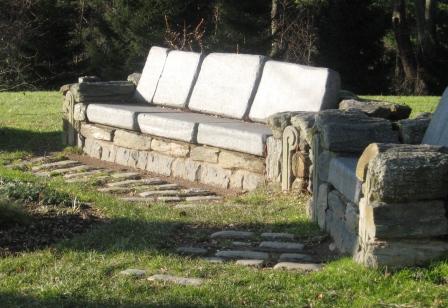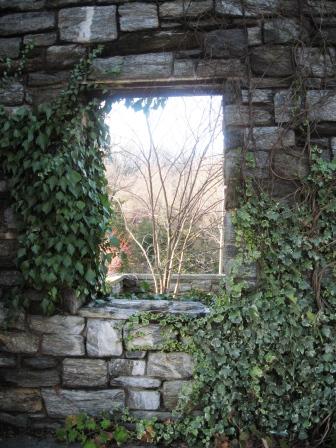 The ruins garden, which was designed by Chris Woods, now the director of Mendocino Coast Botanic Garden and Mara Baird, a very talented landscape architect located in the suburbs of Philadelphia, is breath taking. It deserves to have an article written solely about the inspiration behind it. In prior visits I was taken by its water elements. But this time, I was drawn to the cut out windows, which were Chris' idea.
And to the end of the 2008 gardening season at Chanticleer, a simple planting of Sporobolus heterolepis.