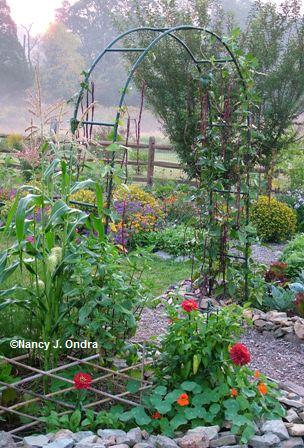 The other day, I was reading an article in an old issue of Gardens Illustrated about garden design elements, and it made me realize that I've been misusing the terms arbor and pergola. I'd always thought of an arbor as a relatively simple structure that arched over a path or a bench and a pergola as a more extensive, roofed structure that provided shade for a walkway or sitting area. According to the article ("Elements of Garden Design: Structures" by Cleve West), however, an arbor is primarily a sitting area and serves as a focal point; a pergola covers a path and frames a focal point, and an arch is…well, an arch. So I suppose what I've been calling arbors in my garden are technically arches. Apparently, I'm not the only one that's confused, though; now I notice that plenty of writers use the terms interchangeably. So, maybe it doesn't really matter what you call your structures, as long as you like how they look.
Many of you have incorporated arches, arbors, pergolas, and similar structures in your own gardens and enjoy using them as supports for a wide variety of climbing plants. Wooden pergolas are becoming increasingly popular due to their sturdiness. Pergolas Sunshine Coast, in Australia, has noticed more and more people asking for timber structures. Perhaps switching to a timber structure would be more appropriate in the garden compared to a metal one, especially if the garden is well-groomed. Below is an overview of posts we know about on this month's topic, roughly arranged by subject. If you know of others, or if you write related posts of your own later on, add a comment below and we'll include them in the main list. Thanks to all who read and participated! And please, let me know if any of these links don't work, or if I missed any of you. (It's getting tough keeping up with you all!)
Garden Bloggers' Design Workshop – Arbors and Pergolas (Nan at Gardening Gone Wild): Initial post for this month's topic.
Some Practical Considerations
The Year of Living Structurally (Mr. McGregor's Daughter): The story of the wooden arbor in the woodland garden at Squirrelhaven. A Mighty Wind tells the tale of near-disaster with the same arbor. And in Garden Bloggers' Design Workshop – Arbors and Pergolas, MMD asks for suggestions on providing a good foundation to protect her arbor from future gusts.
Building Patio and Pergola (Karen at Savannah Garden): A detailed step-by-step of the creation a beautiful backyard patio and pergola in Karen's garden.
Our Garden Pergola is Complete (Stuart at Gardening Tips 'n' Ideas): Thinking about installing a pergola of your very own? Check out Stuart's planning pointers before you build.
Selecting an Entry Arbor (Angela at Cottage Magpie): If you can't decide on the perfect arbor for your garden, you're not alone. It took Angela three tries, but even the not-so-perfect arbors are charming.
Design Inspiration
Arbors & Pergolas, Frank & Me (Jim at The Art of Gardening): Check out photos of arbors and trellises at Frank Lloyd Wright's Taliesin, and in Jim's own garden too.
Garden Walk Buffalo Arbors (Jim at the Art of Gardening): Lovely photos of some stunning arbors and pergolas from…you guessed it: Garden Walk Buffalo.
Arbors and Pergolas (Michelle at Garden Porn): Once again, Michelle treats us to some stunning shots of glorious garden structures. Hey, we can all dream, right?
Arbors & Pergolas – Garden Bloggers' Design Workshop (Pam at Digging): A glorious gallery of traditional and not-so-traditional arches and arbors Pam has photographed on her travels.
Of Arbours and Pergolas (Jodi at Bloomingwriter): The story of several arbors (um…arbours) and the plants that adorn them in Jodi's garden in Nova Scotia.
Arbours and Pergolas – Part 1 and Arbours and Pergolas – Part 2 (Shirl at Shirl's Gardenwatch): Part 1 is a gallery of photos collected while Shirl was gathering design ideas; Part 2 shows some of the structures in her own garden. If you're considering adding an arbor or pergola to your own garden, you can get some great ideas here!
Going Up (Nan at Gardening Gone Wild): Rustic wood arbors and metal arches in Nan's current garden.
Arbors Revisited (Nan at Hayefield): Painted wood and copper-pipe arches in Nan's previous garden, along with some of her favorite climbers.
Arbors in My Cutting Garden (Fran at Gardening Gone Wild): The evolution of several wooden arbors in Fran's garden. Arbors in the Garden-Part 2 continues the story of other stunning structures.
Green Thumb Sunday – Fences and Arbors (Dee at Red Dirt Ramblings): Dee shares the story of some structures in her Oklahoma garden.
The Bower and More Bower and Pergola Chat (Lisa at Greenbow): In the first post, Lisa shows how she turned the trauma of a couple of dead trees into a gloriously shaded sitting area. In the second, she discusses the design and construction of a custom-made wooden arbor. To see her metal arch, check out Metal Arch Arbor.
The Transitory Rustic Garden Arch (Kathy at Cold Climate Gardening): Serendipity at its finest. Why build an arch when you're lucky enough to have something like this happen?
For Something a Little Different
Garden Bloggers' Design Workshop: Arbors, Pergolas (and the midnight bowling ball accident of 2003) (Craig at Ellis Hollow): You'll laugh, you'll cry…well, maybe not, but it's still a great story of the rise and fall of some vertical structures in Craig's garden.
Fairy Gazebo (Frances at Faire Garden): Hey, even fairies enjoy a little shade too, you know. If you're considering treating yours to their own special space, or if you just enjoy a little garden whimsy, check it out!
Remembering Martin Luther King (Fran at Gardening Gone Wild): Do you know what a "hush arbor" is? If that term's new to you, check out Fran's story.
Vines and Climbers
GBDW Arbors and Pergolas – Killer – The Dilemma (Frances at Faire Garden): If you have limited space and are considering growing a climbing rose on an arbor or pergola, you may want to think twice about 'Alberic Barbier' (a.k.a. Killer). You can follow his saga in the follow-up posts Killer – An Update and Killer – The Final Chapter? I won't tell you Killer's ultimate fate here, but I can give you a clue: In Roses – The Vote, Frances investigates some nearly thornless roses for her garden.
Roses of Memory (Dee at Red Dirt Ramblings): Not all climbers are as rampant as Killer, as proved by Dee's post of some beauties she treasures.
Sweet Autumn is Here (Carolyn Gail at Sweet Home and Garden Chicago): Need something flower-full and fragrant to dress up your fall garden? Sweet autumn clematis might be the climber for you.
Two Perfect Flowering Plants for Arbors (Heirloom Gardener): Roses and clematis – what could be more lovely for a romantic garden arbor?
Garden Bloggers' Design Workshop: Adding Vertical Interest to the Garden (Robin at A Bumblebee Garden): Go drool over Robin's wisteria-draped white arbor, and read about some other climbers and vertical accents in her garden.