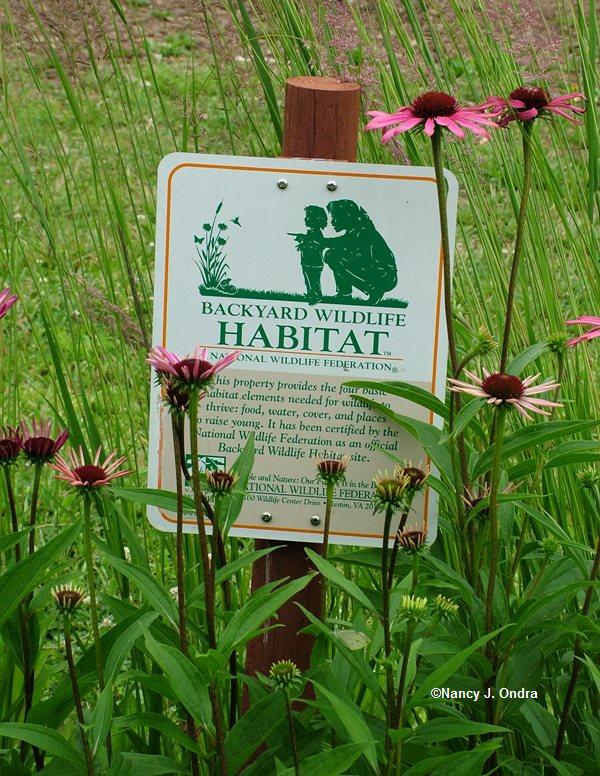 When I filled out the application to certify my property as a Backyard Wildlife Habitat through the National Wildlife Federation a few years ago, part of the form asked what sort of wildlife I'd already seen here. Red fox, groundhogs, birds, butterflies, deer: check. So why didn't I think to add rabbits to the list? There are certainly plenty around, and they seem to be multiplying, as rabbits are wont to do.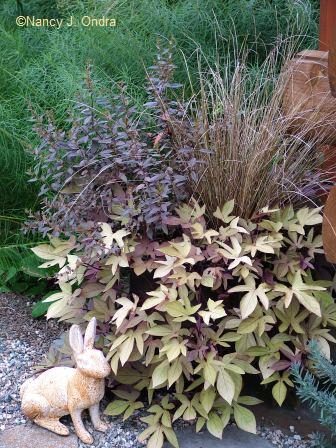 White Bunny came to me as a gift from my friend Barbara when I moved into this house. She promised he wouldn't be any trouble, and so far, he's behaved quite well, though he does tend to move around a fair bit. He seems to enjoy having his picture taken and pops up in a lot of photos taken around here. In this shot, he's posing with a potted combination of 'Sweet Caroline Bronze' sweet potato vine (Ipomoea batatas), Carex buchananii, and Haloraghis erecta 'Wellington Bronze'.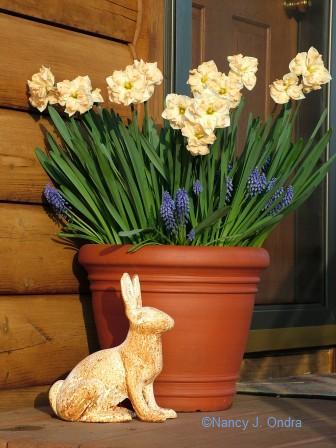 The following spring, he hopped up on the porch and starting lurking around the front door. He seems to think that his rusty color lets him blend into the surroundings, but he must forget that he's white as well. Let's just say that he's hard to miss. Fortunately, this pot of forced bulbs was a little too tall for him to nibble on. The bulbs eventually passed their prime, but he decided to stay and hang out with a wagonful of potted foliage plants that were waiting to find a home in the garden.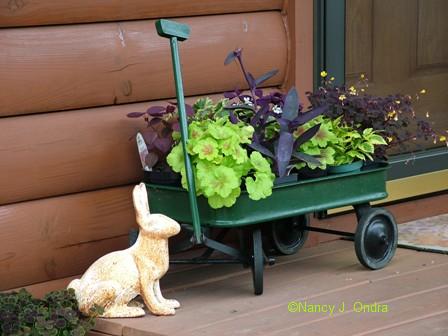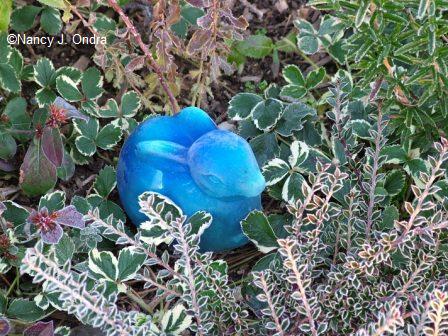 Blue Glass Bunny started out as Blue Gazing Bunny. When he arrived, he had a spiffy metallic coating like a gazing ball. But the books didn't say anything about having to keep him indoors, so I let him out to play, and after a year or two, his shiny coat became dull. He doesn't seem to be under-nourished, though. If he gets hungry, he can always nibble on the variegated strawberries (Fragaria x ananassa) around him. (Hmmm…maybe that's why I had such trouble getting those strawberries established.) Or maybe Tall Bunny across the path is responsible for the nibbled plants. Every time I see him, he's sitting up all sweet and innocent, but can you really trust anything that cute? I think not.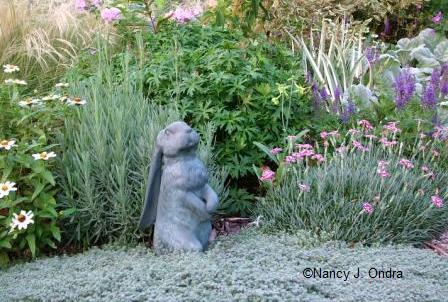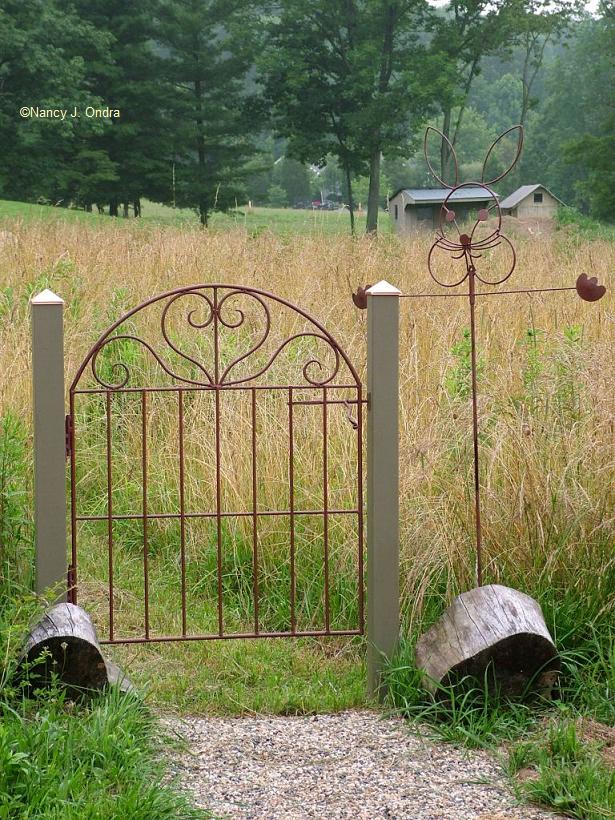 Meadow Bunny guards the gate to the upper meadow. Most of the time he blends well into his surroundings, but on garden-tour days, he gets spiffed up with a bright bandana and holds a sign warning visitors of the unevenness of the meadow paths. And below, Stressed Bunny plays tic-tac-toe with his buddy. Apparently, Stressed Bunny is supposed to be a hare and his pal is supposed to be a tortoise, but I have my doubts about that. Maybe that's why he's stressed. Or maybe it's because he's been playing tic-tac-toe for three years and has yet to win a game!