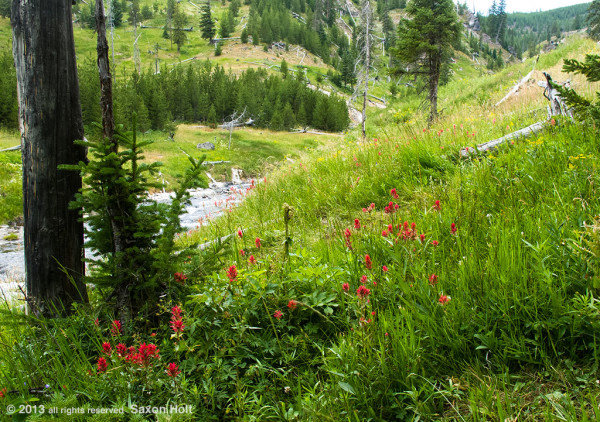 I have been on vacation. No gardens. No professional camera. It was wild – which is where I learn the best lessons for gardening.
If you have never been to yellowstone National Park, put it on your bucket list. I'd recommend going camping there if you can! Sure there are lots of people there during the summer season, but there are grizzly bears too, so it is easy (and only a bit risky) to go on trails where most folks don't go.
The geothermal features draw the most visitors, with 25% of the world's geysers in the park, but in late summer the wildflowers are at their peak.
As you hike away from the crowds it is a bit eerie to see steam rising across the valleys and through the woods, but the further you go the more you notice the habitats and plant communities.
To get to Yellowstone we had no choice (darn…) but to drive through The Grand Tetons where I made the first of many panorama photos.

I am using a Canon G11 camera that shoots RAW format and by stitching together multiple exposures I get very good optical effects without the curving lines that a single shot wide angle lens would give. The photo of the Grand Teton mountains was 3 frames. The photo of the Yellowstone River flowing through the Grand Canyon of the Yellowstone was 10 frames: 5 across the top and 5 across the bottom.

Enough of rocks, mountains, and hardscapes – this is a gardening blog; let me share wildflower pictures – the landscapes.
Before I ever took a professional garden photo, I was a landscape photographer who loved to study ecosystems and native plants. Nature taught me a lot about gardening, about how plants live together, about companion plants, about habitats, and the intrinsic beauty of wildflowers. Now that I have been a garden photographer for very nearly 30 years, I find gardens have taught me a lot about how to photograph the wild.
I am keenly interested in showing plant relationships and scale. I really don't care about macro close-ups, I want to see how the plants and flowers relate to the landscape. My garden work has taught me that the most informative photos tell a story of plants organized by the gardener. Now when I am in nature, I habitually look for "organized" compositions. I see nature's garden much easier than ever before.
I wish I knew this low shrubby wildflower but finding it in a gravel scree, it showed itself to me as if next to a garden path – a garden photographer's habit.
When I began this walk into the back country of Yellowstone I really did not expect to see so many wild flowers. Ignorant me. Late summer in the mountains is always the peak of the wildflower season.
I wish I had brought along some sort of wildflower guide. Not knowing the real name of these beauties makes the photos almost unusable for publishing, but I sure had fun.
After Yellowstone we went into Montana to the The Upper Missouri River Breaks National Monument for a canoe trip down the river following the trail of Lewis & Clark.
Not so many wildflowers here but this meadow lover was captivated by the prairie.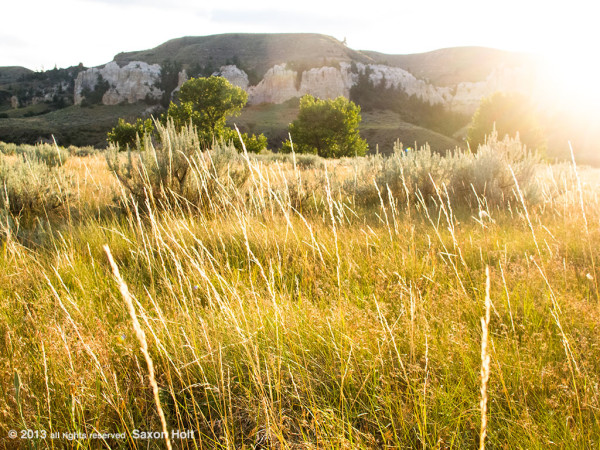 Does this not look like a fine native lawn, edged with a perennial border under trees ?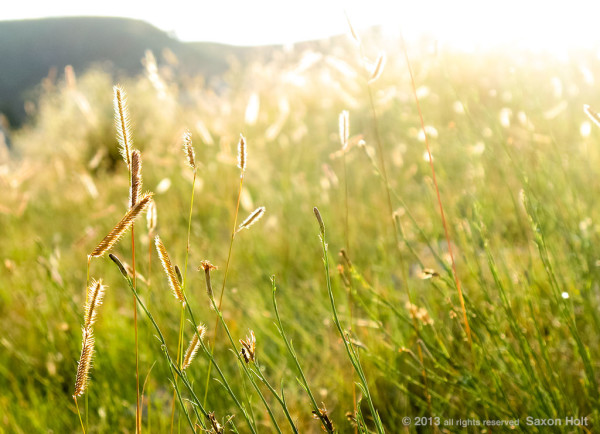 Light. SO very much fun to see and play with. Here Blue grama grass (Mosquito grass) Bouteloua gracilis dancing in the wild.
Here the same native grass in a photo from my book, The AmericanMeadow Garden: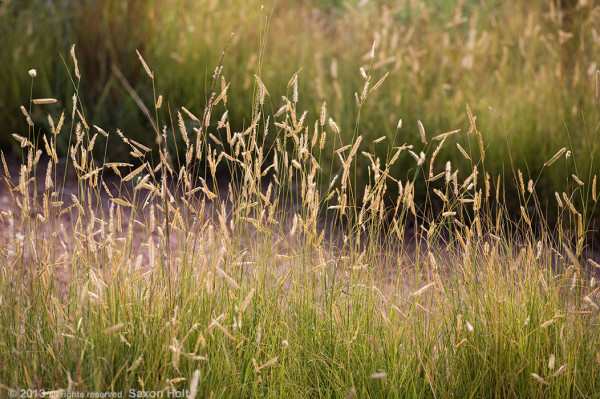 I may have been on vacation, but I was really looking to refresh my eye, and get ready for more garden photography.
ahhh… gardening gone wild…