What comes first for you, the plant or the pot? For me it's usually the pot. When a friend presents me with a special pot, it's a given that I'll plant it with succulents. But I don't always know what will look good in it. So I ask the pot what it wants. I take it to the nursery, and walk the aisles with it, trying on plants. What I look for are  good scale and proportion; repetitions of shapes, colors or patterns; and (sometimes) an element of whimsy.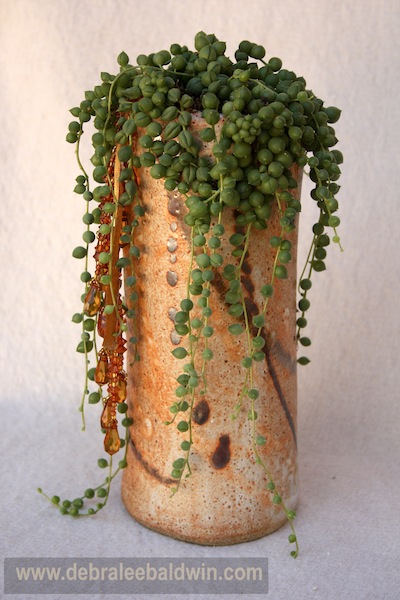 Above: This was a gift from potter Don Hunt, whose work I collect, and who sells at San Diego's Cactus & Succulent Society shows. Dots in the glaze, and the fact that the pot seemed to be asking for a trailing plant, inspired the selection of string of pearls (Senecio rowleyanus). I added beads for bling.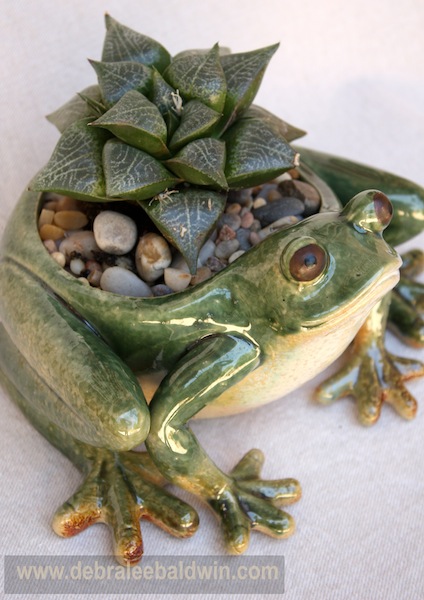 Above: My friend and fellow succulent enthusiast Hanh ("Hannah") Nguyen gave me this delightful frog pot. It seemed to want a warty plant, so I gave it a Haworthia emelyae var. comptoniana.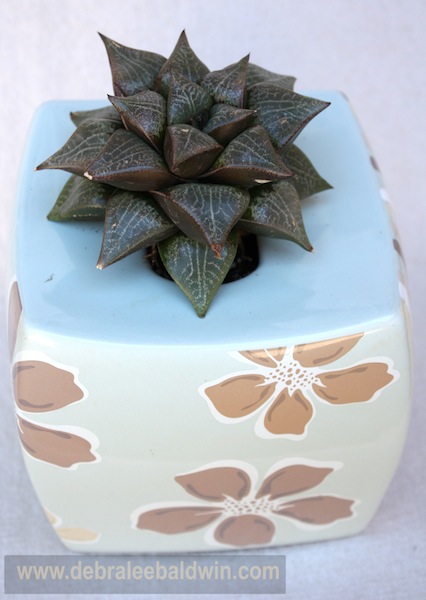 Above: The more I looked at that haworthia, the more it reminded me of a bow on a package. So I decided to play with the idea, using a repurposed ceramic tissue container.  Wedged inside is a nursery pot filled with soil. My challenge now is to not overwater it. There's not much opportunity for moisture to evaporate, so the plant risks having its roots and/or leaves rot.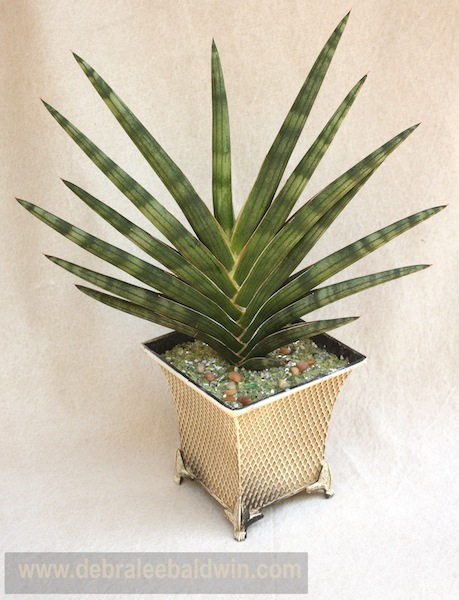 Above: Facebook friend and succulent designer Lydia Dunaway visited from Florida. We went to one of San Diego's floral marts with Cindy Davison of The Succulent Perch, Laura Eubanks of Design for Serenity and blogger Candy Suter of Sweetstuff's Sassy Succulents. Lydia purchased a marvelous pointy-leaved sansevieria (probably S. francisii). There were enough offsets for Lydia to divide the plant and give each of us one—a great way to remember her visit. This metal container, also from the mart, emphasizes the color and pattern of the plant's overlapping leaves. A topdressing of green crushed glass and pebbles adds color and texture, and conceals the soil.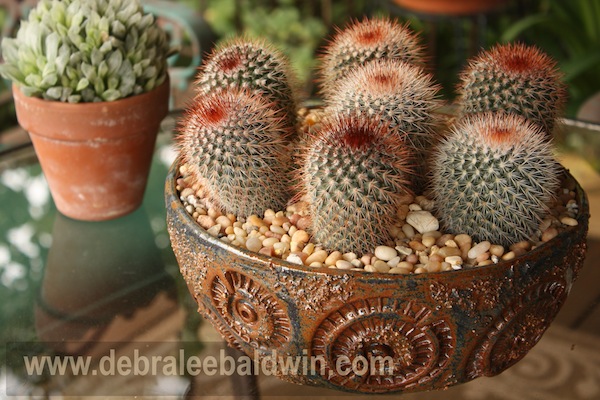 Above: When my latest book came out in June, Frank and Susan Oddo of the San Diego Horticultural Society gave me this one-of-a-kind, artist-designed pot at the launch party.  When I took the pot to the nursery to try on plants, I kept coming back to this cactus, Mammillaria spinosissima (common name red-headed Irishman). Look at how it repeats the pot's colors and patterns!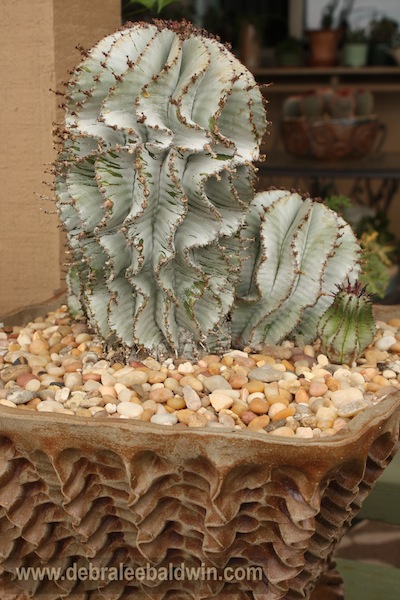 Above: I splurged on this pot by Mark Muradian at a Cactus & Succulent Society sale. When I took the pot to the nursery, Euphorbia polygona practically jumped into it.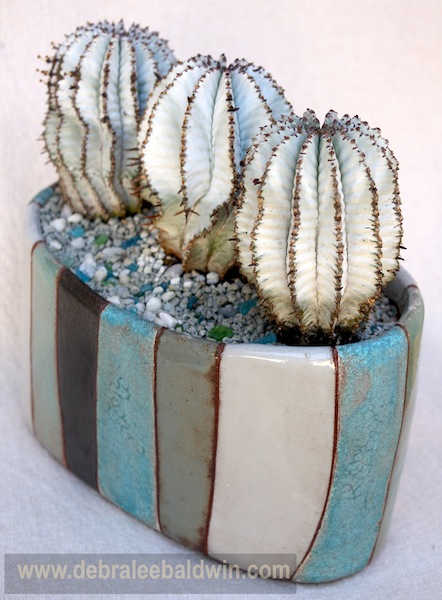 Above: Cindy Davison knows I love Esther pots and got me this one from Pot-ted, a Los Angeles garden boutique. Once again Euphorbia polygona was the winner. The plant's pale gray color and reddish-brown margins repeat the pot's colors and lines. A topdressing of white stones dotted with bits of green and blue glass (also from Pot-ted thanks to Cindy) adds glitz.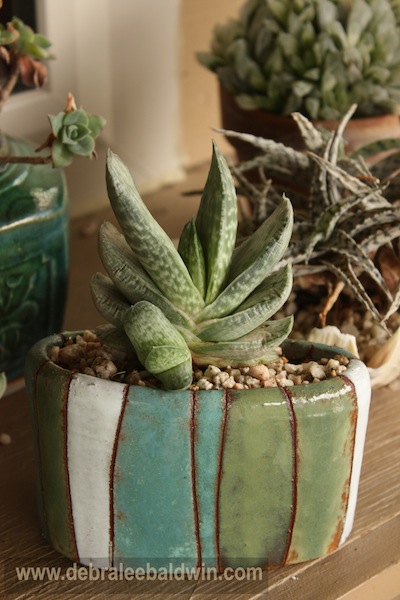 Above: Another Esther pot, this time a hostess gift from fellow author and designer-friend Rebecca Sweet (whose blog is Gossip in the Garden). I took it to a C&SS show to find the right plant. The sculptural shape of the gasteria, its size in relation to the pot, and its color all made it a good match.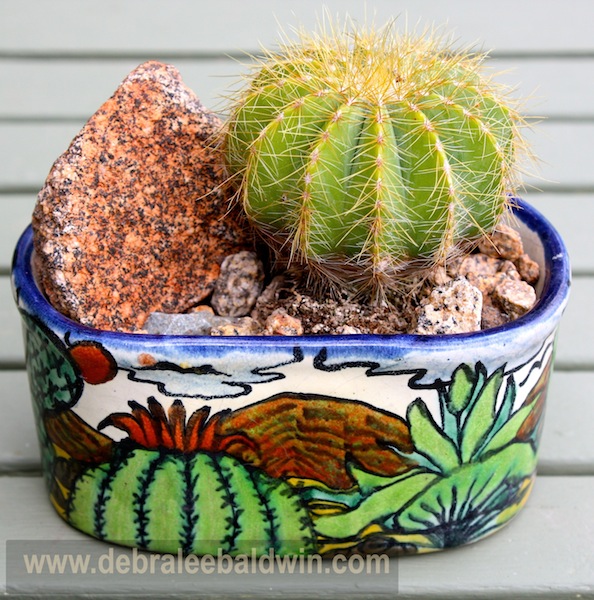 Above: Can you see how the scene on this handpainted Talavera pot inspired my composition and plant selection? Now there's a pot with something to say!
Do you have any plant-pot pairings to share? I'd love to see them. Post them on Facebook, email me at Sunwriter7@cox.net, or blog about them and post the link in a comment below. No doubt your fellow GGW readers would enjoy seeing them, too!
Special thanks to Oasis Water Efficient Gardens, Escondido, CA and to GardenLife's online succulent shop. 
My goal is to share the beauty of waterwise, easy-care succulents in gardens, containers and landscapes via blog posts, newsletters, public speaking and workshops, photos, videos, merchandise, and social media (Facebook and Pinterest). My books: Designing with Succulents, Succulent Container Gardens, and Succulents Simplified.  www.debraleebaldwin.com