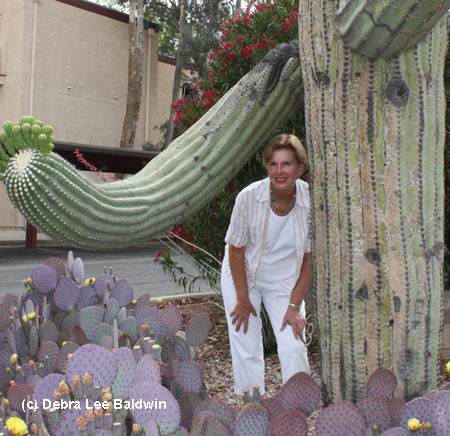 Saguaro (pronounced "sah-hwah-roh") cactus evokes Arizona and the desert Southwest. With arms raised to the sky, each tall cactus has great personality.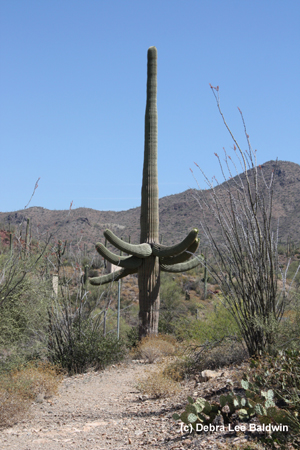 These cylindrical trees, found only in the Sonoran Desert, can attain 50 feet with great age. It takes a saguaro 75 years to branch. Some are estimated at 200 years old.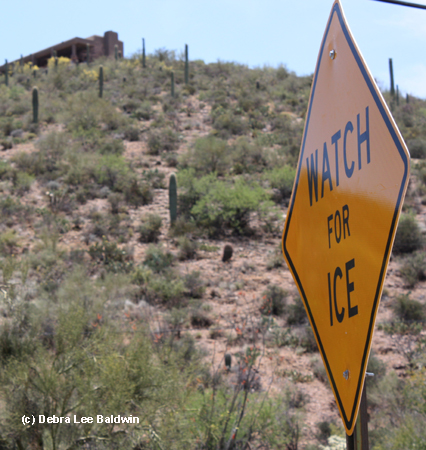 Younger saguaros, such as those on the hill beyond the sign, are unbranched columns. It was 100 degrees that day in May, and I did indeed watch for ice wherever I could find it—ideally in tea laced with lemonade.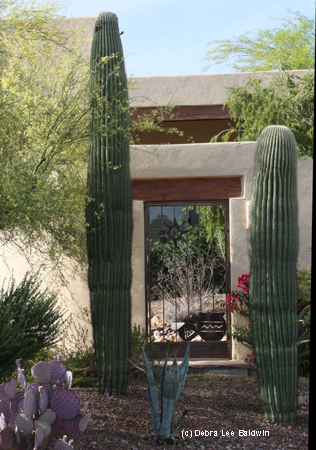 It's not unusual to see saguaros used as landscape plants in Arizona front yards. The plants have shallow roots and, though heavy and challenging to transport, are not difficult to re-establish—providing they're propped up until new roots form. The Tucson Cactus & Succulent Society rescues saguaros and other native plants from land undergoing development.
Ribs of a saguaro expand as the plant stores rainwater. Engorged saguaros may weigh as much as 7 tons, and can survive without water for two years. The ribs—especially when contracted—also shade the plant from intense sun.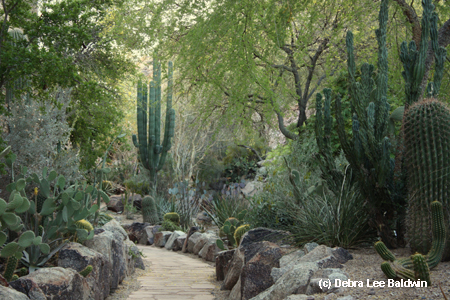 A branched saguaro serves as a focal point of the Phoenician Resort's cactus garden.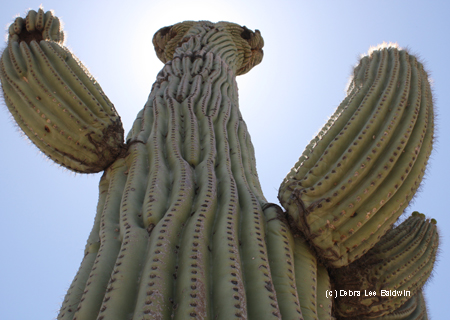 Like many cacti, saguaros sometimes (but rarely) form convoluted nodes called crests. This crested saguaro is at Tohono Chul, a park near Tucson named after an Native American Indian tribe…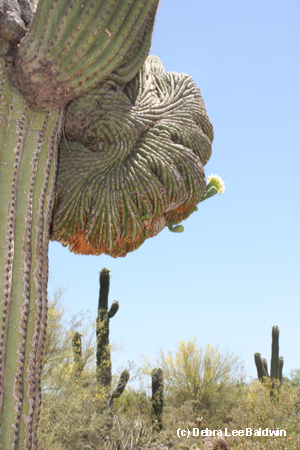 …and this one is at the Desert Botanical Garden in Phoenix.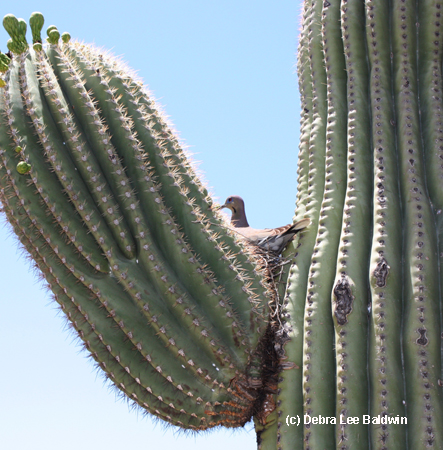 Most older saguaros, as evidenced by holes in their trunks, are nesting sites for woodpeckers and other birds. This dove built a nest where a saguaro's arm joins its trunk.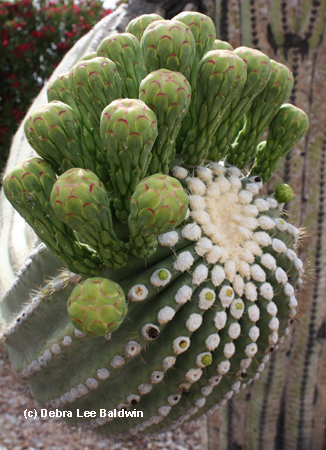 Saguaros bloom in spring.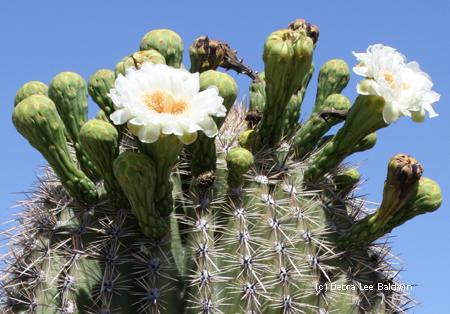 The satiny white flowers last a day.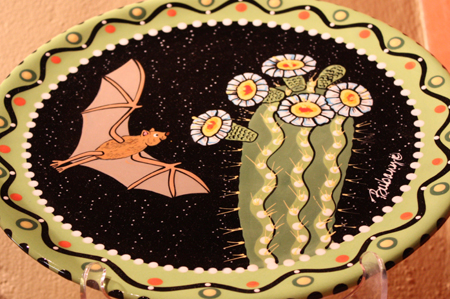 As illustrated by this handpainted plate (at the gift shop of the Arizona-Sonora Desert Museum), saguaro flowers are pollinated by bats.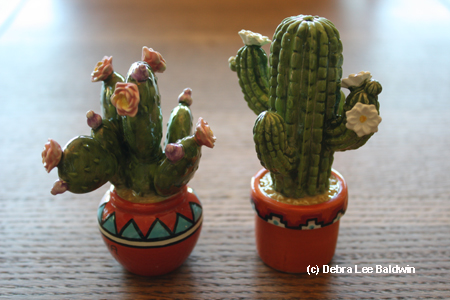 The likeness of Carnegiea gigantea can be found in shops throughout America's desert Southwest on everything from postcards to metal sculptures. I purchased this salt-and-pepper set at the Desert Botanical Garden.
In his later years, famed architect Frank Lloyd Wright wintered near Phoenix at Taliesin West. This design of his, depicted in stained glass and on display at the Biltmore Resort, shows stylized saguaros. Can you see, against the warm hues of a desert sunset, several saguaro trunks and branches?
My goal is to share the beauty of waterwise, easy-care succulents in gardens, containers and landscapes via blog posts, newsletters, public speaking and workshops, photos, videos, merchandise, and social media (Facebook and Pinterest). My books: Designing with Succulents, Succulent Container Gardens, and Succulents Simplified.  www.debraleebaldwin.com